Over the past few years, Noida has become one of the top destinations for office spaces in the NCR. The city offers excellent infrastructure, connectivity and lower rents compared to Delhi and Gurugram.
Some companies based in Gurgaon are even contemplating moving to Noida in a bid to free themselves from the Haryana government's 75% job reservation bill for residents.
Microsoft, Samsung, Barclays, HCL are some of the companies that have set up offices in Noida. However, not all companies need an independent, full-fledged office. The Covid pandemic has proved that working from near home or Neighborhood Coworking is a practical possibility and hence, many companies are now looking at Coworking spaces here. The city of Noida is mapped into sectors. And so we've made a list of the top 5 locations for coworking space in Noida.  Let's dive into the list!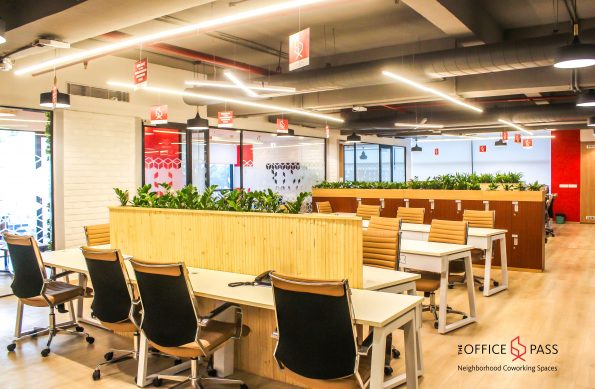 5 Best Sector for a coworking space in Noida in 2021
1. Sector 4, Noida
Sector 4 is essentially a commercial/industrial sector. The sector boasts of great connectivity to other sectors like Sector 3, 5, 9 and 19 and with South Delhi through the Delhi-Noida-Delhi (DND) expressway. At a distance of just around ½ km, Sector 4 is also well-connected to other parts of Noida and NCR via the Sector-15 & 16 Metro Station.
Many MNCs have already set up offices in the sector and hence, there are plenty of easy networking opportunities for people working out of shared office space in Noida. Since the city prioritizes residential and commercial spaces equally, it's the ideal location for co-working spaces.
2. Sector 16, Noida
Sector 16 is very close to residential neighborhoods like Sector 15, 27, 28 and 29, township projects and the Noida Special Economic Zone. It houses the World Trade Tower – a prestigious complex with many MNC offices.
The sector is well connected by road and metro and is at the entrance of the DND flyway. It has a metro stop for the Blue Line within walking distance. Companies looking for office space in Noida may find this sector ideal if their employees live nearby.
3. Sector 18, Noida
In many ways, sector 18 is the heart of Noida. It's a commercial area with plenty of offices, retail outlets, hotels and other commercial establishments. It's the ultimate shopping destination in the city. In terms of connectivity, Sector 18 has its own metro station and is well connected to all the other parts of the city. The sector is also well connected by road to other parts of Noida and the NCR. While the sector itself may not have many residential spaces, it is close to several residential sectors and hence if you're looking for a shared office in Noida, this is a great choice.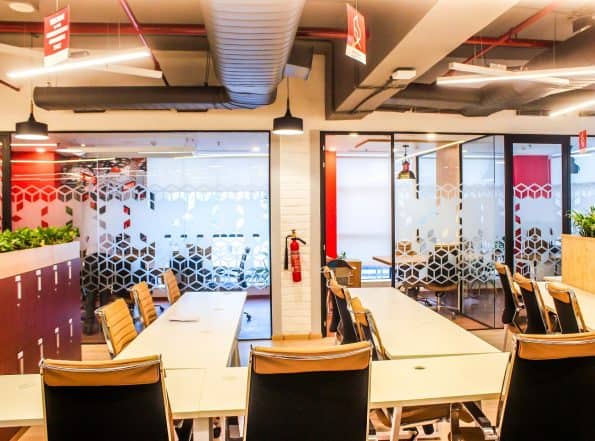 4. Sector 29, Noida
Sector 29 is mostly residential but also one of the prime locations for office space in Noida. The sector is very close to sectors 27, 28 and 37 – comfortable residential sectors with well-developed infrastructure, good schools, and co-working spaces.
The Sector does have a few commercial complexes with offices and retail outlets. In terms of connectivity, Sector 29 is on a central axis that keeps the offices in the sector well connected to other parts of the city and NCR.
5. Sector 44–45, Noida
Sectors 44 and 45 on the fringes of Noida are located along the Noida-Greater Noida Expressway. The locality is a blend of residential and commercial spaces and hence ideal for coworking in Noida. They're densely populated areas with good road connectivity.
It is also close to the Botanical Garden metro station which is a stop for both the Blue and Magenta lines. The DND Flyway is a mere 15 minutes drive away. In terms of networking, the sectors are close to corporate parks, the Noida Special Economic Zone, IT hubs and Noida Phase-2.
Sectors Around The Noida-Greater Noida Expressway
You don't have to always work out of an office in central Noida. Sectors along the expressway connecting Noida and Greater Noida are a great option when companies need an office for rent in Noida.
It's a 24.5 km long corridor that includes sectors 92 to 94, 96 to 100, 105, 108, 125 to 137 and 141 to 168. The sector is emerging as a major growth corridor and has everything needed to be self-sustaining.
The Right Shared Office Space In Noida
There are numerous advantages to having employees work out of coworking spaces in Noida as compared to setting up independent offices. That said, not all coworking spaces are equal in terms of the services offered.
The Office Pass (TOP) has coworking space in sector 4, Noida. Taking membership of the Coworking space gives the team access to not just a table and chair at but also a number of shared facilities like printers, coffee makers, security, hi-speed WiFi and access to meeting & conference rooms.
Want to know more, reach out to The Office Pass (TOP) at 8999 828282.