New Delhi, the capital of India, is also north India's biggest commercial centre. From manufacturing to retail to service providers, it has a diverse economy. But, basing a company in the business districts is tedious and exorbitantly expensive. The result – businesses are widening their search to the NCR region and Noida has emerged as a popular choice for office space as well as coworking spaces.
Over the last decade, Noida has become a hub for manufacturers, software developers, financial service providers and more. Then came the pandemic that popularized the concept of remote working and made companies take a closer look at their cost sheets. 
Well, rather than look at office space for rent in Noida, it made more sense to join a coworking space in Noida. Following the global trend, the number of coworking offices in Noida too has been steadily increasing. 
There are reputed coworking spaces in Sector 4, Sector 16, Sector 18 and along the Noida-Greater Noida expressway and many other parts of the city.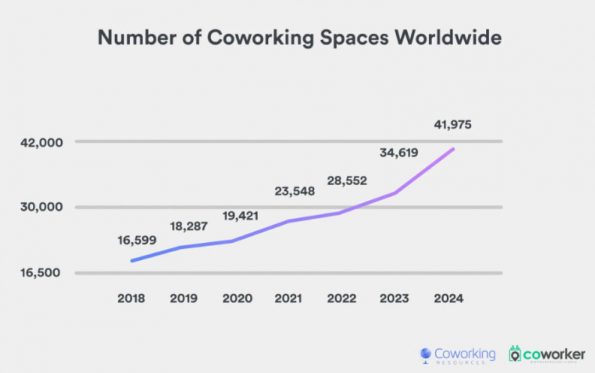 Source: InfinitSpace
The easy availability of space and affordable office rentals is one of the biggest forces driving companies to work out of Noida but it isn't the only one. We highlight here 3 reasons for emergence of coworking spaces in Noida as mentioned below:-
3 Reasons for Emergence of Coworking Spaces in Noida
1. Affordable Office And Residential Rents
Noida is affordable not only for offices but also for homes. The apartments here are bigger and tagged with a much lower rental price as compared to Delhi. Accommodation for all budgets is also more easily available. In addition to the expected migration pattern of attracting people from nearby smaller towns, Noida's affordability also attracts people from Delhi. The working population has been steadily growing in this city.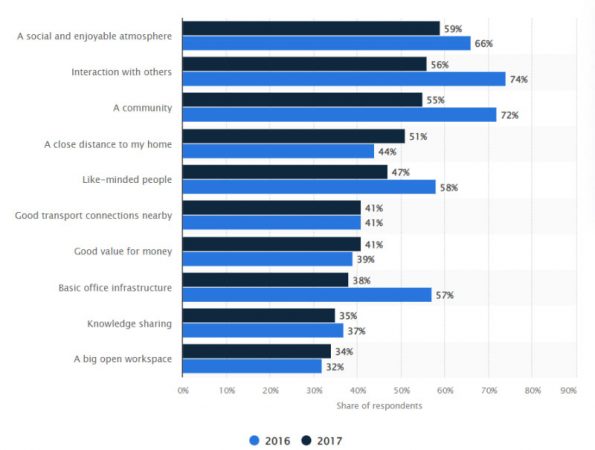 Source: Statista
A survey found that the number of people choosing a coworking space because it is close to their home has been rising. From 2016 to 2017, it rose by 7%. Hence it makes sense for companies to find coworking spaces where their employees in Noida can work out of.  
2. Well-Developed Infrastructure
Property in Noida may be cheaper to rent but there's no compromise on amenities. The city boasts of excellent social infrastructure which has kept pace with the growing population. As families moved into Noida, schools and colleges emerged. Markets grew and today Noida boasts of having one of the largest malls in the country. 
As can be expected, hotels and restaurants too have flourished here. These factors are important considerations not only for people looking for homes but also when it comes to finding office space in Noida.
Having schools and colleges nearby makes it easier for companies to find interns as well as recruit fresh graduates. A well-developed market space offers retail opportunities. Similarly, hotels are required to accommodate out-of-town clients and partners. 
3. Good Connectivity
Moving between two sectors in Noida or going from Noida to Delhi or Gurgaon is easy. The city has an excellent road network with most main roads having 6 lanes. Expressways connect Noida to Delhi as well as Greater Noida and Agra. More expressways are being built to other cities as well. In addition to the road network, Noida also has a good Metro network. This is one of the main differentiators between Noida and Gurgaon and a reason why coworking demand in Noida is growing. You can go from Noida to most parts of Delhi in less than an hour. 
Coworking In Noida Is Growing More Than Rentals For Independent Offices.
The above factors go to prove that Noida is an attractive base for all kinds of commercial ventures. But, it is the demand for coworking spaces that is seeing the sharpest spike. This is where the differences between traditional offices and coworking become visible. 
Companies can find an affordable office in Noida but in addition to the monthly rent, they would also have to invest in furnishing the office, getting air conditioning installed, putting office infrastructure in place and then work on maintaining it. These are all additional costs. 
On the other hand coworking spaces are ready to work from the moment an agreement is signed. Coworking spaces are fully furnished, air-conditioned and equipped with printers, fax machines, scanners and many other kinds of office tools. 
The maintenance of the space and everything in it is taken care of by the Coworking operators. Hence, it isn't just more budget-friendly, it also lowers the administrative workload. 
There are other benefits to consider as well. Coworking offices welcome people from all fields and hence become networking hubs. These spaces are conducive to collaborative projects. Companies working out of coworking spaces work together not only to come up with new products and services but also to explore cross-marketing opportunities and expand their audience.
Finding The Best Coworking Space In Noida
Noida's coworking spaces are spread across the city. Irrespective of the sector you're sure to find a coworking office close by. But, they're not all the same. The Office Pass (TOP) has a coworking space in Sector 4 Noida (near Sec 16 metro station). 
The space is easily accessible and furnished with ergonomic desks and chairs as well as meeting rooms and lockers. Well-priced flexible and fixed desk plans make it the preferred choice for many professionals. To know more, reach out to us at 08999 828282.