Think of coworking office spaces, the first thing that often comes to mind is freelancers, start-ups, and small-size enterprises, doesn't it? Well, they are not the only ones to explore the possibilities and benefits of the collaborative work environment. Coworking has been a preferred choice for quite some time among corporates as well, including mid-size companies.
So, what are mid-size companies? How can they adopt the coworking model?  Simply put, a mid-size organization from a coworking standpoint is one whose employee strength is anywhere from 20 to 200. By embracing the coworking model, they can operate out of one or more locations, depending on the number of employees. Let's take a look at some of the top advantages of coworking offices for mid-size companies. Here are the top 7 pros of coworking offices for mid-size companies.
Top 7 advantages of coworking offices for mid-size companies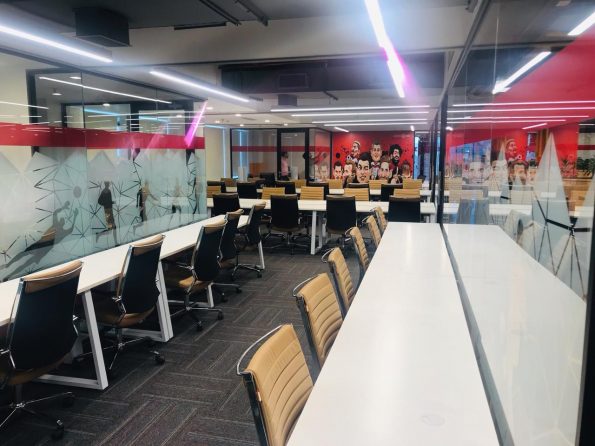 1. Infrastructure and Amenities
The requirements of mid-size companies are not limited to just office space and reliable Wi-Fi. As a growing organization, they need a host of facilities, starting from infrastructure to managed services.
Coworking office spaces provide them with a range of facilities that ensure smooth operations and a professional working environment. Such facilities often include meeting rooms, conference rooms, dedicated workstations, private cabins, lockers, event areas, office equipment, ergonomic furniture, front desk services, and kitchen facilities, among others.
The best part is that companies can select infrastructure facilities based on their requirements, choose a package, and start using them from the moment they finalize their membership.
2. Brand Visibility
Brand visibility is important for all organizations, both big and small. While it is easier for large corporates to build and establish their brand through marketing and branding strategies, mid-size companies might find it a challenging and expensive affair.
One of the key advantages of coworking offices is that it allows mid-size companies to create strong and sustained brand visibility. The facilities and services offered by shared offices, such as front office services, name boards, meeting rooms, etc.
That's not all!
Coworking office providers like The Office Pass (TOP) are also offering Managed Offices where companies can opt for a customized formal office space. That is, you get the office customized as per your requirements such that everything, from wall colors to furnishings, reflects your brand.
3. Networking and Collaboration
Networking is an essential aspect of any business, especially mid-size companies, as it accelerates growth. A notable advantage of coworking offices is that they facilitate partnerships among like-minded individuals and even organizations.
When employees of a mid-size company work out of coworking office spaces, they get an opportunity to interact with other co-workers there. These may include talented individuals, entrepreneurs, and employees of other companies. Such interactions could pave the way for new business collaborations that can be beneficial for both sides.
4. Cost-Effectiveness
Not every mid-sized company has the budget for a fully-equipped spacious office space. But every company needs a proper functional space to carry out its business operations. Coworking spaces offer the benefit of using well-equipped office space at far less overhead cost than what is required for leasing traditional offices.
Moreover, mid-size companies often incur heavy expenses for setting up and maintaining physical assets, technology, and equipment. For organizations with fewer resources, capital expenditures (CapEx) can be quite encumbering. Coworking office spaces effectively remedy this situation and what's more, you can divert and spend the capital expenditure on your core business.
5. Flexible Leasing Terms and Prime Locations
Setting up a traditional office entails loads of legal work and documentation. This is another aspect where coworking spaces score high. With minimal paperwork and simple leasing terms, shared offices offer mid-size companies a hassle-free kickstart. The flexible leasing terms also ensure that you don't have to deposit a large sum as security fees.
In addition to the freedom from committing to a long-term lease, coworking spaces offer the advantage of location as well. You can set up your office in the prime business areas of the city at highly reduced costs as compared to taking up a traditional office on lease.
6. Convenience of Scalability
Companies often need to scale up or scale down depending on changing business scenarios. When a mid-sized company is housed in a traditional office space, the scope for scalability is limited due to space constraints.
Often companies are left with no other option but to rent a larger space when they need to scale up. If they have to scale down, they either have to continue paying the rent for the whole space or face the hassle of renting a smaller office.
This is where shared office spaces score high. They allow companies the freedom and convenience to scale up or scale down at any time.
7. Talent Acquisition & Retention
Even before the world was hit by the COVID-19 pandemic, it was tough for mid-sized companies to acquire and retain talent. In the post-COVID world, it is highly doubtful whether talents can be easily convinced to even attend offices that are far from their homes.
By opting for coworking spaces, mid-size companies stand a better chance to attract and retain talents. They can offer potential candidates the flexibility to work remotely from a space that may not be far from their residence. This strategy can also help retain talent and reduce turnover.
The bottom line
With the advent of the new normal, coworking offices are becoming the sought-after option for individuals and companies alike. Away from the 9-to-5 work routine and centralized corporate offices, coworking during COVID19 times has proved to be a safe, convenient, cost-effective, and above all, productive option for mid-size organizations.
Are you a mid-sized organization looking for a coworking space in Gurgaon or a shared office space in Noida? Check out TheOfficePass (TOP), a shared office space provider that helps individuals and small and mid-size companies meet their needs for a flexible workspace.