WHO IS A FREELANCER?
Wikipedia defines "FREELANCER or FREELANCE WORKER" as a person who is self-employed & is not necessarily committed to a particular employer long-term. He offers services to businesses & multiple clients at the same time. Coworking for Freelancers is emerging as a new trend in India. Read on to know why?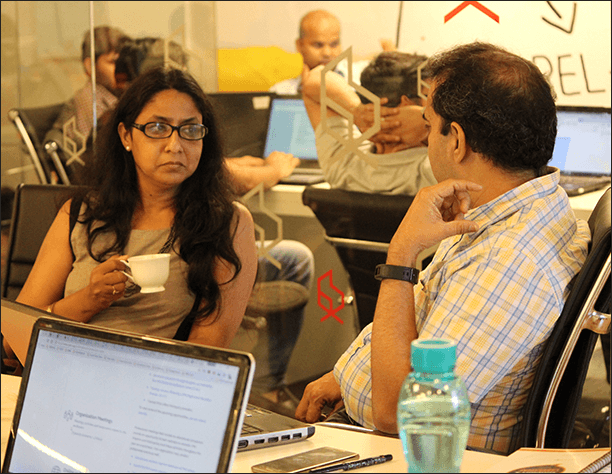 DIFFERENCE BETWEEN A FREELANCER AND AN EMPLOYEE
Two key aspects of a freelancer that makes them different from an employee are "flexibility" and "being your own boss". As a freelancer, you can set your own rules, decide your working hours, working full or part-time on the projects and clients of your choice. While work specifications are decided by the clients, a freelancer works as an independent contractor, where they are free to control how the work is completed.
6 ADVANTAGES OF BEING A FREELANCER
There are several advantages to working as a freelancer, some key ones are:
Quick to start: if you have conviction in your skills, you can start as a freelancer … you can start right now… even today. All it takes is just one customer who is willing to pay for your service. There are no registrations or filings to be done at this stage.
Easy first steps: The best way to start is to announce your plans to your friends, family & few potential customers. Write a small profile describing yourself, your skills and why someone should use your services. At a later stage, you can plan to create a LinkedIn profile and/or a website.
Decide your time schedule: you decide the weekly offs and working hours. Dedicate some daily or weekly time schedule to bring desired seriousness (it helps). As business picks, the volume of work will determine the "work time" but it better you have this sorted out in your mind.
Do the work the way you see fit: while you need to deliver what the client asks, how the work is done is up to you. Maintaining high quality would be critical for business growth.
High demand for good quality service: while you compete with others offering the same service, the demand for good quality freelancers is growing. Businesses prefer to get the work done thru an expert freelancer rather than hiring a full-time employee.
Flexibility to pick clients: in a job you work for clients that are customers to your employer, whereas a freelancer, you can choose not to take on difficult/painful clients.
4 Disadvantages of Being a Freelancer
Like with any profession, there are some disadvantages to freelancing
Variable Income: as a freelancer, you may have to dig a well every month, especially when you are just starting-up. Your workload and income may also vary from month to month and can be difficult to predict. This may affect your budget – as your household expenses are normally fixed.
Accountability: for a freelancer, the success or failure of the business rests on your shoulders. There is no one to share the failure. You must be highly self-motivated and disciplined to survive.
To build a steady clientele takes time: getting enough clients can be time-consuming and often frustrating. It may take a while before you can earn enough.
Managing multiple clients: juggling between multiple assignments is a mandatory expectation from a freelancer. You need to be multitasking to be successful.
WORKING FROM HOME CAN BE A DISTRACTING FOR FREELANCERS
Freelancers do not have to commit to full working hours & enjoy flexibility which is not available in a normal job. This defines a freelancer. Coworking for Freelancers replacing the age-old tradition of working from home. This is because working from home can pose several distractions from answering the doorbell, dropping & picking kids from school, personal telephone calls, family and visitors. Other distractions are the lure of the refrigerator, television, household chores etc. You may get unfocused and in-disciplined – so keep a check. Freelancing from home can cause a lonely existence. You might find yourself not leaving the house for days.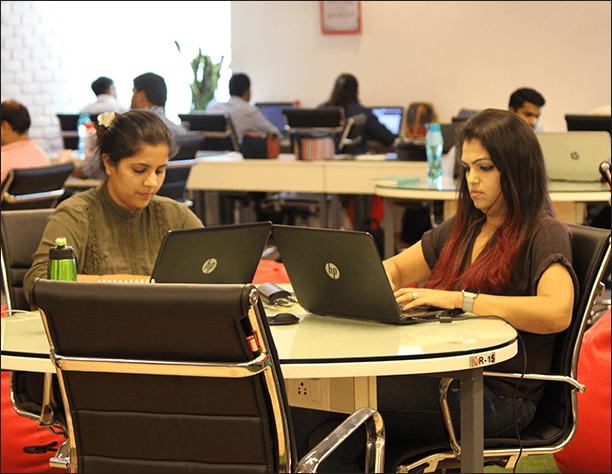 WOMEN FREELANCERS
Freelancing is not restricted to men; these days several freelance workers are women. In fact, for several skills like content writing, recruitment, event management, make-up artist, home-cooked food etc there is a preference given to women freelancers. Having said that, there are challenges you face as a women freelancer that may need special attention. Finding a safe, secure & flexi place to work is one such challenge.
COWORKING OR SHARED OFFICE SPACE FOR FREELANCERS
Coworking for freelancers is essentially a concept wherein you rent a workspace for a period of time at an office where other people do the same. You and other co-workers are not employed by the same company, working on different projects, yet working side by side with the others creating an ideal working environment. All enjoying benefits like Hi-speed internet access, coffee and tea, comfortable air-conditioned environment and most importantly a community of like-minded professionals driven by the same passion. You do this without compromising on your flexibility and dignity. Coworking for women freelancers is fast gaining popularity and becoming a way of life in metros.
Depending on requirements, a freelancer can rent a shared office space either as a regular member or as a flexi member. There are some coworking spaces in Gurgaon who provide an office to freelancers for a few days or even a few hours in a month. The collaborative nature of these places brings the best out of a professional. If a freelancer wants the freedom and autonomy of remote working and productivity of a collaborative office environment, a coworking space may be the right fix.
Happy Coworking.