Did you know India was the fastest-growing market for coworking space in 2020? Yes, in the year 2020, coworking real estate in India was estimated at about 10 million sqft to seat over 16 million people.
Interestingly, a bulk of India's coworking spaces is located in three metros – Delhi-NCR, Mumbai and Bangalore. With entrepreneurs launching new startups every day, the coworking space demand is expected to exceed the supply. The coworking share of office space in India's top 7 cities increased by 5% in 2017 to 12% in 2019 and it's still growing. Let's take a look at a few numbers and see why Delhi-NCR a favorite among companies.
Coworking Office Space in Delhi
Delhi isn't just the political capital of India; it is also where many startups find their feet. As of 2018, there were 322,044 companies registered in Delhi. It comes as no surprise that Delhi one of the leading locations for coworking offices in India.
The map of Delhi is dotted with coworking spaces. A few years ago, Delhi offered over 2,500 seats in 250,000 sq. ft. space. These are being used by freelancers, entrepreneurs, SMEs and known businesses like Clix Capital. Some key locations that are preferred by coworking enthusiasts include Hauz Khas, Green Park and South Delhi.
Coworking Office Space in Delhi-NCR
Coworking in NCR is not just about Delhi. Cities like Gurugram and Noida have something to offer too. Since the 1970s when Maruti established their manufacturing plant in Gurgaon, the city has grown in leaps and bounds. Today, half of India's Fortune 500 companies have an office in Gurgaon. If you're looking for coworking spaces in Gurgaon, you can check out DLF cyber city and Sohna Road.
In recent months, Noida has become a more popular coworking destination as compared to Gurgaon. Shared office space in Noida is available in sectors 4, 5, 16 and along the Noida-Greater Noida expressway.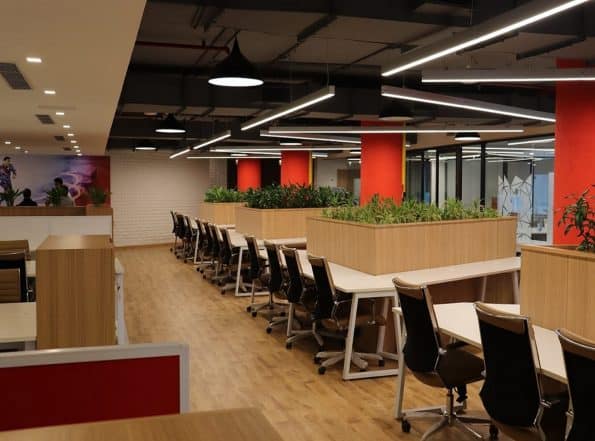 Growing Demand for Coworking Spaces in Noida
There are two main reasons why Noida has overtaken Gurgaon in terms of the demand for coworking spaces. Firstly, Gurgaon has limited connectivity as the metro does not extend to all sectors. On the other hand, Noida has an extensive metro network that ensures that almost all sectors are well-connected.
Secondly, the Haryana government recently announced The Haryana State Employment of Local Candidates Bill 2020. This bill states that private companies must reserve 75% of all jobs with a monthly salary of up to INR 50,000 for local candidates. Fearing that the bill might affect new hires and spike operational and training costs, some companies are planning to move to Noida. The emerging city falls under the Utter Pradesh government that does not have any such reservation rules. Lastly, rentals are about 40% lower in Noida..
Why are Coworking Spaces Gaining Popularity in Delhi-NCR?
Let's state the obvious again – coworking spaces are beneficial for solopreneurs as well as small-medium enterprises. In light of the current pandemic, when companies are reassessing their budgets and the need for a physical office, coworking spaces have emerged as the ideal mid-way between working from home and the traditional office.
The coworking spaces have established visible sanitization processes and updated infrastructure to minimize touchpoints making these spaces safe for everyone. Remote working has proved that employees need not be physically present in the office at all times. And working from home and coffee shops may not be always ideal. Coworking spaces help overcome these challenges. Some of the key advantages are:
Key Advantages of Coworking Spaces
Lower rents: Instead of renting the entire office, you only pay for the desk space
Furnished ready-to-move-in office spaces: Companies do not need to worry about furnishing and decorating the offices
Shorter leases and hence flexibility: You can add and remove desk as per your needs
Affordable amenities: Amenities like Wi-Fi, printers, web-conferencing devices, etc. can be used by everyone working in the space
Lower operational overheads: Companies do not need to worry about paying electricity bills or anything extra for housekeeping, internet, etc.
Networking opportunities: Coworking spaces organize a number of events and workshops to help people, especially freelancers and solopreneurs interact within the space
Shorter office commutes: Since there are multiple locations within a city, employees can choose the office closest to them.
Finding the Right Coworking Space in Delhi NCR
If you're looking for coworking space in Delhi, Noida or Gurgaon, check out The Office Pass (TOP) coworking facilities. You can rent a desk for a day or a month – however long you need it. In addition, you can also book meetings and conference rooms whenever needed. Designed to meet the needs of employers and employees, TOP coworking spaces are convenient and cost-effective. To find out more, contact us at 8999828282.