The beauty of a coworking office space is how it brings together people from all industries. From young graduates just starting with their careers to managers with years of experience, you'll meet all sorts of people. Each person has a unique personality but as you find your space in this universe, you'll find that you can group many of these personalities. Just for fun, let's look at 5 different personalities in a coworking space.
💡 Are you looking for Coworking space in Gurgaon, Noida or Delhi?. We are just a call away.
Call now: 08999 828282
5 Different types of peoples You Meet In A Coworking Space
1. The Networker
There's always that person in coworking spaces who seems to know everyone. Some people find it easier than others to reach out to new people and make friends with them. These are the people who make the most of the networking opportunities offered by coworking spaces. These are the people who fall into the 24% of people who join a coworking space to network and socialize.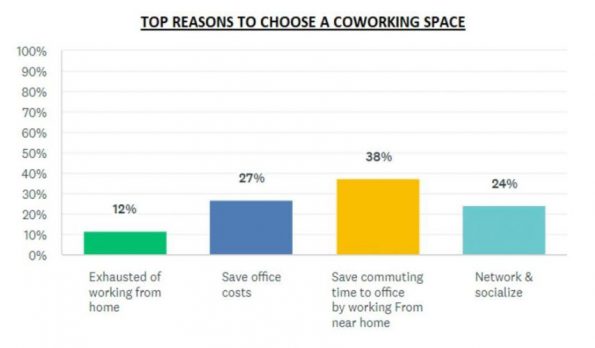 Source: PrittlePrattleNews
They can strike up a conversation anywhere with anyone. They are usually the first people to introduce themselves and are approachable. There's a chance you'll find these people in the common areas more often than you see them at their desks.
When you're new to coworking, this person will be your connection to everyone. If you're hesitant about reaching out to someone, the networker can help with introductions. These people are usually good collaborators and are always willing to help. It's a good idea to stay connected to them but you may need to draw boundaries so they don't disturb you while you're working.
2. The Frequent Flier
There are some people you'll see every day in the office, some who come once or twice and then disappear and some who you'll see intermittently. These people are usually working remotely from the rest of their team. They may also be entrepreneurs. So, once or twice a week or for a few days every month, they go to work sites or company offices. According to a survey, remote workers account for a little over 13% of the coworking demographics.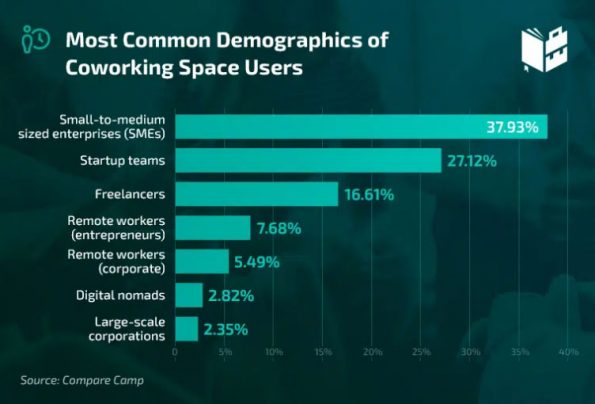 Source: Whattobecome
Since these people are not present every day in the coworking space, they may be quieter and keep to themselves. They're usually running towards deadlines and have headphones on. But, when you reach out to them, they should be willing to help.
Working beside remote workers can help you stay motivated and disciplined. Seeing them work towards their deadlines will make you more accountable to yourself as well.
💡 Are you looking for Coworking space in Gurgaon, Noida or Delhi?. We are just a call away.
Call now: 08999 828282
3. The Working Parent
While it is mostly working moms that fall into this category, today's fathers are often just as involved in their child's life and hence fall into this category too. These proud parents will always have a photo or a video of their kids to show along with a story. You'll also find them bringing homemade treats for everyone they work with. They're warm, approachable and always ready to help.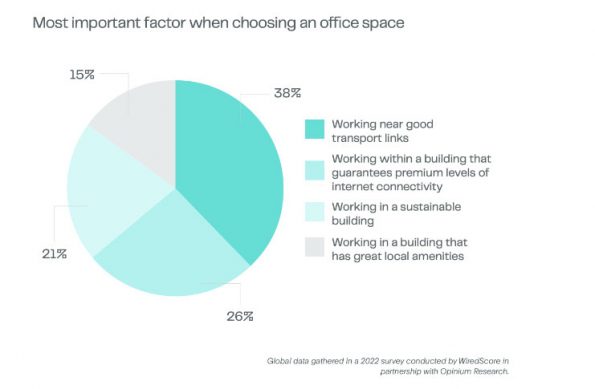 Source: Sustain-re
Working parents generally evaluate the scope of coworking space by its proximity to their home i.e., neighbourhood coworking and the availability of good transport links. You might not find them taking breaks often but they'll maintain fixed schedules for work hours and do their best to leave the office on time every day. 
Working parents are patient and understanding. This makes them great listening boards for your challenges and new ideas. They can help you brainstorm solutions but they won't be happy if you disturb their flow of work.
4. The Trouble-Shooter
You could also call this personality, the mentor. He or she is one of the most helpful people you will meet. They're easy to approach, have ideas to help you solve every issue and good people to brainstorm with. They've usually reached a senior position in their careers and will help you grow. Interestingly, a survey showed that 80% of people in coworking spaces turn to other members for help or guidance. This is one of the biggest benefits of working in a coworking space.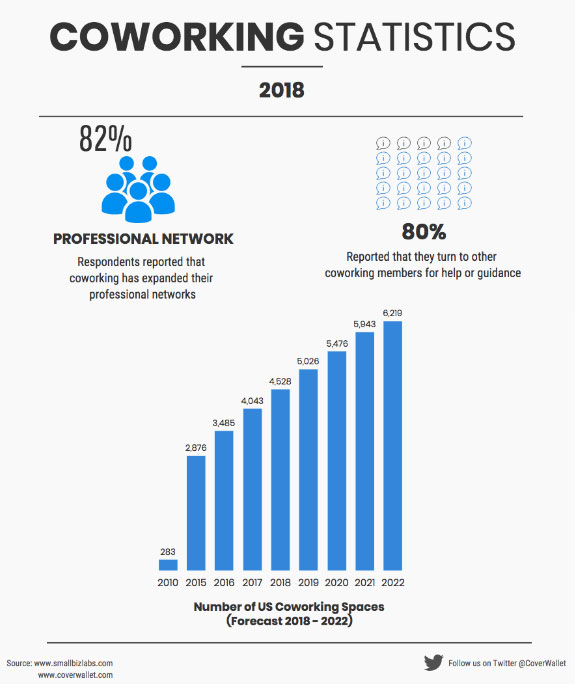 Source: Coverwalle
Mentors are almost always smartly turned out and are an inspiration for everyone around them. Make sure you reach out to them and introduce yourself. Whether you're a freelancer or a salaried employee, it's always a good idea to network with these people.
5. The Go Getter
These are those personalities in coworking spaces who seem to always be busy. You'll see them always at their desk or negotiating deals on the phone. They're multitaskers who never seem to take a break and their conversations too are mostly about work. At the same time, you'll also notice that they have high energy levels and a positive attitude. 
Go-getters don't hesitate about pursuing their goals. They may seem intimidating but you shouldn't let that stop you from interacting with them. If you find yourself easily distracted, get a desk near them and keep them in your line of sight. Their drive will keep you focused on your work too.
Working With All The Different Personalities In A Coworking Office
Everyone in a coworking space will have their own personality and style of working. Some prefer to work on their own while others like to work in groups. All their personalities may not complement yours. However, it is important to maintain cordial relationships with everyone. 
To make sure that you're working with the right type of people, be careful when you're choosing a coworking office. Some coworking spaces take a formal approach to their work culture while others have a more relaxed style. Make sure the overall work culture and rules match your working style. 
💡 Are you looking for Coworking space in Gurgaon, Noida or Delhi?. We are just a call away.
Call now: 08999 828282
If you're looking for a coworking space where you can focus and work and yet network with others, check out The Office Pass (TOP). With coworking spaces in Delhi, Noida and Gurgaon, you're sure to find a location close to your home. To know more, contact us at 08999 828282.