Gone are the days when coworking spaces were considered a stop-gap arrangement for doing business or freelance work. Over the last few years, shared workspaces have turned into a preferred choice of freelancers, consultants, solopreneurs, start-ups, MNCs, big brands, and even Fortune-500 businesses.
A key reason for this shift in preference is that shared offices have succeeded in creating sustainable business ecosystems. Apart from providing basic requirements like high-quality space equipped with all modern amenities, coworking offices also offer new opportunities for business growth.
Let's take a look at how you can grow your business fast with coworking spaces. Here are the top 5 ways.
5 ways to grow your business with coworking spaces
1. Explore networking opportunities
Shared office spaces are the melting pot of professionals from various backgrounds. Since you get to spend a lot of time with people from varied fields and industries, it becomes easy to network with them and form new business alliances. While working out of shared offices, you may also meet entrepreneurs who have faced the same issues as you are facing. You can interact with them and learn how to navigate through the issues.
For example, if you are a Recruitment company, you are in great demand as all companies operating from your coworking space will share their open positions with you. Similarly, if you are a digital marketing company, you can get the mandate to manage Online marketing for several companies who use the same coworking spaces.
Additionally, most coworking offices organize weekly events, workshops, and meet-ups on a regular basis. Such events hold great potential to grow your network, collaborate with like-minded people, and discover new growth opportunities.
💡 Are you looking for Coworking space in Gurgaon, Noida or Delhi?. We are just a call away.
Call now: 08999 828282
2. Increase your productivity
Coworking spaces provide a professional environment to conduct business. Add to that well-equipped ergonomic workstations and you can work for 8-12 hours without straining yourself physically. Most coworking spaces have very well equipped meeting & conference rooms with video conferencing equipment that allows companies to brainstorm and debate ideas. In other words, shared offices enhance your concentration and collaboration. This, in turn, can help increase your productivity.
Speaking of productivity, in a shared office space you remain surrounded by professionals from various backgrounds. Working alongside such self-driven professionals with diverse experiences and ambitions can help you to stay motivated. You can brainstorm, learn to overcome obstacles, and gain fresh perspectives to channel your business in the right direction. All these can boost your overall productivity.
3. Learn to be innovative
Since coworking offices are home to a diverse ecosystem of individuals and businesses, they are fertile grounds for fresh ideas. The more you engage and interact with such people, the better chance you have of developing new concepts and ideas. This can foster innovation and help to chart new pathways for your business. You can also discover ideas through which your business can become more profitable.
Let's also not forget that the competition or internal politics that are commonly seen in traditional offices often does not exist in shared offices for business. As such, people are more open to sharing ideas, knowledge, and experience to help others.
4. Impress investors, clients, and candidates
One of the advantages of coworking offices is that they provide all kinds of facilities that you can expect at any office. These include fully equipped conference rooms, soundproof meeting zones, private working nooks, individual workstations, coffee points, and so much more. When clients or investors see you working in such a place, it becomes easy for them to instill their trust in you and your business.
The ambiance at these shared spaces also remains vibrant due to the presence of the friendly community of co-workers. As such, they serve to attract and retain talent. It goes without saying that talented employees can do wonders for your business.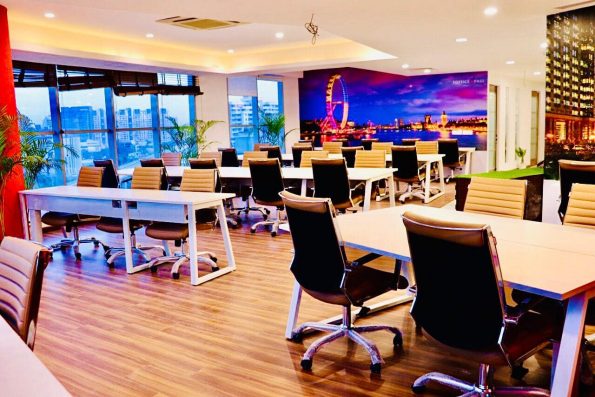 5. Get access to multiple services in one place
These new-age shared office spaces are offering a lot more than just the physical infrastructure needed to carry out your work. They provide various kinds of business support services, such as registration, HR, IT, legal advice, etc. The availability of such services offers a means for businesses to reduce their workload.
As a business owner, you can focus more on the core operations of your business knowing full well that all these things are taken care of by other professionals. The best part is that you can avail all these services under one roof.
💡 Are you looking for Coworking space in Gurgaon, Noida or Delhi?. We are just a call away.
Call now: 08999 828282
Final thoughts:
To sum it all up, coworking spaces provide the right ambiance, facilities, and networking opportunities to fan your business growth. You also get the flexibility to work at your chosen timings and can easily upgrade or downgrade your team size without bothering about the space constraints.
Are you searching for a coworking space in Noida or a coworking space in Gurgaon that is conducive to your business growth? A professional space where you can bolster your business with the right networking, collaboration, and infrastructure? Check out TheOfficePass, one of the leading coworking space provider in Noida, Gurgaon, and South Delhi.