Do you know that many big business deals are finalized in meeting rooms? Choosing the ideal space for a meeting is essential to ensure that ideas are well-communicated to achieve the business goals. Here are some useful steps to help you select the right space for your meeting:
💡 Are you looking for Coworking space in Gurgaon, Noida or Delhi?. We are just a call away.
Call now: 08999 828282
14 Factors to consider while Selecting Meeting Space
1. Budget
Everything starts with a budget, be it choosing an ideal space to hold a meeting. Set a budget for the meeting space and try to find options that fit within your allocated funds without compromising on quality.
2. Purpose of the Meeting
Determine the purpose and goals of the meeting. Is it a brainstorming session, a team-building exercise, a client presentation, or a formal board meeting? The purpose will help you decide the right type of space you need for the  meeting.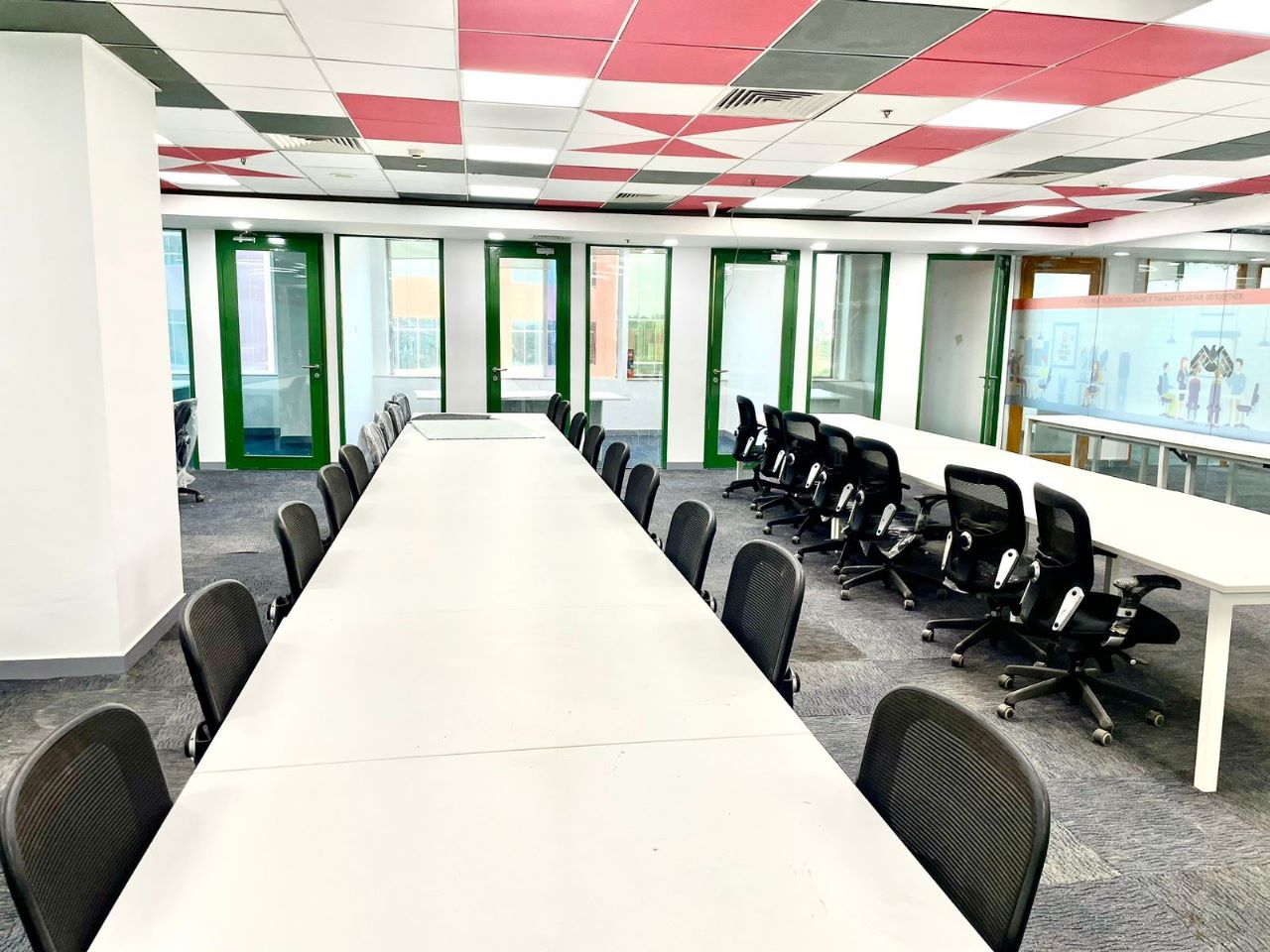 3. Make an Attendee List
Know the approximate number of people attending the meeting. Choose a space that comfortably accommodates everyone without being too cramped or too large.
4. Location
Consider the convenience of the location for all attendees. Choose a central and easily accessible venue, preferably close to public transportation. Ensure that the location you choose has ample parking options.
5. Latest Amenities
Check if the space provides necessary amenities such as projectors, screens, whiteboards, flip charts, audio-visual equipment, Wi-Fi, and conference call facilities. All these are crucial to hold a meeting and give presentations.
6. Ambiance
The ambiance of the space should align with the meeting's tone and purpose. For example, a creative brainstorming session might benefit from a vibrant and relaxed environment, while a formal presentation requires a more professional atmosphere.
7. Layout and Setup
Depending on the meeting's format, choose a space with the appropriate layout. Options may include a boardroom-style table, theater-style seating, U-shape setup, or a more informal lounge arrangement.
Also Read: Why is Everyone Considering Coworking Space Nowadays?
8. Acoustics
Ensure the space has good acoustics to avoid distractions and to facilitate clear communication. Whatever is said in the meeting must be heard clearly by all the attendees without any noise disturbance.
9. Availability
Confirm the availability of the space on your desired date and time. If it's a recurring meeting, check for availability for multiple sessions. Doing this will help you prevent last minute disappointments.
💡 Are you looking for Coworking space in Gurgaon, Noida or Delhi?. We are just a call away.
Call now: 08999 828282
10. Catering and Refreshments
Check if the venue provides catering services, or if there are nearby options to arrange for refreshments or meals during the meeting. It always help to have such facilities at the meeting venue to get a positive outcome from the meeting.
11. Tech Support
If you plan to use technical equipment during the meeting, ensure there is on-site tech support to assist with any issues that may arise. The speakers, monitors, Wi-Fi and every single technical equipment must be checked before the meeting by the on-site tech team.
12. Reviews and Recommendations
If the space is a venue you haven't used before, check for reviews and recommendations from others who have used it for similar purposes.
13. Accessibility
Ensure the venue is accessible for people with disabilities, complying with all necessary regulations and providing suitable facilities. There must be elevators for an easy accessibility to the meeting room.
14. Flexibility
Look for a space that offers flexibility in terms of booking duration. Some meetings may run longer than anticipated, so having the option to extend the booking if needed is beneficial.
By considering these factors, you can select the ideal space for your meeting. Remember a good meeting room can help create an environment conductive to productivity and engagement among attendees. It will not only help foster good communication with the team as well as with the clients.
The Office Pass (TOP) offers Coworking spaces in Delhi, Noida, and Gurgaon. TOP meeting spaces equipped with audiovisual facilities for client meetings, team discussions or presentations. These spaces cater specifically to small companies, startups, and entrepreneurs. For more information reach out to us at 08999 828282.
FREQUENTLY ASKED QUESTIONS (FAQS):
Question: What factors should be considered when choosing an ideal space for a meeting?
Answer: When choosing an ideal space for a meeting, consider factors such as the number of attendees, the purpose of the meeting, accessibility, amenities, acoustics, and budget. Additionally, think about the location's proximity to public transportation and parking options.
Question: How can one determine the appropriate size of a meeting space?
Answer: To determine the appropriate size of a meeting space, consider the number of attendees expected to attend the meeting. Ensure that the space can comfortably accommodate all participants with enough room for seating, movement, and any additional equipment or materials that might be required.
Question: What amenities are essential for a successful meeting space?
Answer: Essential amenities for a successful meeting space include adequate seating, reliable audiovisual equipment (projectors, screens, microphones), high-speed internet access, and sufficient power outlets for attendees' devices. Access to water, coffee, and other refreshments can also be beneficial.
Question: How important is the location of the meeting space?
Answer: The location of the meeting space is crucial, as it can significantly impact attendance and accessibility for participants. Ideally, the location should be easily reachable for all attendees, taking into account proximity to major transportation hubs and avoiding remote or hard-to-reach areas.
Question: What role does the budget play in selecting a meeting space?
Answer: The budget is a critical factor in selecting a meeting space. It is essential to find a space that aligns with the allocated budget while still meeting the necessary requirements for a successful meeting. Comparing different options and negotiating prices can help find a suitable space without exceeding the budget constraints.