An office address makes a company look professional but setting up a full-fledged office can make a dent in your financial resources. Running an office also takes a lot of effort. Thus, it isn't surprising to note that the number of offices has not risen as much as the number of small companies in India. For small companies, start-up entrepreneurs and freelancers, Plug and Play offices are a beneficial solution these days.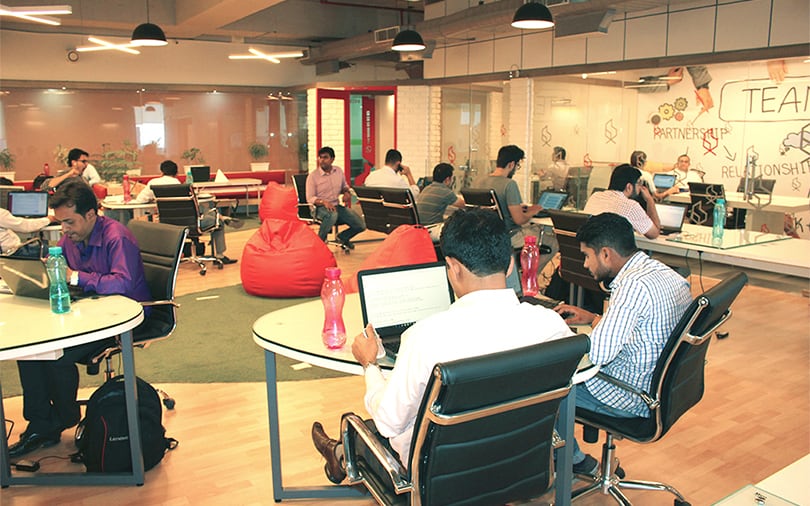 What are Plug and Play Offices?
Plug and Play offices are virtual offices that give you the same benefits of a traditional office without having to spend a fortune. As the name suggests, these offices are ones where you can literally plug in your laptops and get to work. Many coworking and shared office spaces in Gurgaon offer plug and play facility to their members. The benefits of these spaces are limitless but for now, let's take a look at some of the key benefits.
Top 7 Advantages of Plug and Play Office Space
Set Up Your Office Easily
Plug and Play offices allow you to start working as soon as you find a space that appeals to you. Unlike regular offices, you don't need to worry about furnishing the space, getting it painted, etc. All you need to do is give your team the new address and plug your systems in.
💡 Are you looking for Coworking space in Gurgaon, Noida or Delhi?. We are just a call away.
Call now: 08999 828282
Unlike rented offices where you have to invest a full month's rent and give at least a month's notice before moving, you can choose to pay for the cabins and workspaces you use on the basis of how long you actually need them. There are no brokerage fees either. The absence of long-winded contracts means that you can change your package as and when needed.
With a Plug and Play office, administrative support like electricity, high-speed internet, office maintenance etc. are not something you need to worry about. You also don't need to worry about investing in coffee machines, printers, telephones, air conditioners etc. These are facilities that come with such coworking spaces and can be used whenever you need.
In a traditional office set up, though many companies may have offices in the same building, you rarely get a chance to interact with others. Plug and Play offices break down these barriers. Here, multiple brands and companies share the same office space and its facilities. Thus, there's a higher chance of meeting people from outside your company over the printer or coffee machine. This could help you get new leads and may even play a role in designing your business strategies.
Power cuts and internet issues are amongst the most common administrative issues an office dreads. With Plug and Play offices, you get easy support for any such issues. Some Plug and Play offices also offer IT support to all brands working in the space. That's not all. You'll also be able to share the services of office assistants without worrying about how to go about hiring them.
Apart from established businesses, Plug and Play offices are also popular with freelancers. Need someone to design an ad or write copy for your website? You might find the right person at the next table in your coworking space in Gurgaon. Even though you haven't hired the person as a full-time employee, since they're working in the same space, you can keep a close eye on your project and ensure that the deadlines are met.
💡 Are you looking for Coworking space in Gurgaon, Noida or Delhi?. We are just a call away.
Call now: 08999 828282
A Healthier Work-Life Balance
Plug and Play offices are small communities in their own right. Thus, when it comes to festivals on special occasions, the celebration is a must. Many Plug and Play offices also organize regular events and activities at the end of the day or on weekends that get you out of work mode and give you an opportunity to interact with others and relax. You may even feel less stressed out in a Plug and Play office.
Whether you're considering making the shift from working out of your home or from an expensive office space, it's important to find the right Plug and Play office. Ideally, choose an office space that has parking, is well connected and in a good location. Ensure that you check on the facilities provided and understand what is and what isn't included in your package. The best part is that since there isn't along lease involved, you can always try out a space for a day or two before deciding on what's best for you.