Technology and the internet have brought many changes in the way traditional office space works. The popularity of the coworking spaces is a significant example of this. Many employees of big corporate offices are willing to work with freelancers and other office staff under flexible office space. It is estimated that more than one million people are working in the coworking space, and the trend continues to grow. The coworking phenomenon is driven by freedom and full office facilities at a lower cost. The question at this juncture is what makes a winning coworking space?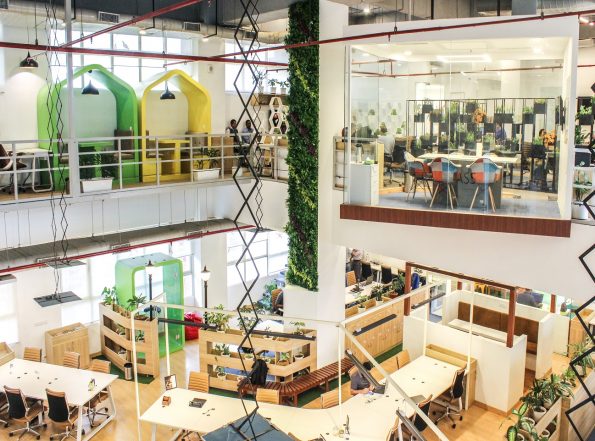 8 characteristics of great coworking spaces
1. Operational Cost
Many companies don't need an entire building or not even a complete floor to run their business operations. In such cases, companies look for shared spaces where they can share a working roof with the staff of other companies to reduce operational costs. The coworking space in south Delhi should be offered at a cost-effective price to win the competition in the market.
💡 Are you looking for Coworking space in Gurgaon, Noida or Delhi?. We are just a call away.
Call now: 08999 828282
2. Amenities
The second factor that makes a winning coworking space is amenities. The flexible space should be fully-fledged with the work needed amenities like internet, housekeeping, safety, security, housekeeping, printing, scanning, meeting & conference rooms and much more. All the amenities should be obliged in one place with no extra expenses.
3. Size
The size of the coworking office matters too. It should not be too small to keep the employees crowded in the workspace. It may cause discomfort and even distract the attention of the employees. Very big office space may leave space ideal and reduce the feeling of community among the different employees that work under one roof.
4. Location
Location is another key factor that makes the coworking space great. You should choose a working area that is a calm environment where employees can work with more focus and determination. You should make sure you pick a functional shared office space that facilitates an easy commute for the employees. It is good to choose the office space in a prime location with proximity to business clients.
5. Team Building
Coworking space is a collusion of employees from different organizations working under one roof. An excellent flexible office space knows the need of organizing team-building events to strengthen bonds between teams of different organizations. These team-building sessions that are conducted quite often will create between teams and help them cowork for an extended period.
Also Read: 6 Reasons Why Coworking Spaces Are Important
6. Kitchenette
Why miss the benefits just because you have chosen coworking office space over traditional ones. Many people demand extra benefits, like free snacks and drinks. Continue this trend and find a coworking space that features Kitchenette so that the employees can take a quick coffee break and relax a while to resume work with more focus. 
💡 Are you looking for Coworking space in Gurgaon, Noida or Delhi?. We are just a call away.
Call now: 08999 828282
7. Work Out
Modern office spaces ought to run 24/7 to meet their client requirements overseas. Many professionals today don't want to bump their stomachs up handling the hectic work schedules. Though most of them today remain fitness freaks, lack of time misses out the schedule for regular workouts. Search for a coworking office with a gym so that the employees can enjoy bodybuilding breaks instead of regular ones.
8. Ambience
The ambience of the workspace is important too when you choose to run your business operations. The working space should somewhere be in the middle of a crowded coffee shop and a remote work from home option. It should be an ambience where people work more enthusiastically that turns out to be a driving force for your employees to work with great attention. Peer to peer bonding of different teams in the shared working spaces will inspire employees and help them get relieved from stressful situations.