What do Urban Company, Paytm, Delhivery, Cred, Ola, etc. have in common – they're Indian start-ups. They are success stories that inspire entrepreneurs to hold on to their vision. The main reason these ventures succeeded in light of the many challenges faced by start-ups in India is that they attacked a real need. There are a number of pressing issues in the country today. Let's take a look at the 10 real problems in India that can be solved by entrepreneurs.
10 Real Problems in India that can be solved by Entrepreneurs
1. Urban Waste Management
Back in 2016, a report showed that India generated 62 million tonnes of waste each year with a 4% average annual growth rate. This includes organic waste, dry waste, plastics, etc.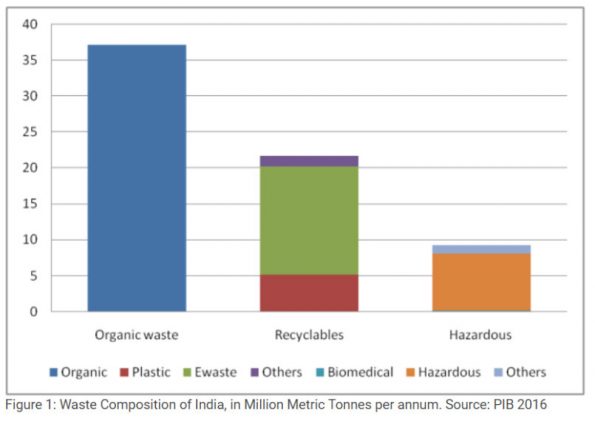 Source: EPW
This is a problem that is too big to be left unaddressed. The mountain of garbage in Delhi that frequently self-combusts is proof of this. There are a number of entrepreneurs attacking this problem already. The solutions they have found range from home composting kits to making incense sticks from discarded flowers. But, there is still plenty that can be done.
2. Adult Education
The silver lining of the pandemic is proof that almost everything can indeed be digitized. This includes education. According to a 2017-18 survey, 9 large states in India had a literacy rate less than the national average.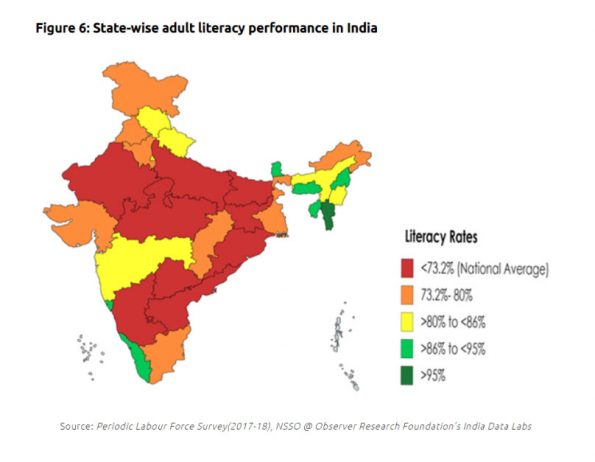 Source: ORF
While there are a number of start-ups focussing on education for children, the attention given to adult education is limited. The government has started many initiatives to overcome this challenge and today's entrepreneurs can give it the boost it needs.
3. City Pollution
As winter approaches air pollution becomes a visible problem in India. Whether it is because of crops burning in the fields or vehicular exhausts, we need smarter solutions to air pollution. Efforts being made currently range from planting green corridors under flyovers to using carbon dust from exhausts to create industrial products. Startups need to work harder to find a way to keep our city air clean. 
4. Public Transportation
2 cars per household is not an exception but the norm in many Indian cities. This causes trouble with street congestion, pollution, etc. And, it all comes down to a lack of public transportation. Only 18.1% of Indians take public transportation to work. With the construction of metro lines and the introduction of air-conditioned buses, this number is increasing but there are still miles to go before our roads can feel less congested. 
5. Sanitation
The lack of sanitation is one of the less-talked-about real problems for start-ups in India.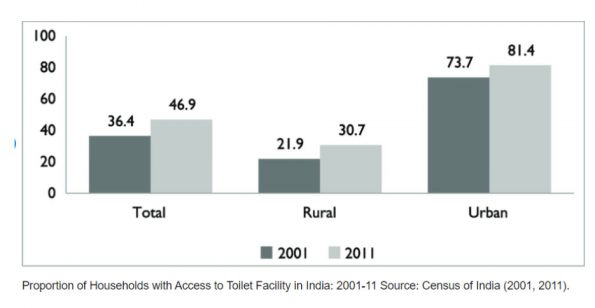 Source: ResearchGate
Often considered an issue that must be tackled by the government, it is time for the private sector to step up and lend a hand in tackling the problem. Examples of efforts already being made include the Sulabh shauchalayas that have been installed across the country. While this has helped, there are still many people who do not have access to clean toilets.
6. Women & Child Safety
Women and children are often told not to step out alone after dark. The main reason for this is a fear for their safety. Unfortunately, India has a notorious relationship with crime against women and children statistics. This is a concern for every entrepreneur, man or woman and must be tackled. Some of the solutions being worked on include personal safety apps, GPS tracking devices for public transport vehicles, etc.
7. Water Management
Not very long ago, Bengaluru was in the news for being at risk of running dry by 2020. Thankfully, that did not happen but improper water management is a big problem today.
Source: NewSecurityBeat
We need to find ways to reduce water wastage and water treatment for recycling.  Today, most housing societies have water recycling plants but many of them do not function as efficiently as they should. The water wastage in the manufacturing industry needs to be addressed too. Did you know that it takes about 3000 liters of water to produce a single shirt!
8. Disabled Friendly Infrastructure
We also need to pay attention to the specially-abled population of India. Wheelchair ramps are now quite common for residential and commercial establishments. We also need to look at people who cannot see, hear, etc. Some of the other interesting solutions that are being worked upon include swivel seats in cars and braille laptops.
9. Energy Crisis
Whether you talk of the rising cost of fuel or electricity, it comes down to the limited non-renewable resources available. Solar power is being used to power homes and even airports but we need to do more. Entrepreneurs need to look into alternative energy sources and design practical solutions centred around them.
10. Expensive Office Space
There are a number of problems that start-ups can solve but one of the main problems they themselves face is the lack of affordable office space. An organization needs a physical space for employees to brainstorm together if they are to design effective solutions. 
Working out of garages and cafes is fine as a stop-gap arrangement but it lacks professionalism. One of the solutions emerging is a shift from traditional, independent office spaces to shared and coworking spaces. The Office Pass (TOP) is one such coworking space where start-ups can rent desk space according to their needs and access shared infrastructure at affordable cost. 
A coworking space allows start-ups to pay less attention to day-to-day administration and instead focus on the major problems in India and their solutions. The Office Pass (TOP) has coworking spaces in Delhi, Gurgaon and Noida. To know more, reach out at 08999 828282.