Delhi isn't just the capital of our country, it is also a hub for entrepreneurs with exciting ideas for the future. Every day hundreds of companies are registered in Delhi. But, not all of them have the resources required to set up independent offices. Instead, it is more cost-effective and efficient to work out of coworking spaces.
Even though working out of a coworking space costs less than setting up an independent office, the cost isn't so small that it doesn't matter. This is probably one of the reasons why many companies are choosing to lease a coworking space in Noida.
Let's look at some of the other reasons why you should choose a coworking office space in Noida as a start-up owner.
5 Reasons why you should choose a coworking office space in Noida as a start-up owner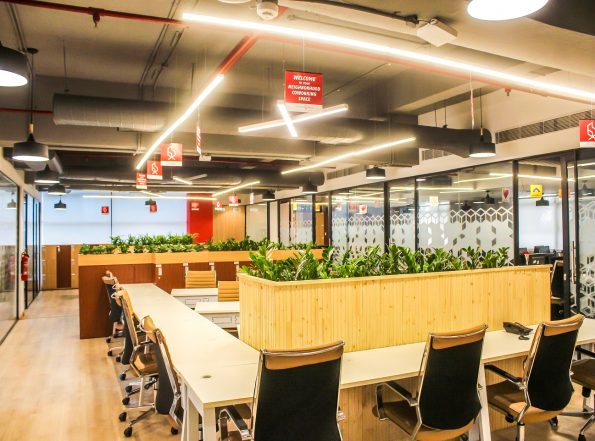 1. Noida Is Well Connected
Noida may seem outside Delhi but it is very well connected by an excellent road and metro network. Traveling between sectors to a co-working office space in Noida is easy – you can drive your own vehicle or use public transport.
If your employees are living a little further away in Greater Noida or Delhi, they can use the blue line of the metro system to travel between their home and the office. The line runs from the Noida Electronic Center to Yamuna Bank and Vaishali.
The metro system has 11 stations in Noida. Last-mile connectivity too is well developed in the city. You'll find a number of auto-rickshaws and cycle rickshaws outside every metro station.
2. There's Plenty Of Talent Waiting To Be Discovered
Noida is an educational hub. From the privately run institutions likes the Amity University and the Jaypee institutes to government institutions, there are many institutions of higher education located here. What this means is that there are hundreds and thousands of fresh graduates every year looking for career opportunities.
Most entrepreneurs rely heavily on interns. Choosing a coworking office space in Noida puts your brand within reach of all these interns and fresh graduates. As a startup with a base in Noida, you will also be able to attract students working on graduation projects.
3. Social Infrastructure Is Well Developed
As a young team, not too many of your employees will be able to bring packed lunches with them. Instead, they will probably rely on ordering their lunches and snacks. Keep this in mind when you choose an office space for rent in Noida.
There are a number of restaurants and small cafes in almost every sector of Noida. So, you're never too far from an exciting lunch. The cosmopolitan nature of this city also gives you plenty of options in terms of cuisines.
Talking of social infrastructure, Noida also has many venues where you can meet your co-workers after hours. Having a space to interact with everyone else socially is important for building and strengthening your company culture.
4. A Supportive Community
One of the coworking advantages in Noida is the networking opportunities. Noida attracts all types of industries – IT and technology, sales and marketing, design, product development, etc. the community is a very supportive one and always open to opportunities for collaboration. When you work out a coworking space, you don't have to step out of the office or set up meetings to meet potential collaborators.
You might just have the person you're looking for working at the table next to you. For example, if you're looking for someone to handle your social media accounts, you may find an agency doing just that on the same floor.
5. Lower Cost Of Living Makes It An Attractive Residential Area Too
Noida has a much lower cost of living as compared to Delhi. Thus, many people choose to stay in Noida even if they're working in Delhi. The whole idea of moving from centralized office space to coworking units is to bring your offices closer to the employees. Thus, Noida is often the best option.
As an employer, coworking in Noida means lower rents and for your employees, it offers an opportunity to have a better standard of living.
Summing It Up
Given all the coworking office space benefits in Noida, this is a great place for entrepreneurs and start-ups. A Co-working space allows startups to rent out a desk as well as a private space for anywhere between a few hours to a few months.
Of course, rentals usually are higher when paid by the hour or day and more cost-effective for a longer period. If you lease a private space on the coworking floor, you may even have the option of customizing the décor and making the space reflect your brand.
The Office Pass (TOP) has a warm, ready-to-use coworking space in Noida. Located just a short walk from the sector 16 metro station, the space is equipped with all the infrastructure and facilities you may require. To know more, connect with us at +91 8999 82 82 82.