A coworking space is a perfect workplace for new start-ups and entrepreneurs where they obtain office resources at low rental costs. Companies are now moving into coworking space in Gurgaon and Noida, because of the innumerable benefits that come with joining one. From saving on the lease costs to establishing the great networks found within coworking spaces, diverse businesses at any level can scale up quickly and become successful. Let's have a look at some of these successful coworking companies and know about their journey.
List of 5 Successful Companies that started in Coworking Office Spaces
1. Instagram
Two men started this image-based social platform in just eight weeks in Dogpatch Labs- a coworking space in San Francisco. Mike Krieger and Kevin Systrom started the company. In less than two months, they also created the Instagram application.  
Many individuals started utilizing it to share their images of family, friends, travel destinations, etc. This application ended up being so prominent that Facebook chose to purchase the company. It spent on Instagram with $1 billion well worth of supply shares and also cash.
💡 Are you looking for Coworking space in Gurgaon, Noida or Delhi?. We are just a call away.
Call now: 08999 828282
2. Spotify
It is yet another amazing startup that began in a coworking space named RocketSpace. With a Swedish origin, it is an audio streaming platform. It provides podcasts and DRM-protected music from numerous record labels and media companies. 
Launched on 7 October 2008, Spotify provides access to more than 40 million tracks. The platform allows users to browse by different filters like artist, album, or genre. It also allows users to create, edit and share playlists. As per the statistical data of February 2019, the platform had 207 million monthly active users, including 96 million paying subscribers.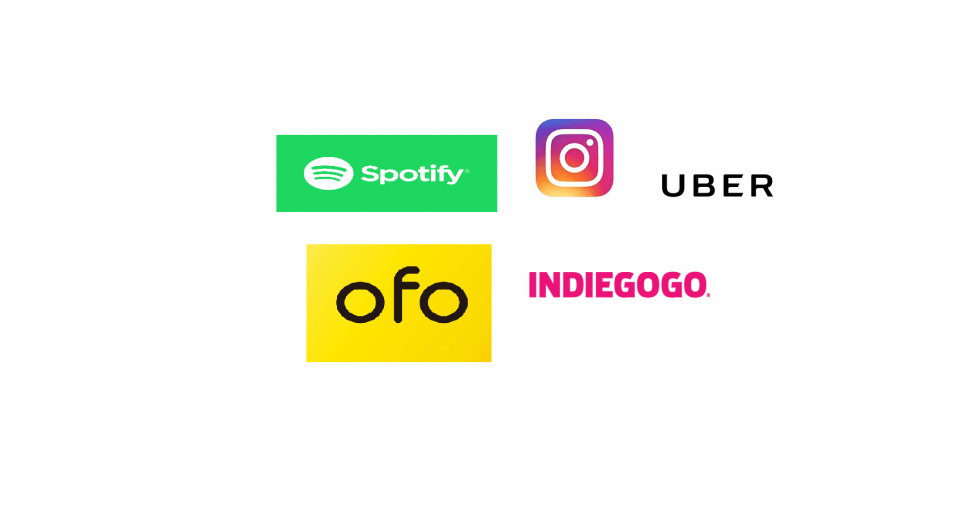 3. Uber
It has effectively turned into a global transportation provider. Uber originally began with a coworking space in New York City and, after that, in San Francisco, from the very same coworking area where Spotify started. In 2011, a group of 8 members, consisting of the founders Garrett Camp and Travis Kalanick, began their official operations from RocketSpace.
Currently, Uber has a presence in 80 countries worldwide. The excellent workplace of the coworking space offered its employees the freedom to change their business idea right into a product without wasting their preliminary funds on pricey workplaces.
4. Ofo
This new start-up believes in environment-friendly and also promotes sustainability. The Chinese bike-sharing start-up is based in a London coworking center, and since 2014 has launched its services in 21 nations around the world.
It has a presence in 250 cities around the world where you can hire a bike without worrying about where to leave it and how to lock it. Presently, Ofo is the biggest cycle-sharing firm advertising an eco-friendly approach to life, sharing economy, and also sustainable living.
5. Indiegogo
It is the biggest crowdfunding website available on the internet today. The company is helping thousands of ideas to get funded every day. In a very short period, it actually raised more than 80 million dollars, finished 6 lacs projects, and has been running in over 223 nations.
The founder of Indiegogo states that had it not been from the support of coworking spaces, they would not have made it up until now. Today, it assists in sustaining every type of start-up or a suggestion feasible and also is among the largest crowdfunding sites today.
The listed above start-ups have made it big, and all of them started from a coworking space. Hence, coworking spaces play a significant role in the success of these firms. The workplace assists start-ups in maintaining costs reduced up until they bring in financiers or considerable profits appear. There is no doubt that coworking spaces are best and can help start-ups as well as entrepreneurs to expand significantly. Furthermore, this service provides entrepreneurs with great networking opportunities and access to valuable amenities. 
💡 Are you looking for Coworking space in Gurgaon, Noida or Delhi?. We are just a call away.
Call now: 08999 828282
If you wish to take advantage of cost-effective coworking membership plans, please visit our website The Office Pass, offering coworking spaces in Noida, Gurgaon, and South Delhi.