In the ever-changing landscape of modern work, businesses are increasingly gravitating towards flexible coworking spaces as an alternative to traditional office leases. The flexibility, convenience, and numerous benefits offered by coworking spaces have revolutionized the way companies operate.
💡 Are you looking for Coworking space in Gurgaon, Noida or Delhi?. We are just a call away.
Call now: 08999 828282
This blog post explores 10 compelling reasons why flexible coworking spaces surpass conventional leases.
10 Reasons Why Flexible Coworking Spaces Are Better Than Conventional Leases
1. Cost-Effectiveness
Flexible coworking spaces, such as those offered by The Office Pass (TOP), provide a cost-effective solution for businesses of all sizes. Rather than being tied down to long-term leases and the associated overhead costs, businesses can opt for flexible membership plans that align with their specific needs. This ensures that they only pay for the space and services they require, resulting in significant cost savings.
2. Flexibility and Scalability
One of the standout advantages of flexible coworking spaces is the ability to scale up or down as needed. TOP's diverse range of coworking offices enables businesses to adjust their workspace requirements seamlessly. Whether a company is expanding rapidly or downsizing, coworking spaces provide the flexibility to accommodate changing needs.
3. Prime Locations
TOP's coworking offices are strategically located in key business districts across Delhi, Noida, and Gurgaon. This prime positioning allows businesses to establish a presence in sought-after areas without the high costs associated with traditional leases. Proximity to transportation hubs (metro stations), amenities, and other businesses creates an environment conducive to growth and collaboration.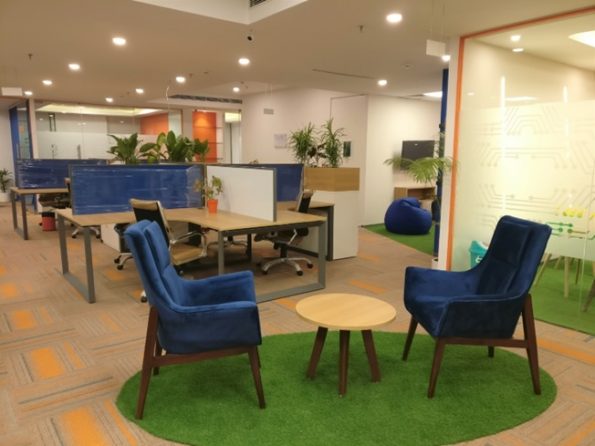 4. Networking Opportunities
Coworking spaces foster a vibrant community that encourages networking and collaboration. By joining a coworking space like TOP, businesses gain access to a diverse network of professionals from various industries. Engaging with like-minded individuals, attending events, and participating in networking activities can lead to valuable partnerships, referrals, and business opportunities.
5. Amenities and Services
TOP's coworking offices are equipped with modern amenities and services designed to enhance productivity and convenience. From high-speed internet and fully equipped meeting rooms to complimentary refreshments and administrative support, businesses have access to a comprehensive suite of amenities that cater to their operational needs.
6. Professional Atmosphere
The professional atmosphere of coworking spaces can have a positive impact on productivity and motivation. Surrounded by other professionals and entrepreneurs, individuals are inspired to perform at their best. The energetic and collaborative environment promotes creativity and encourages the exchange of ideas.
7. Flexibility in Work Styles
Coworking spaces offer a variety of work environments to suit different preferences. Whether one requires a private office, a dedicated desk, or a flexible hot desk, TOP provides options that cater to individual work styles. This flexibility allows businesses and employees to work in a manner that suits their preferences, enhancing overall productivity and work-life balance.
💡 Are you looking for Coworking space in Gurgaon, Noida or Delhi?. We are just a call away.
Call now: 08999 828282
8. Reduced Administrative Burden
By partnering with TOP, businesses can offload various administrative tasks, allowing them to focus on core operations. Services such as reception support, mail handling, and maintenance are handled by the coworking space provider. This reduces the administrative burden, freeing up valuable time and resources.
9. Access to Expertise
The coworking community at TOP comprises professionals from diverse backgrounds, industries, and skill sets. This enables businesses to tap into a wealth of knowledge and expertise. Whether seeking advice, collaboration opportunities, or potential partnerships, coworking spaces foster an environment where businesses can leverage the collective intelligence of their peers.
10. Agility and Innovation
In a rapidly evolving business landscape, agility and innovation are crucial for success. Coworking spaces inherently embody these traits, as they attract dynamic and forward-thinking individuals and companies.
To experience the benefits of flexible coworking spaces and join the vibrant community at TOP, you can connect with us through phone or email. Simply call us at 08999 828282 or send an email to hello@theofficepass.com. Our dedicated team will be delighted to assist you in finding the ideal workspace solution that aligns with your business objectives.