For many years now, Delhi has been associated with high rents and limited space. So, anyone looking to set up an Office or Coworking space focussed their attention on the NCR's satellite cities. 
The Indian offices for half of Fortune 500 companies in the country are in Gurgaon. The city has been built on a mix of corporate headquarters, manufacturing units and retail outlets. 
Today, it seems to be bursting at the seams and attention is shifting to another satellite city – Noida. 
Noida is a rich well-planned city and has grown to be a world-class metropolitan. It was initially seen as a center for manufacturing units. But, ever since Microsoft leased 1,50,000 sq. ft of space for Coworking in Noida, the city's profile underwent a makeover. 
It is a hub for software and mobile app development companies as well as financial service providers. The city has consistently maintained the top spot in terms of net office space absorption.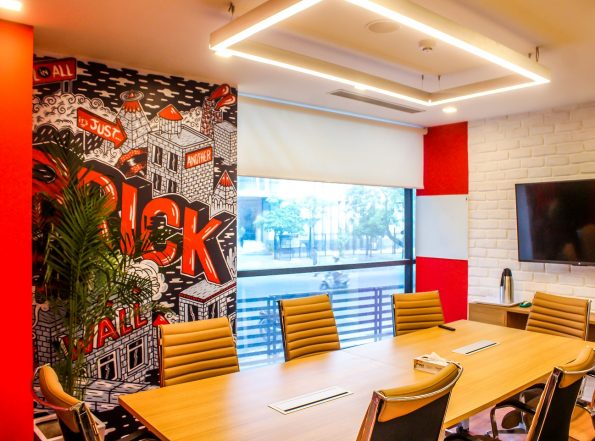 5 Top Reasons Why Noida Is The Next Coworking Hub
There are many reasons why Noida is outpacing office space absorption in Gurgaon. Here are the top 5
1. Better Connectivity
When it comes to a Noida vs Gurgaon debate, connectivity is a point that cannot be ignored. Traditionally, the proximity of Gurgaon to Delhi made it the preferred choice. But, it's not just distance that matters. 
Noida maybe a little further away but it boasts of excellent connectivity to Delhi by road as well as Metro. One can travel from Noida to the heart of Delhi in just about 25 minutes using either the metro or through the DND flyover. There are at least 5 roads connecting Noida with Delhi Vs just 2 when it comes to Gurgaon. The upcoming airport adds to the allure of setting up an office in Noida.
2. Budget-Friendly Rentals
As many companies have learned, there's no need to compromise on the space needed or other aspects of running a business when Coworking space in Noida is available at affordable rates. 
Office space in Noida is not just cheaper but also bigger. When you're talking of the city as a co-working hub, it must be noted that the per seat/ desk rental also is lower by 10-15% when compared with Gurgaon. As a coworking hub in India, offices in Noida can rent out a few desks or an entire floor depending on their needs. 
3. Supportive Government Rules
With the announcement of the Haryana State Employment of Local Candidates Bill 2020, companies with offices in Gurgaon have had to reserve jobs for local candidates. Many feel that this keeps them from getting the best talent for their company and holds them back from achieving their full potential. On the other hand, Noida has no such reservation rules. Government policies are lenient and supportive of emerging businesses. 
4. Well-Developed Infrastructure
When it comes to renting office space, it's not just the space that matters but also the infrastructure in the surrounding area. Your employees need a place to live, their children need schools to attend, they need shops to get their daily needs, hospitals and so on. This is where Noida excels. 
Noida city has luxury as well as affordable housing. The presence of higher educational institutions makes it easy for companies to hire new talent. While Gurgaon has many schools, it has very few reputed colleges and universities. There are also plenty of restaurants for employees to order their lunch from, cafes for their evening coffee and places to hang out after work. 
In terms of infrastructure, it's also important to note that the city has a well-developed power grid, good roads and proper drainage. Noida faces far fewer power cuts in the summer and fewer instances of flooding in the monsoons as compared to Gurgaon. Thus, productivity continues unabated. 
5. Presence Of Established Firms
Collaboration and networking are critical to every business's success. It's one of the key reasons why many companies prefer working out of Coworking space in Noida rather than an independent office. When you need help, assistance is usually just a few seats away. 
In addition to Microsoft, many other big and small companies have set up their offices in Noida. Some of the companies with offices in Noida include Barclays, Samsung, HCL and Paytm. Many of these companies have teams operating from coworking spaces. This fosters healthy competition and offers many opportunities for collaboration.
Finding The Ideal Office Space For Rent In Noida 
According to a CBRE report, the popularity of flexible office spaces will continue to grow. If one were to look for a silver lining in the COVID lockdown, it would be realizing the benefits of decentralizing office spaces. 
Operational costs are lowered, employees have reduced commute times, networking is simplified and so on. It's a win-win situation for employers and employees. 
When it comes to finding a coworking space in Noida, take a look at The Office Pass (TOP) in Sector 4, Noida. Sector 4 is a central part of Noida with good residential societies and markets located close by. It's a short walk from the Sector 16 Metro station. 
Choose between a regular or flexi membership plan depending on your needs and walk into a ready-to-work space. Facilities available range from reliable WiFi connections, meeting & conference rooms and power backup for long workdays to an air-conditioned café and unlimited supply of tea and coffee. The membership fees include all overheads of electricity, security, sanitation, etc. so you can focus on growing your business rather than the day-to-day maintenance. To know more, reach out to us at 89998 28282.