Under the founder speak initiative of The Office Pass (TOP) christened #TOPTALKS, we are pleased to share the story of Ankit Khanna, Cofounder & CTO, Suraasa. Ankit & his team has been associated with TOP Coworking space for over 2 years. Suraasa helps teachers in meeting skill and certification requirements by virtue of its courses. Once ready, teachers are helped to get selected for Domestic and International teaching jobs and the local teaching approvals for the target countries. In this post, Ankit shares his experience of building and scaling the company.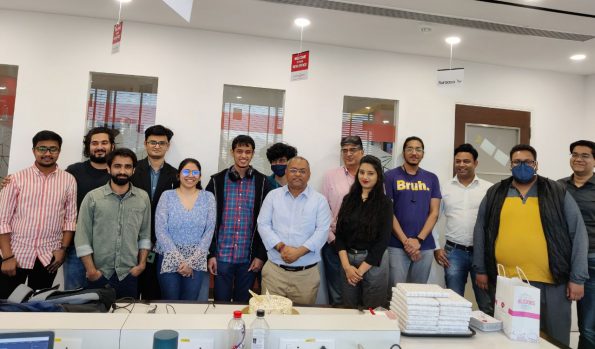 Q. Tell us something about you (education & experience) and the business you started 
A. An Alumni of the National Institute of Technology, Jalandhar, Ankit completed his engineering in 2011. He laid the foundation of technology development at Suraasa. A keen researcher in AI, data science, and a flair for statistics and economics, he has implemented data-driven decision-making and growth hacking in various domains and industries.
Ankit started his career with procurement research at Beroe-inc, helping multiple Fortune 500 companies with predictive data modeling and advising their energy portfolio management. He later joined The Smart Cube, where he helped leading pharmaceutical and manufacturing companies with process re-engineering, market entry strategy, and cost modeling for BCCS and LCCS.
Before building Suraasa, Ankit co-founded Les Transformations Learning, which was awarded as Best K-12 Teacher Training Institution of India multiple times. The company was credited with training 75,000+ teachers across 21 states of India.
With a goal to make teacher education accessible and bring the teaching resources to the palms of every teacher, Ankit founded Suraasa and leads the technology innovation, product design, and data science.
The vision of Suraasa's team is to build the world's largest network of highly skilled teachers by enabling career mentorship, pedagogy training, and global job opportunities for teachers.
Ankit believes that the right to education is pivoted on access to the right educators and he aims to create the world's largest network of highly skilled teachers at Suraasa.
Q. How old is your company and how did you think of this concept? What problem are you trying to solve? 
A. Having trained and researched 75,000 teachers across 1500 schools covering 100+ cities and 21 states of India and winning lots of awards including "India's Best K-12 Teacher Training Company" award in 2015, 2016, 2017, we came across some critical gaps which no one spoke about.
We asked why do teachers not grow in their careers just like people do in other careers? Why are teachers increasingly reporting high stress at work? Why do they quit teaching? Do they not receive proper mentorship or are they unaware of the skills that schools are looking for to help the teachers progress?
At the same time, we would often hear visionary school leaders spending months in search of high-quality teachers, and yet not finding the right candidates, despite offering high pay packages.
This sparked the idea for Suraasa, a tech-enabled upskilling platform for Teachers' Career Growth. We decided to focus our efforts on researching and developing result-oriented upskilling programmes for educators at all stages of their careers, from a teacher to a principal.
Hence, Suraasa was created in 2017 with an aim to become an evolutionary catalyst in the field of K-12 Education & Child Development by bringing 360-degree transformation in teacher education.
Q. What is your business model (how do you make money)? Would be great if you can share some actual data like revenue growth ( QoQ or YoY), active user / customers, new initiatives etc
A. We retail outcome-linked upskilling programs directly to the teachers (B2C), including our marquee program PgCTL, which comes with an International Diploma in Teaching. Our teachers generally receive multiple job offers, international job opportunities, fast promotions saving them decades in their career journey, and accolades from students, parents, peers and school leaders.
We developed our MVP in India but tested it internationally first with teachers from 40 nationalities. Last year in 2021, we started retailing in India, and am happy to share that we are growing at an astonishing pace. For instance, we booked 55% MoM revenue growth in March 2022 alone.
Q. Top 3 steps taken by you to attract and retain talent? Explain how you develop / nurture talent in the company?
Our company has a value system where we try to hire people whose internalised values match the three core values of Suraasa:

Integrity
Ethics
Unconditional Support

We provide a supportive, ego-free environment to our employees where their growth and development is an important priority for us. We believe that people would perform their best when they see themselves growing along with the organisation.
We try to ensure that our employees experience that growth with us by maintaining a consistent evaluation and appraisal system.
Q. Tell us about your workspace (own office, coworking office, managed office or anything else like home office or hybrid working environment) and the reason for opting for them 
A. Our staff is spread across the country and in view of the pandemic we have provided our employees in the NCR with an option to work remotely or from the office. We have partnered with The Office Pass (TOP) to provide the employees, who wish to work from office, a warm and easily accessible workspace. The reason for choosing The Office Pass (TOP) for our employees was its location and the support received by the TOP team.
Q. What do you like to do in your free time 
A. When I am not working, I like to learn new technologies or meet my Friends. I like to read and do multiple courses related to my domain, in essence, ed-tech. Currently, I have been researching the metaverse and I plan to expand Suraasa to the metaverse in the near future, as well.
Q. Tell us about your experience with The Office Pass (TOP) 
A. After the first lockdown ended, we wanted to reopen office for our employees and try hybrid model for work, this is when I had the pleasure to connect with TOP, especially Nikhil Madan. A supposed 15 minute meeting changed into a 2 hour long discussion and I knew that Nikhil is a person with Vision and passion for creating value for everyone. The experience thereon has been nothing short of fulfilling. TOP has helped us create a distributed hybrid model where our employees can choose to go to a TOP workspace near them. The amenities, support on the smallest things and fast resolutions is a core strength to TOP operations. TOP is an all weather partner for us and I would give my highest recommendation to TOP for standing the ground with us.
We thank Ankit for sparing time for this interaction with TOP.