Coworking spaces are fast becoming popular in India. Noida, located in the National Capital Region (NCR) of India and a popular commercial hub, has caught up to the trend, offering flexible office solutions to individuals, SMEs, and startup businesses in Noida. The Office Pass (TOP) neighborhood coworking space proiver listed out the top key benefits of hiring coworking spaces in Noida as given below:
💡 Are you looking for Coworking space in Gurgaon, Noida or Delhi?. We are just a call away.
Call now: 08999 828282
11 Amazing Benefits of Coworking Space in Noida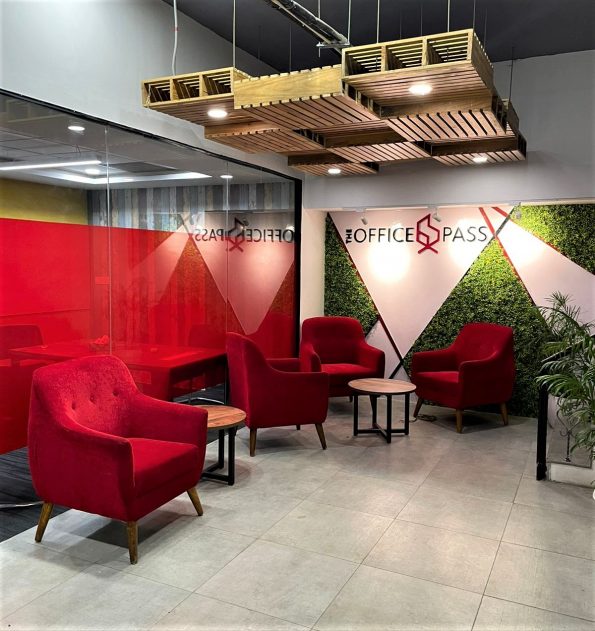 1. Lends a Professional Image
This is particularly helpful for small business owners or freelancers, as using a coworking space for client meetings can help project a more professional image rather than working from home or holding meetings in a cafe.
2. Economical
Coworking spaces are often a more economical substitute to conventional office spaces that can be quite high on monthly rentals. A few cost-effective membership options at coworking spaces include hourly, daily, and monthly, making them more affordable than a committed office space.
3. Lower Overheads
In addition to being low on rentals, coworking spaces also allow for lower overhead costs as compared to those involved in the maintenance of a conventional office space. These include utility bills, maintenance service costs, payment of utility bills, security, and the like.
4. Flexible Lease Terms
Another advantage of using coworking spaces in Noida is the flexible lease terms that they offer. This means that a startup or small business owner is free to scale up or down their workspace as per their business requirements.
5. Accommodates Business Growth
In case you need to expand your business and accommodate additional working members, you have nothing to worry about with a coworking space. You can easily rent private offices for team members or even extra desk spaces as per your needs.
6. Opportunity for Networking
Coworking spaces are a great place to collaborate with other businesses and form professional networks. People from various sectors and industries work together under one roof in a coworking space, lending an excellent opportunity to form connections, business partnerships, and more.
7. Convenient Location
Noida is strategically located in proximity to the capital city, Delhi, and other major cities in the NCR. Noida coworking spaces therefore can provide comfortable access to several suppliers, top clients, and rewarding businesses in the area.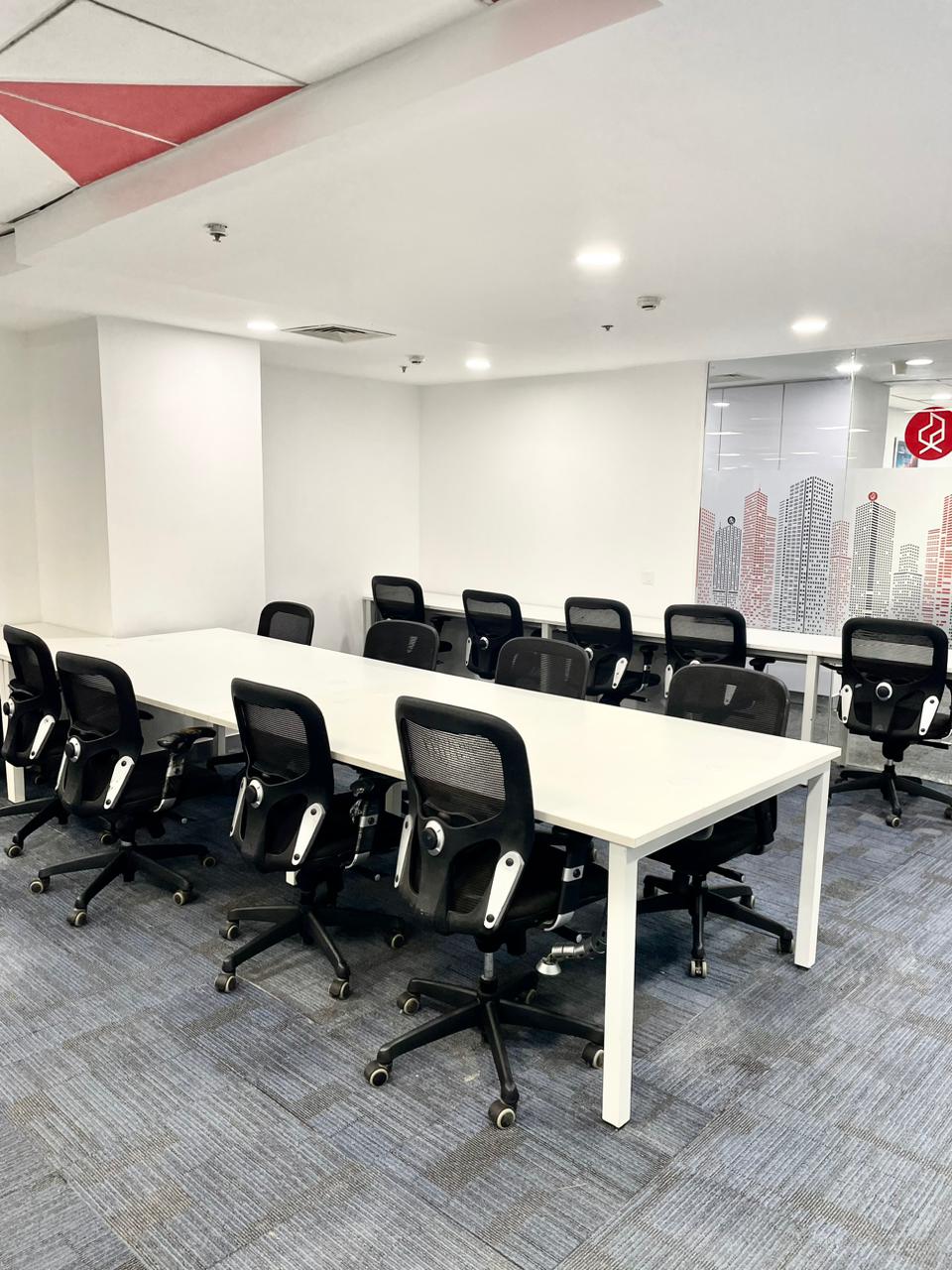 8. Enhanced Productivity
A business works great when the productivity of its employees is on a steady rise. Coworking spaces are carefully designed to provide quiet work areas, office facilities such as high-speed internet, office supplies, and other employee amenities, as well as fully-equipped conference rooms, which help boost the productivity and focus of the people working therein.
💡 Are you looking for Coworking space in Gurgaon, Noida or Delhi?. We are just a call away.
Call now: 08999 828282
9. Community Support
Coworking spaces encourage team members to act like a small community among themselves. Members can interact with one another and turn to each other for learning, knowledge, skills, advice, support, and motivation.
10. Fosters Ideal Work-Life Balance
This cannot be provided with a work-from-home setup which is also why most professionals prefer a dedicated office space to work with focus and dedication, and leave the office stress therein, rather than carry it back home. With a coworking space, it becomes easier to rent out a work area, whenever required, even if you are mostly working from home.
11. Access to Top Office Amenities
In addition to a spacious workstation to comfortably work in, coworking spaces also provide access to essential office services, such as copier, printer, scanner, internet, mail handling, receptionist, and the like to make your work smoother and comfortable. Besides, you gain access to a host of workshops and other office/social events, lending a sense of excitement to working there.
Always define your budget, choices, and specific needs before choosing a coworking space in Noida. You need a place that perfectly aligns with your style of work and career aspirations. Make sure to do your homework (research) well before narrowing down on one. Visit different coworking areas, review their membership plans, and seek references/recommendations to choose the best coworking space for your business needs.
The Office Pass (TOP) offers coworking spaces in Delhi, Noida, and Gurgaon with excellent amenities such as high-speed internet, a welcoming environment, fully-equipped meeting and conference rooms, and tea and coffee facilities. These shared spaces cater specifically to small companies, startups, and entrepreneurs. If you are looking for a coworking space in Delhi/NCR, you can call us at 08999 828282.
FREQUENTLY ASKED QUESTIONS (FAQS):
Question: What facilities can I expect in a Noida coworking space?
Answer: Several coworking office spaces in Noida are equipped with professional office facilities to simplify the work of the employees. These include a printer, copier, fax machine, scanner, high-speed internet, spacious meeting/conference rooms, aesthetic design, furniture, and furnishings, a fully stocked kitchen, and more. Some elite coworking spaces also provide cafes and fitness centres for the recreation of their members.
Question: What are the key benefits of using a coworking space in Noida?
Answer: Coworking spaces in Noida offer flexible lease terms, are more economical than conventional office spaces, provide opportunities for professional networking, and fully fitted conference rooms. They are generally considered ideal for freelancers, small businesses and startups, and people working remotely.
Question: Is coworking in Noida suitable for all types of businesses and individuals?
Answer: Anyone can hire a coworking space in Noida for their specific requirement. However, it is best considered suitable for professionals like startups, small businesses, freelancers, and remote workers.
Question: How does coworking in Noida foster networking and collaboration?
Answer: Coworking spaces are great for hosting office group events that promote networking, collaborations, and partnerships among professionals and businesses. These include community-building activities, workshops, and seminars, besides a few social events and gatherings as well.
Question: How can coworking spaces in Noida save me money compared to traditional office rentals?
Answer: Coworking spaces generally offer flexible membership options, such as hourly, daily, and monthly rentals. These prove to be more economical than conventional office spaces. You can choose a plan as per your business requirements without worrying over additional maintenance costs such as those of office utilities, furniture, or furnishings, since coworking spaces are fully equipped with all amenities inclusive of the cost package.