Gone are the days when people started their careers in a company and retired from there many years later. Today, in a bid to climb the corporate ladder faster, people are open to the idea of switching jobs frequently. But a higher salary and a better position isn't the only reason why people switch companies. A LinkedIn poll found that 41% of employees left a job because of the company culture.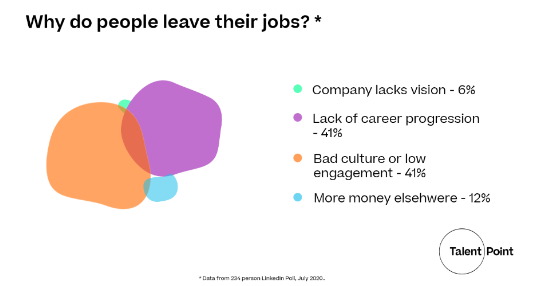 Source: Talent Point
If people are leaving your organization because they don't identify with the company culture, you may have a problem on your hands. Your team is your biggest asset and how they function together determines the company's performance. This is where your company culture comes in.
What is Company Culture?
Company culture can be defined as a set of values and beliefs shared by everyone in an organization. This dictates the way people interact within and outside the company, the leadership styles, expectations and goals.
There are many types of organizational culture.
Some start-ups may choose to focus on innovation and give employees the flexibility to work in their own style uninhibited by bureaucratic procedures. Small family-owned businesses may follow a more clannish-democratic system where everyone is treated as equals. This encourages honest feedback and collaboration. As companies get bigger, they may shift to a hierarchical culture with established practices and a well-defined chain of command. 
Thus, the ideal company culture for your organization depends on the purpose of company culture. You should consider your company's goals, the working style you prefer the most, your company size, etc. Study positive culture examples from other organizations for inspiration.
Why Is It Important To Have A Great Company Culture?
Having a good company culture does a lot more than just lower employee attrition rates. Here are a few points to illustrate the importance of organisational culture.
Strong Culture Improves Performance
The right culture can make it easier for people to collaborate on team projects. It also makes them more open to sharing and receiving feedback. 85% of a survey's respondents said that their organisation's culture gave them a competitive advantage.
Competitors Can Copy Products Not Culture
Your company culture can help set your business apart. Your competitors can copy product innovations but they cannot copy the way your team interacts with customers. In today's competitive environment, this could be just the advantage you need.
Culture Correlates With Adaptability
Companies that invested in building a company culture were found to be more resilient and agile during the pandemic. 69% of a survey's respondents said that their company culture has helped the organization adapt to changing situations.
Culture Boosts Satisfaction Levels
Companies with well-structured company culture are more likely to see higher employee satisfaction and customer satisfaction levels. This makes it easier to recruit employees and maintain a loyal customer base. 
5 Easy steps To Build A Great Company Culture
Here are the 5 steps to build a positive culture for your company as given below:-
1. Keep Culture In Mind During Recruitment
Company culture is set not just by one person but the whole team. Hence, you should prioritize hiring people who share your beliefs and vision for the company and how it should function. If you favour a democratic style of working, bringing in someone with an authoritative nature may not work. Bring in people who will be able to mix well with the other members of your team. 
2. Incentivize Productive Actions
No matter how old a person is, his/her behaviour will be driven by what actions are incentivised and what is criticized or ignored. To optimize your human capital incentivize employees who work on improving their skills, helping others, etc. Celebrate the small wins and you'll find this behaviour being adopted by others too. As your team's capability grows, so does your organization's capability. 
3. Establish Goals
Your team needs a direction to work towards. Establish short-term and long-term goals and share these with your team so they can work towards the same vision. This keeps the team aligned together and can also be a tool for holding each other accountable. If everyone knows you're planning a product launch on January 1st, they can plan their work accordingly and you'll see fewer arguments and less tension in the office.
4. Lead By Example
A survey found that after higher salaries, an unpleasant working environment and bad bosses are the most common reasons for people to quit their jobs.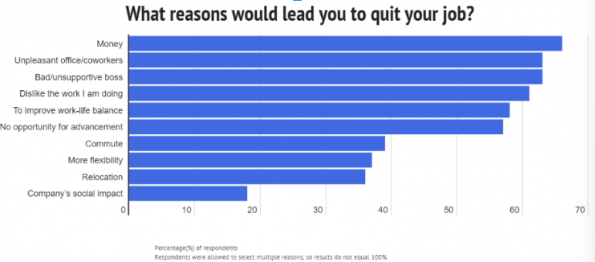 Source: Zippia
To keep this from being your company's story, you need to accept your role as the ultimate boss and lead by example. If you talk to people calmly, your managers below you will be calm in conversations with their juniors as well. On the flip side, if you are rude, your team will also be rude to their colleagues. 
5. Focus On Work-Life Balance
Work and profits aren't the only elements to be considered while developing a good company culture. Emphasize on finding a work-life balance from the day you start your business. On your part, avoid sending emails after hours. Even if you don't expect a response, your employees may see the notification on their phones and feel pressurized to do so. 
In Conclusion
Companies with a strong organizational culture are more likely to have a happy team and happy people work harder. They're also less likely to leave quickly and thus you have a loyal team. This becomes all the more important in today's world where remote working and a hybrid workstyle are gaining popularity.
If your team is working remotely from coworking spaces, make sure you choose a coworking space with a culture that complements your company culture. 
The Office Pass (TOP) coworking spaces in Delhi, Noida and Gurgaon give remote workers and small business teams a professional space to work from with minimal distractions. At the same time, the spaces are designed to encourage collaboration. To know more, reach out to us at +91 89998 28282.