For many people, the acceptance of remote working as a proposition has been the silver lining of the pandemic. Working from their home is beneficial for people who don't want to commute over long distances or those who have dependents at home. That said, it does have its challenges.
At times, the blurred lines between work and family time may be frustrating. Managers may also find it difficult to keep track of projects that require a collaborative effort. The solution – a hybrid office space. According to a report, 70% of organizations are considering a hybrid office model as the world moves on from the pandemic.
What Is A Hybrid Working Office Space?
A hybrid office space marries the benefits of remote working with colleagues out of a dedicated office space. In this model, some employees work from the office and others work remotely. Those who work remotely may be required to come to the office as and when required. The hybrid workspace for remote workers may be their home, a public space or a coworking space.
Top 4 Benefits of Using Hybrid Workplace in India
A hybrid workplace is beneficial for employers and employees. Let's take a look at a few reasons why companies like Google, Amazon and Wipro are already embracing the hybrid work model.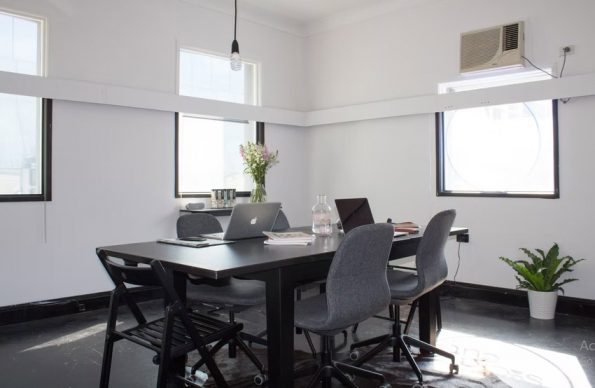 1. Improved Productivity
The trouble with working from home is that distractions never end. There's someone ringing the doorbell, the maid wanting to know what's to be made for lunch, children who need help and so on.
Sometimes, it becomes difficult to focus on a task. A project that would have been completed in a day goes on for 3 days. At the same time, in the traditional office space, unnecessary meetings often eat up a lot of time and cut into your productivity.
Moving out from the home space to a coworking space creates a distinction between home and office life. It lets people focus better on what needs to be done for the day. When needed, they can go into the office and attend critical meetings or work on collaborative projects – which enhances productivity.
2. Strengthening The Company Bond With Employees
It may seem contradictory given that not everyone will be in the office at the same time but a hybrid model can work in favor of building a loyal team. Permitting people to work remotely and come into the office only when needed is a way of showing concern for employee needs. Choosing coworking spaces closer to employee residences or Neighborhood Coworking means they need to commute shorter distances on a daily basis.
At the same time, they can schedule face-to-face interactions with managers and other people on the team whenever required. Employees feel prioritized and build a stronger connection to the company. They're less likely to think about switching jobs when they have the flexibility to work in a way that suits them.
A lower employee attrition rate projects a stronger brand value which in turn, attracts more talent to strengthen the team.
3. Sustained Company And Employee Growth
As mentioned above, prioritizing employee needs builds a good reputation in recruitment circles and helps attract talent. As you bring on people with specialized skill sets to your team, the team becomes more efficient and productivity climbs.
Looking at the situation from an employee's point of view, hybrid workspaces overcome the isolated feeling associated with fully remote working while maintaining flexibility. There are sufficient opportunities for face-to-face interactions with leaders and bosses and learning from peers. This keeps their career growth on track.
4. Lower Office Operational Costs
Office space rental is often among the top three slice of a company's monthly operational costs. When you choose a hybrid office model, the office size required drops considerably. As the size reduces so does the rental cost and other operational costs like the cost of air conditioning, housekeeping, etc.  Even taking into account the additional expense of renting desks at a coworking unit, the monthly outgoing is 18-20% lower than what they would have been with a traditional office model.
This has two implications. Firstly, the company's operational costs are lowered. This can either be absorbed into the profits or shared with employees. There's no need for salary rationalisation, especially in the current scenario. This keeps everyone in the teams happy and builds a positive workforce.
Choosing a Hybrid Workplace for Your Company
Existing offices spaces can be easily converted to hybrid office spaces by adding the required audio-visual equipment for virtual meetings. But, this may not be the best use of your space. While maintaining social distancing is important, since many employees will be working remotely for a majority of the week, your floor space may be left empty. It makes more sense to shift to a smaller office and lease space in coworking office.
The best hybrid office spaces in Delhi NCR have satellite units in coworking spaces across the city. Remote workers can work at these coworking spaces and visit the office when needed.
The ideal coworking space is one that is well connected, well equipped with all the infrastructure your team would require, for example, printers, scanners, meeting & conference room facility etc. and located in a safe area. You may also want to look into the possibility of getting a private space on the coworking floor.
The Office Pass (TOP) has ready-to-use coworking spaces in Delhi, Noida and Gurgaon. They're ideal for the hybrid office experience. To know more, reach out to us at 89998 28282.