The era of romanticizing entrepreneurs working out of basements and garages is over. Why would anyone choose to work in an uncomfortable location when they could simply rent out a few desks at a neighborhood coworking space. 
Well, a coworking office is a shared space for professionals and companies from different fields. The system works well for employers and employees and the biggest winners are entrepreneurs. For an entrepreneur on the path to building a brand, coworking spaces are the ideal solution. Take a look at the top 6 benefits of coworking for entrepreneurs.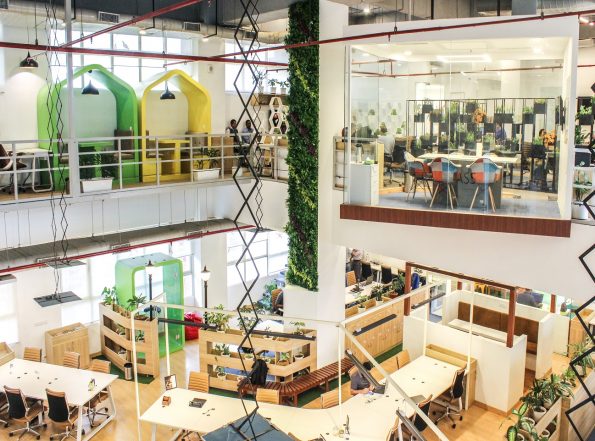 Top 6 benefits of Coworking Space for Entrepreneurs in India
1. Cost Saving And Peace of Mind From Day One
Every rupee matters for an entrepreneur and overheads can quickly pile up. If you choose to work in an independent office there's rent to be paid along with the overheads of electricity, air conditioning, WiFi, office maintenance, security & housekeeping staff etc. There's also the cost of fitouts and electronic equipment to be considered. 
Even if you expect employees to bring their own laptops, you need to invest in chairs and tables, printers, an aqua guard for drinking water and so on. All of this needs to be maintained from time to time – hence, add on the cost of AMCs.
On the other hand, if you look at a coworking office space for entrepreneurs, you don't need to worry about any such investments or operational costs. You just pay a small rent per seat/desk and you are good to go. The furniture is already in place, WiFi and air conditioner are working and you can get to work with complete peace of mind from day one.
2. Professional Networking Opportunities
Businesses don't grow in isolation. Collaboration is the key. Coworking for entrepreneurs opens many doors for professional networking and community building. Unlike the situation in an independent office where everyone around you is working on the same idea, a shared space brings together people with different skill sets and points of view.
You may find a freelancer on your left who can help with content creation for your website and find a mentor on your right to guide you past hurdles. 
Apart from taking over the headache of maintenance and renting out desks, coworking space providers also often organize after-work events to bring people together. These mixers spark conversations and make it easier for entrepreneurs to talk about their ideas. Instead of making an appointment for a meeting, you may just find the solution to an issue you're facing while talking to someone in the coffee room.
3. Offices That Make The Right Impression
There's no denying that office rentals, especially in and around the NCR aren't cheap. The independent offices that match an entrepreneur's budget aren't likely to be in the best part of town. This could be an issue in terms of connectivity, security at night, etc etc. If the office isn't easy to reach and is in a shady section of town, you'll have trouble getting a good team together. You might also have to settle for an office in an old building with an unimpressive façade. Think of the impression this would make on prospective clients! 
On the other hand, a coworking space for entrepreneurs is more budget-friendly and hence, makes more locations available to you. You can easily find coworking offices within your budget that are located on main roads and a short walk from metro stations or bus stops. It's a secure, well-maintained ambiance to create the right impression for people who work there as well as visitors. 
4. Professional Facilities
While merely renting out a desk may be enough for a freelancer, an entrepreneur needs a little more – you need space to hold meetings, space to hold events, etc. This is space that is used once in a while so paying a high monthly rent wouldn't offer a justifiable ROI. 
With a coworking space, meeting rooms and event space are always readily available as and when needed. You pay for only what you use rather than a flat monthly fee. In addition to meeting rooms, you can also avail of facilities like a mailbox, reception services, audio-visual equipment for remote team meetings, etc. 
5. Flexible Leases
An entrepreneur's team size is constantly changing. You might have 5 employees one month and 15 in the next. In the case of an independent office, this means that you're either paying rent for office space that is yet to be used or you don't have enough space to seat all your employees – it isn't feasible to shift offices every time your business grows… 
Choosing shared office spaces for entrepreneurs gives you the flexibility you need. Rather than leasing out an entire room, you're leasing out seats so you can increase and decrease the number of workstations required in line with your business. If required, you can lease out a desk even for a day! 
6. Finding The Ideal Coworking Space
Now that you know how coworking space is beneficial for entrepreneurs, it's time to choose the ideal coworking unit for your team. First and foremost, look for a coworking unit in a prime location with easy connectivity. Facilities like parking must be available if you or your employees travel in their own vehicles. Next, consider the facilities available and the way the space is maintained. At the very least, you need a clean and vibrant office with ergonomic furniture. 
The best way to start your search is to ask friends and acquaintances for references. If you're in the market to find a Coworking space for entrepreneurs, speak to The Office Pass (TOP) coworking spaces and the range of facilities offered, reach out to us at 08999 828282.