The year 2020 has redefined the concept of work culture in an unprecedented way. Remote working took center stage like never before, thanks to the COVID-19 pandemic. People went from working out of office cubicles and cabins to working from their residences and home offices.
For a while, remote working was synonymous with working from home (WFH). But it wasn't long before this setting started to reveal certain dis-advantages. As a result, a second trend started emerging, namely working near home (WNH).
In this post, we are mapping these interesting remote working trends of 2020. We'll take a closer look at what is work near home and the reasons why this trend is gaining traction during the pandemic.
Understanding the shift from work from home to work near home
The WFH model was initially considered as the best option for working during COVID19. It certainly had a host of benefits too. That said, it didn't prove to be the best solution in terms of productivity and mental health.
According to a global study carried out by Qualtrics, SAP, and Mind Share Partners, 44.4% of the respondents doing office work from home revealed that their mental health has declined. Challenges of working from home featured among the top five reasons for this decline.
Some of the main challenges of working from home includes:
various distractions
inability to start and stop work on time
social isolation
lack of ergonomic furniture
a blurred line between personal and professional life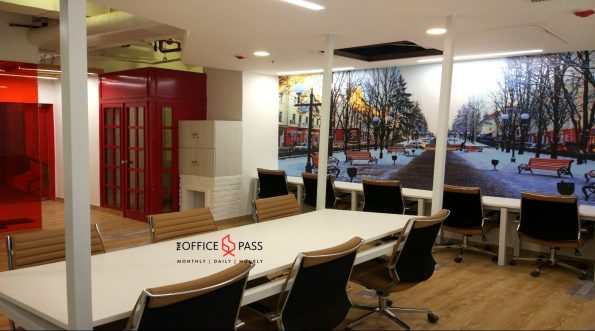 That was when companies and individuals started considering work near home as a viable alternative.
Work near home means you can work from offices located within short distance i.e,. 5 km of your residence. A company may not open offices in multiple locations, but allow an employee to work out of coworking offices near home i.e., Neighborhood Coworking. They can avoid the trouble of commuting and the disadvantages of working from home.
Difference between Work near home vs. work from home
Let's take a look at why work near home became a preferred option for remote working in 2020 and beyond. Professionals and organizations found neighborhood offices useful because they could:
Stay away from distractions
One of the reasons why people opt to work in coworking offices during the pandemic is the distractions they face at home. Be it the kids, TV, household chores, or other personal commitments, distractions affect the quality of your office work as well as your productivity to a considerable extent.
Compared to this, neighborhood coworking offices offered a distraction-free environment that was ideal for working during COVID-19.
Be part of a business community
As per the mentioned survey, 65.9% of participants faced higher levels of stress due to the pandemic. Loneliness resulting from social isolation and being stuck at home were among the top contributing factors.
The shift from WFH to working near home helped people deal with this issue in a remarkable way. Working out of a shared office made them feel part of a coworking community. Also, interacting with co-workers helped them to overcome the impacts of social isolation that they faced while working from home.
Access office infrastructure
People need more than a laptop and a stable Wi-Fi connection while working remotely. Many employees who were forced to do office work from home due to the pandemic didn't have access to proper infrastructure. Investing in home office furniture and accessories wasn't a viable economic solution.
Coworking spaces provide access to all necessary infrastructure needed for working comfortably and at an affordable cost. These include ergonomic workstations, work desks, office equipment like photocopying and scanning machines, office stationery, and so much more.
Grow, learn, and collaborate even during the pandemic
Despite its benefits and safety, the work-from-home model created a barrier for people from broadening their business horizons, especially for start-ups and small business owners. As they were working alone at home, there was no way to seek help regarding professional hurdles or gain a new perspective.
At Neighborhood Coworking spaces things are quite different as people get to meet experts and professionals from various backgrounds. They can exchange views, share their problems, and overcome their struggles. In short, people get an opportunity to learn, grow, and collaborate.
Draw a balance between work and personal life
People tend to believe that by working from home they will be better able to manage their work and personal life. However, this notion has been proved wrong during COVID-19. Many people were unable to bring closure to their workday on time, which threw their personal and professional life off balance.
By working out of a coworking space, people can easily handle this issue. They can maintain their flexible work hours and switch off before heading home. This helps maintain a balance between work and personal life.
To sum up…
The work from home to work near home shift has helped people discover a viable solution of remaining productive while working remotely. As coworking offices follow stringent safety and sanitization measures, you can be sure of your safety too.
Are you looking for work near home options in Gurgaon, Noida, or other parts of the capital city including South Delhi? Check out TheOfficePass (TOP), a leading and reliable provider of coworking offices.