Gurgaon based coworking office space provider The Office Pass (TOP) has launched an "Online booking & payment platform" on its website that allows existing & new coworkers to book office space, meeting & conference rooms through 100% online experience. Users will be able to choose a start date, select number of seats & duration for which the office space is required and make payment online to confirm their booking. This makes it convenient for freelancers, self-employed professionals & small companies to book a coworking office space in less than 3 minutes without going through a painful & lengthy conventional process.
The conventional process of identifying, shortlisting, negotiating, closing, furnishing & moving to an office space can take anywhere from 2 to 6 months depending upon the demand and supply in a particular area. Professionals & companies have to pay a security deposit (equivalent to 3-6 months of the monthly rent) and provide a lock-in period of 2 to 3 years. This makes the process unaffordable and painful to say the least. Coworking office space, in general, does away with these stringent requirements which are good news. The online booking & payment platform from The Office Pass takes this convenience to the next level (as it shrinks this time to under 3 minutes).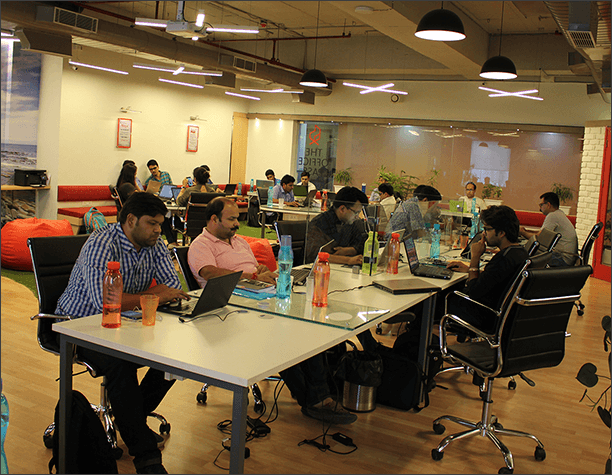 As per Aditya Verma, CEO of the company, "It was important for us to get our online booking & payment platform in place before we expand our coworking footprint. With our online strategy beginning to fall in place, we will use technology to expand with minimal additional manpower, which will be a huge differentiator in the coworking category in India." Till now The Office Pass website was used for information dissemination & lead generation, while the rest of the member journey was managed offline. With the new platform, the company plans to shift manual processes online. This will not only help increase % conversion through the website but also create consistency & transparency in the pricing for all coworkers (due to no manual intervention).
Also Read: Amazing Shared Office Spaces in Delhi NCR for Startups & SMEs
The system allows coworkers to enjoy discounts if they book the space for a longer duration and there is an additional discount for female coworkers. If coworker(s) joins before the 15th of the month, the online system calculates the price pro-rate for the remaining month. For coworker(s) who join after the 15th of the month, membership gets computed for the remaining days in that month and next month.
Now professionals & companies don't have to waste time, effort & energy in office hunting and painful negotiations; simply open your computer or mobile & book a coworking space online in under 3 minutes.
Cheers & Happy Coworking.