The advantages of switching from traditional office lease to a coworking space have been well documented. It's a win-win situation for employers and employees. Today, it's not just entrepreneurs and small businesses that are looking for coworking offices but large, successful MNCs too. Google, Deutsche Bank, and Nestle, these are just three of the many corporations that have embraced the coworking culture.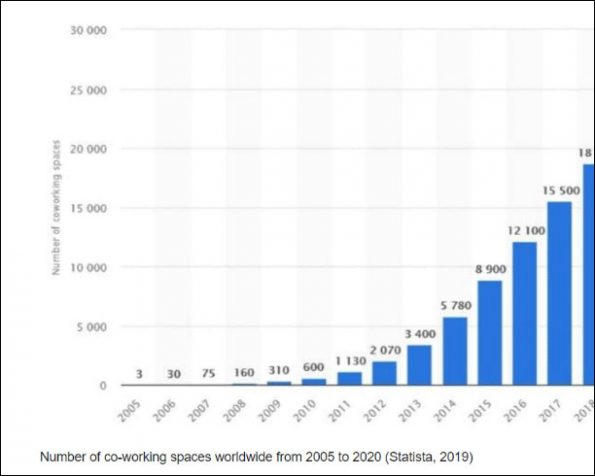 Source: RechargeGate
The number of coworking spaces worldwide crossed the 25,000 mark a few years ago and the graph continues to grow. This raises the question, "what is the best coworking space near me?" Here is a quick checklist of 7 must-haves.
💡 Are you looking for Coworking space in Gurgaon, Noida or Delhi?. We are just a call away.
Call now: 08999 828282
Top 7 Checklist To Find Coworking Space Near You
1. Easy Accessibility
One of the key reasons why people search for a "coworking office near me" is because it makes working out of prime locations more affordable. Along with the proximity to the central business district, you must consider how accessible the office is. If you drive down in your own vehicle, there should be sufficient parking available. If you use public transport, you need to assess how far it is from the closest metro or bus stop and how easy it is to get a taxi or auto-rickshaw to and from the area.
2. Safe, Clean Surroundings
Secondly, you need to consider how safe the neighbourhood is. Ideally, the coworking space should open out to the main road. It shouldn't be deserted during the day or in the late evening when you have to leave the office. Visit the space late in the evening once to ensure that it is well lit. 
There may be occasions when you have to invite clients for a meeting in the coworking space. In such cases, their first impression will be of the office surroundings. Hence, make sure you choose a coworking space in a clean part of town.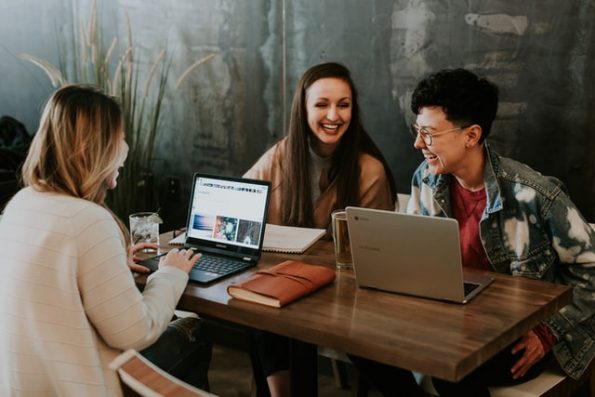 3. IT Amenities And Support
It's taken for granted that every coworking space near me has a hi-speed and reliable Wi-Fi connection. You should only bring your laptop with you. That said, you need to check the Wi-Fi speed and the reliability of the connection. Is there a backup in-place if the Wi-Fi is down? In addition, the the should have basic infrastructure such as printers and scanners that you can use if and when needed. Some coworking units also have an on-site IT support team. Check if these facilities are included in the price or charged separately.
💡 Are you looking for Coworking space in Gurgaon, Noida or Delhi?. We are just a call away.
Call now: 08999 828282
4. Shared Facilities
When you take up a coworking space membership, you're paying for more than just desk space. There are several shared facilities you should also be able to access. Clean toilets are a very important must-have – remember, you will be spending all day here. Look into the availability of lockers to store your belongings, a kitchenette and dining space and recreational spaces where you can take a break. 
5. Collaborative Spaces
Apart from the dining hall where you can have an impromptu meeting with a colleague or someone you just met, look into the availability of spaces specifically designed for collaboration. 
A meeting room or a conference room is an important facility. These spaces should be equipped with not just furniture but also have tools such as whiteboards, projectors, video conferencing equipment, etc. 
If you have a large team or you plan to host events, look for a coworking office for rent near me that also has a seminar hall. These spaces usually have to be booked in advance and are charged extra as per use. Hence, add this cost to your monthly membership fee.
6. Membership Flexibility
When you're choosing a coworking space, look into the flexibility of the lease. What is the minimum lease duration? Can you reserve a fixed desk or is it a first-come-first-served situation? Can you get an extra desk for just a day or a week? This is important if you're working with a remote team that comes together only when needed. 
7. Network Building Opportunities
A coworking space is a great place to meet people from outside your organization. Of course, you can meet people in the dining space or introduce yourself to the people sitting beside you but, working from a coworking space should offer more networking opportunities. A study showed that over half the coworking population chooses coworking spaces for the atmosphere, the ability to interact and the community.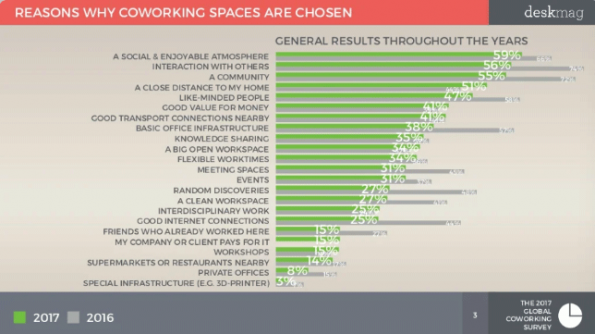 Source: SlideShare
Ask about the frequency of networking events and the type of events conducted. Also visit the space during work hours to get an idea of the type of people you will be working with. Coworking units that organise workshops, seminars, pitch meetings, etc can help you expand your network.
💡 Are you looking for Coworking space in Gurgaon, Noida or Delhi?. We are just a call away.
Call now: 08999 828282
A Final Word
Choosing the right coworking space is critical to your productivity. In addition to physically visiting the space and asking the right questions, take time out to read reviews by other members before you sign a lease. If you're in Delhi, Noida or Gurgaon, The Office Pass (TOP) may be just what you need. 
With coworking spaces in prime locations, easy accessibility and a range of shared facilities and services, TOP gives you everything you need to work undisturbed during the day and network after hours. To know more, reach out to us at 08999 828282.