There was a time MNCs and large corporates conducted business solely from centrally located "corporate offices". Well, not anymore! As remote working is becoming a norm, many organizations have started expanding their corporate real estate portfolio.
Today, businesses around the globe have switched to working from home (WFH) due to the ongoing pandemic. Corporates are also turning to Coworking in an attempt to enhance flexibility, create a distributed and hybrid workforce and to save cost. The question is which works best for corporates – corporate offices, WFH, or Coworking offices?
Let's find out by analyzing five key factors central to today's corporate ecosystem – flexibility, agility, productivity, safety, and community.
5 Key factors of Today's Corporate Ecosystem
1. Flexibility
It's no secret that corporate employees always preferred flexibility, and the pandemic has made it their top priority. According to the 2020 EY Work Reimagined Survey, 90% of respondents want flexibility in when and where they work.
As traditional corporate offices are location-dependent and have fixed timings, they don't score high on flexibility. Corporate teams that work from home, on the other hand, enjoy location independence but rarely get flexible work hours. Even worse, they end up working longer hours since the line between professional and personal life is often blurred while working from home.
Coworking space offers both flexible work hours and location independence. By choosing neighborhood Coworking, corporate employees get the flexibility to work from a location nearest to their residence. Flexi passes, hot desking, and pay-per-use packages make it possible for Coworking members to work on flexible schedules.
2. Agility
The concept of agile workplaces is gaining traction among MNCs and corporates. In an agile office space, employees are not permanently assigned to desks. Instead, they move around freely and switch between desks, private nooks, meeting rooms, lounges, common workstations, etc., based on the type and intensity of the work.
A traditional corporate office doesn't offer much agility to those who work in it. Teams are often assigned dedicated cabins and desks, and the freedom to utilize diverse zones and areas within the office is limited. People working from home also don't have the agility for activity-based working.
One of the main benefits of Coworking spaces is agility. Designed like an open office, a shared office comprises regular workstations, private corners, quiet zones, common work areas, outdoor seating zones, meeting rooms, and more. Corporates working from a Coworking space can make the most of the agility it offers to enhance employee experience.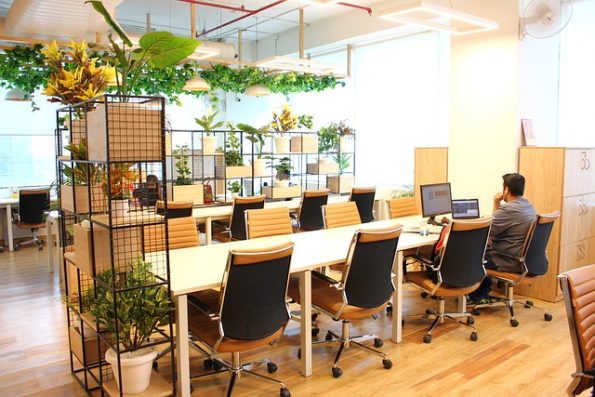 3. Productivity
Employee productivity is another key consideration in the current corporate ecosystem. Large corporates across the world are investing money and time to increase the productivity of their workforce.
Working remotely from locations other than corporate offices and traditional setups boosts productivity, say reports. That said, remote employees who work from home face productivity problems due to distractions, insufficient amenities, absence of a productive work environment, digital overload, and other factors.
Shared offices serve as a great remote work option for companies looking to enhance employee productivity. According to the JLL survey on the Future of Global Office Demands, Coworking has the highest impact on productivity. What's more, it allows corporates to continue working remotely and enjoy state-of-the-art facilities at the same time.
4. Safety and Wellbeing
Employee safety has always been a top priority of large corporates. One of the reasons companies switched from corporate offices to working from home during the pandemic was to ensure the safety and security of employees.
Working from home, without any doubt, is the safest work arrangement. However, long-term WFH does more harm than good – the digital fatigue and social isolation while working from home impact the emotional and mental health of employees. When employee wellbeing is considered, WFH might not be an ideal work agreement for corporates.
Here again, Coworking is proving to be a better choice for corporates. Neighborhood offices make it possible for employees to walk to work, which is safer than commuting to the corporate office. Shared offices also promote the emotional and mental wellbeing of employees by surrounding them with a dynamic and supportive business community.
5. Community
In the current corporate ecosystem hit by the pandemic, nothing is more important than community – it is through strategic collaborations that businesses recover and revive themselves. Workplaces that foster collaboration and communities are essential for corporates to create a sense of belonging among the workforce.
The work from home model makes little room for in-person interactions and consequently, it damages professional networks. Corporate offices are better than WFH in fostering internal and cross-functional collaboration within the organization, but connecting with the larger business community remains a challenge.
Collaboration and community are at the heart of Coworking, and that's why businesses are eager to return to Coworking spaces rather than continuing with WFH. By choosing to work out of a shared office, corporates can ensure both internal and external collaboration.
Final Thoughts
In a business world moving towards hybrid work models, corporate offices, WFH, and shared offices all have their roles to play. That said, Coworking has a more revolutionizing effect on corporates as it provides them with the most viable alternate workplace that is flexible, productive, agile, and above all, collaborative.