What is a Coworking space or shared office?
Coworking Space or Shared Office is a generic word that's generally used to describe any situation in which two or more people are working in the same place together, but not for the same company.
WHAT IS the rental for an office property in sohna road?
If a property expert is asked to name top locations for office space in Gurgaon, Sohna Road will feature prominently on the list. Gurugram or the Millennium city is home to many large and medium global corporate. Emerging businesses including Micro Small and Medium Enterprises (MSME), Small and Medium Business (SMB) and freelancers typically follow mature businesses in their choice for an office space. Monthly office space rentals in parts of Gurugram have crossed INR 90/- psf making it prohibitive for many organizations. However, the average rate of office property in Sohna Road ranges between INR 45/- to 75/- PSF making it a favorable location.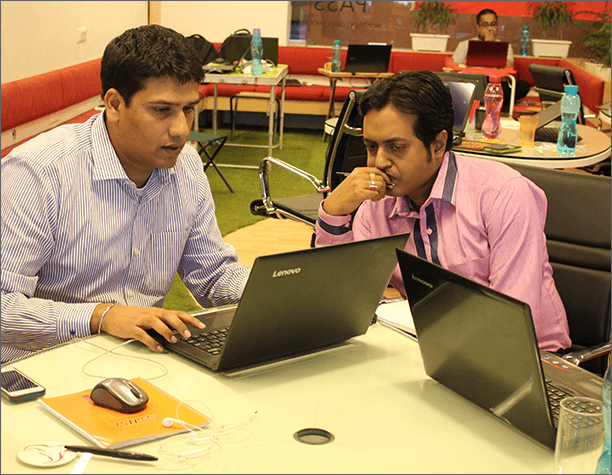 WHO SHOULD USE SHARED OFFICE SPACE IN SOHNA ROAD GURUGRAM?
While MSME, SMB and freelancers may aspire to work alongside large global corporate, they may not "yet" be financially ready to take on this additional cost. Coworking or Shared office spaces come in handy as they allow small companies to taste, best of office space experience, without drilling a hole in your pocket.
If your small business looking for a coworking office space in Sohna Road in Gurgaon, we strongly recommend that you consider you to look for the following.
AFFORDABLE PRICING
When compared with other locations in Gurugram, Sohna Road offers a good return for your money. Coworking spaces like "The Office Pass in JMD Megapolis building" charge a relatively low membership fee while facilities like WiFi access, Coffee & Chai, printer & scanner are provided for FREE. The monthly membership cost is charged on a per-seat basis and ranges between INR 7,000/- to 9,000/- per month.
Also Read: Why Coworking Is Ideal for Women Entrepreneurs
FACILITIES & SERVICES
Before you finalize a coworking space in Gurugram make sure it has all the facilities that are typically available to a large and medium global corporate. Do no compromises here. Facilities like nice and decent-looking offices (avoid places that try and fit people like in a call center). Check for Hi-speed WiFi connection, printer & scanner facility, Coffee & Chai depending on your preference, access to conference and meeting rooms and good air-conditioning system. Double check for AC, especially because the temperature in Gurugram can touch 45 degrees in summers.
MEETING ROOMS
If your business requires you to meet customers or vendors face to face, make sure that Coworking space has space to hold a meeting or do a conference call with a client. However, if you do not expect customers to visit you, this criterion can be ignored.
PRESENTABLE ADDRESS
Sohna Road, Gurugram as a coworking location is central, easy to find and reach. It is the perfect office address if you are living in Gurugram but also convenient if you are coming from North or West Delhi (via NH8) or Central & South Delhi (via Golf Course Extension road). Sohna Road can also be reached by using multiple transport systems, both public and private.
FLEXIBILITY IN CONTRACT
Some Coworking space providers ask for a 1-2 months fee as a security deposit and some have a lock-in period of 2-4 months (before which you cannot vacate). On the other hand some allow you complete flexibility and do not have a security deposit and lock-in periods. Prefer the shared office spaces that provide flexibility in contract terms to its users.
COMMUNITY
If you can benefit from the experiences of other Coworkers and vice versa, then you achieve more while at work. You become part of a larger community and culture that thrive on each other's experience. This can bring life into your business, and providing you the ability to give something back too.
If you are looking for Shared office space in Sohna Road Gurugram, check out The Office Pass. Keep the above points in mind before selecting a space.
Happy Coworking.