Office space in Delhi NCR is highly coveted and also, very expensive. For many growing companies, an independent office in Delhi's main business districts is completely unaffordable. This is one of the key reasons people have been showing an increased interest in working from a Coworking space. Within the NCR, Noida has emerged as a prime location for such units. 
Over the last few years, Noida has emerged as a world-class metropolitan city. The office spaces are bigger, the buildings are more modern and the city boasts of excellent connectivity. It is attracting business from the IT industry as well as MNCs and BPO solution providers. The city has been outpacing other parts of NCR. While Gurgaon had a net absorption of 38%, Noida saw a net absorption of 55%.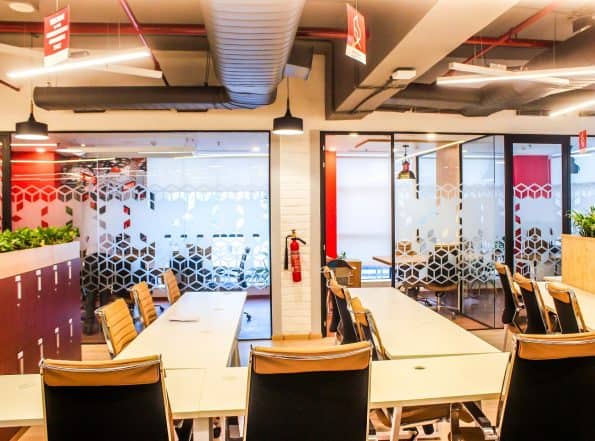 Let's take a look at the rental trends for Coworking spaces in Noida by top localities.
5 Best Coworking REntal Trends in Noida
1. Sector 18, Noida
Sector 18 is Noida's commercial real estate heart. It is the central shopping district as well as a prime location for office space in Noida. Renting and furnishing an independent office could be quite expensive in this area but if you were to look at a Coworking space, you could lease a desk for as little as Rs 6,500 per month. Day passes start at Rs 500 per desk making it ideal for freelancers and start-up entrepreneurs who have flexible teams.
2. Sector 15 and 16, Noida
Sectors 15 and 16 in Noida are amidst the elite section of the city. Its proximity to residential sectors and metro stops makes it appealing for employees, entrepreneurs and growing companies. It isn't surprising to note that this is considered by many to be the best place for Coworking in Noida. You can get a hot desk at the rate of Rs 5,500 per desk per month. 
Some teams may prefer having a fixed space to work from. For them, a private cabin would be a better choice. These spaces are furnished and available at rates of around Rs 6,000 to Rs 11,000 per seat. 
3. Sector 4, Noida
Sector 4 is another popular Coworking space in Noida very well connected by DMRC metro line. The sector is well connected to residential areas as well as areas known for their industrial and manufacturing units. You can find a Coworking space in Sector 4, Noida for a day or a month or longer even. Day passes are available for around Rs 700 per person per desk. On the other hand, if you prefer a dedicated desk and are looking at a longer lease, monthly lease rates are around Rs 7,500 per desk.
4. Noida Expressway
Like other cities, Noida is growing at a fast rate. While Greater Noida was once considered a far distance, today, the Noida Expressway has connected the two regions and brought them closer together. 
In light of this, many companies are starting to look at sectors along the Expressway as a location for Coworking space in Noida. The location makes it ideal for individuals living in Noida as well as Greater Noida. The average per desk monthly lease rate in this area is Rs 6,000. It is more affordable than several other parts of the city and hence quite popular.
5. Sector 62, Noida
Sector 62 is one of the most well-planned sectors in Noida. It is located along the Delhi-Meerut expressway and hence accessible for the different parts of Noida as well as Delhi. The cost of leasing a desk in this sector ranges from Rs 5,000 per month to Rs 8,000 per month. You can also lease a private cabin for Rs 12,000 per desk. The rates are at par with the Coworking units around the city.
Finding the perfect office for rent in Noida
As every business owner knows, location is key to success. The location of your office affects employee morale and is one of the key factors influencing a client's first impression of the company. Every sector in Noida has its advantages and disadvantages so what works for one company may not work for another. Thus, you need to have an independent view when you're looking for the top location for Coworking in Noida. 
Apart from location, you also need to consider the facilities provided by the Coworking space. If your employees travel by public transport, choose a location close to a metro station. You also need to ensure that there is sufficient parking space available for people commuting in their own vehicles. 
The Office Pass (TOP) has several Coworking spaces in Delhi, Noida and Gurgaon. The Noida Coworking unit is located in Sector 4 and easily accessible from the main arterial roads as well as Sector 15 and 16 Metro stations. The space is fully furnished and equipped with everything required for day-to-day functioning.  To visit the space or know more, reach out to TOP at 08999 828282.