Starting your business in a new city can be a thrilling and daunting experience at the same time. It comes with loads of requirements, starting from finding the best location and setting up an office to establishing your business network, hiring local talents, and more. Sounds like a lot of work?
What if we told you that a coworking space helps you meet more than half of these requirements? Let's find out how a shared office helps you in every step of establishing your business in a new city.
How coworking office helps you to establish your business in a new city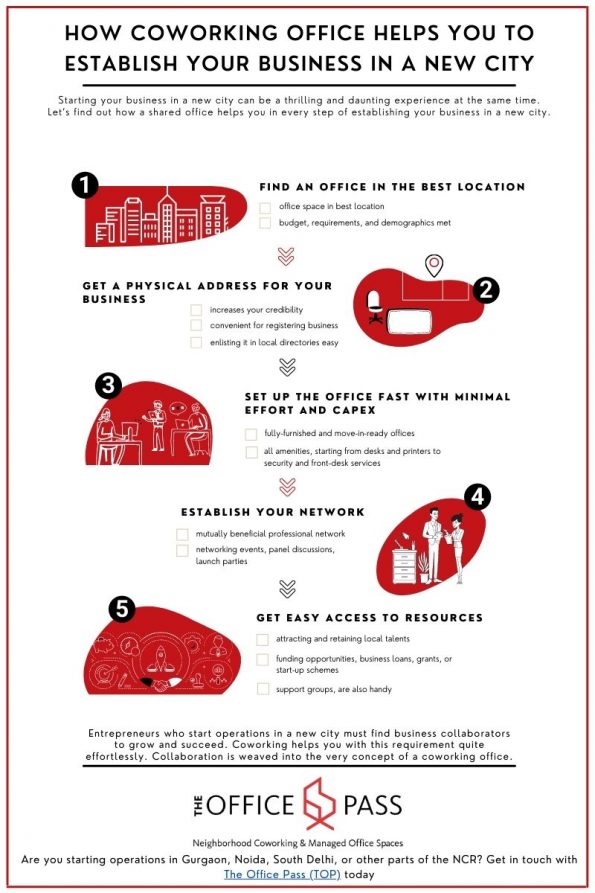 1. Find an Office in the Best Location
The first step of starting operations in a new city is to identify a good location for your business. You cannot choose just any location but one that is ideal for business and has good accessibility. Often, the commercial office spaces in prime localities are grossly expensive and can drain you financially.
Coworking spaces in metros and tier-II cities offer office spaces in the best locations without making you spend a fortune. Coworking operators typically have relatively large properties in the CBDs and SBDs of a city. They then rent them to companies like you, who may have smaller area requirements so you can choose one that best fits your budget, requirements, and demographics. If you want a bigger bang for your bucks and more flexibility in location, you can also consider neighborhood coworking.
2. Get A Physical Address for Your Business
A physical address for your business is a must when you start operations in a new city. Besides increasing your credibility, a business address comes in handy while registering the company, enlisting it in local directories, filing taxes, and preparing business documents.
Shared offices across Indian cities cater to this crucial business requirement. When you choose a coworking space in Gurgaon, Delhi, Noida, or other cities, you get a proper business address to use for your operations and branding. The service operator will also provide you with all the documents required for registering the business, such as NOCs, rental agreements, utility bills, etc.
3. Set Up the Office Fast with Minimal Effort and CapEx
Coworking spaces help you set up your office in a new city without spending too much time, effort, or money. These fully-furnished and move-in-ready offices come with all amenities, starting from desks and printers to security and front-desk services. You need not spend long hours or large amounts of money on furnishing the place.
Many coworking offices in Mumbai, Bangalore, Delhi, Gurgaon, Noida, and other cities also offer managed offices where you get dedicated office space that reflects your brand identity. Such offices are ideal for established businesses relocating or expanding to a new city.
4. Establish Your Network
A reliable and mutually beneficial professional network is the backbone of every business. Typically, when you start operations in a new city, it takes a while to establish a strong business network. You have to spend weeks or months looking for events and avenues where you can meet people and form connections.
Coworking spaces in metros make it easier for you to establish your business network as soon as you start operations in a city. As a platform that houses several businesses, a shared office is a great networking avenue in itself. The networking events, panel discussions, launch parties, and entrepreneur talks hosted by coworking operators further help you widen your local connections in the new city.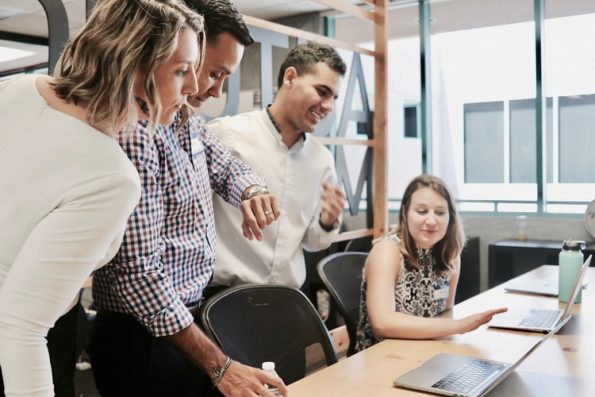 5. Find Potential Collaborators
Entrepreneurs who start operations in a new city must find business collaborators to grow and succeed. Coworking helps you with this requirement quite effortlessly. Collaboration is weaved into the very concept of a coworking office – it is a community-inspired workplace where you can form cross-business partnerships.
Take, for instance, the case of a coworking space in Delhi, Gurgaon, Noida, Mumbai, or Bangalore. It houses professionals and freelancers from diverse industries, such as IT, web development, accounting, digital marketing, and others. Whether you are looking to design a new website or develop an app, the service is available right across the floor!
6. Get Easy Access to Resources
Access to resources, both economic and human, is a crucial requirement for businesses trying to find their feet in a new city. Coworking fills in this requirement in several ways. For starters, having a shared office increases your chances of attracting and retaining local talents. Workplace flexibility is a must-have for employees these days, so you can leverage the flexibility offered by coworking spaces to build your team.
Similarly, shared offices enhance your access to economic resources, whether it is funding opportunities, business loans, grants, or start-up schemes. Emotional resources, such as support groups, are also handy. Above all, when you want practical inputs – for instance, which is the best bank in the city to open a corporate account or how to obtain a license – you can always turn to your coworkers for information or references.
Final Thoughts
Expanding or relocating your business to a new city is indeed a big leap. With lots of requirements to meet, it could feel like a mammoth task. However, by choosing a coworking office in the city, you can get half the work done and find your feet faster.
Are you starting operations in Gurgaon, Noida, South Delhi, or other parts of the NCR? Get in touch with The Office Pass (TOP) today!