When we had to go to the office every day, we dreamt of a day when we could work from home in our pajamas and companies assumed people wouldn't get much done if they weren't in the office. But when #WFH became a reality, the flip side soon made itself visible. 
Companies saw that employees were as productive working from home as they were when they were in the office. In addition, remote working was cost-effective for them. 
However, employees realized that this arrangement blurred the lines between their work time and personal time and they had to deal with many more distractions. They didn't want to work from home but neither did they want to go back to the daily long office commute. 
The ideal solution emerged in the form of neighbourhood coworking spaces offering WFNH or Work From Near Home opportunities. Let's take a look at how The Office Pass (TOP) is facilitating this transition in Gurgaon.
How The Office Pass Are Facilitating Work From Near Home Culture (WFNH)?
1. Professional Work Zones
The doorbell ringing every 5 minutes, children asking for snacks and the maid wanting to know what to cook, well, these distractions are some of the biggest challenges of working from home. The Office Pass (TOP) gives working professionals a space where they can focus on their to-do lists with minimal distractions. 
According to a survey, 68% of all respondents say that they can focus on tasks better in neighbourhood coworking spaces as compared to their homes. 
Rather than share their workspace with children doing their homework, people can work beside other professionals. Everyone in this space has professional targets and goals that they're working towards. When people do need to talk to others, TOP has dedicated meeting rooms and community spaces where they can talk without disturbing others. 
2. Access To Productivity-Enhancing Tools
Almost all professionals have a laptop at home where they can get most of their work done. But, many do not have good-quality printers, scanners, video conferencing equipment, etc. Even the Wi-Fi at home can be weak. For many people, the dining table was also their work table. All of this affects productivity. 
According to a survey, availability of office infrastructure is one of the key reasons why people choose their current coworking space. 57% did so because they needed a basic office infrastructure while 46% needed a good internet connection.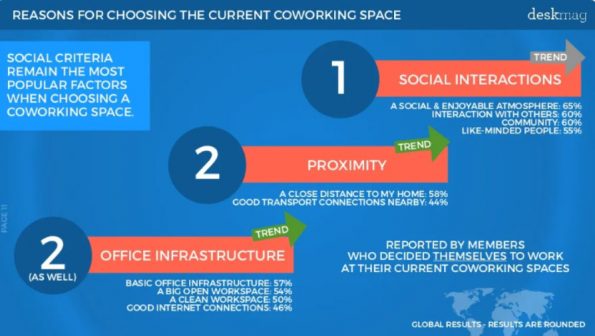 Source: SlideShare
Irrespective of which The Office Pass (TOP) coworking space in Gurgaon you visit, you'll get access to the basic infrastructure, ergonomic chairs and desks to work from, a steady, reliable internet connection and a host of other productivity tools. TOP members can even get fresh coffee within the space. 
3. Flexible Membership Plans
The Office Pass (TOP) facilitates WFNH for entrepreneurs and employees of growing companies as well as those working with MNCs. Unlike the long lease agreements associated with taking up a traditional office for rent in Gurgaon, you can rent a coworking desk for as little as a day. This makes coworking spaces cost-effective and gives professionals the flexibility of choosing need-based work sites. On days when they need to work on team projects, they can take up additional desks without any hassle.  
4. Motivating Community
Staying motivated to follow a work schedule can be difficult when you're working from home. You might switch on the television to take a 10-minute break and before you know it, half the day has gone by. WFH can be isolating. An American survey showed that this is an issue with about 1 in 3 people.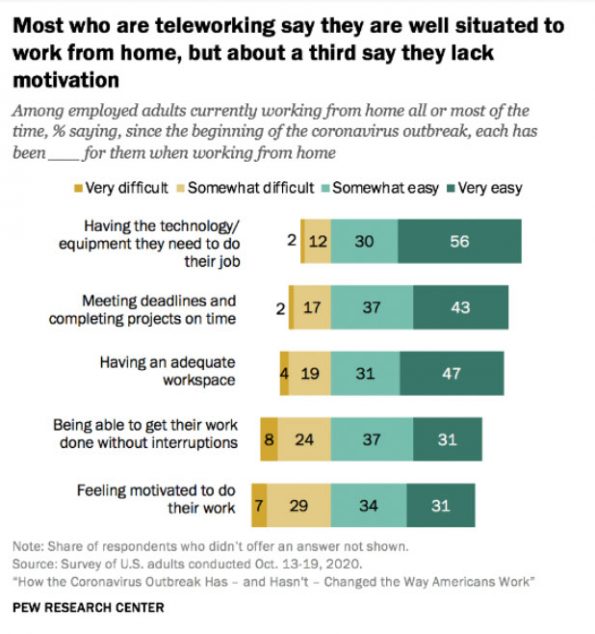 Source: PewResearch
Coworking in Gurgaon at The Office Pass (TOP) offers a solution. Here, professionals are not working alone. Instead, every member is a part of the coworking community. Surrounding yourself with goal-driven professionals pushes you to stay focussed on your tasks and not give in to distractions.  
When obstacles appear that would otherwise have left you dejected, you can brainstorm solutions with other coworkers. What's more, while you may be tempted to work from your bedroom in pajamas at home, when you go to a coworking space, you're pushed to dress properly, sit at a desk, follow a schedule, and so on. In these ways, coworking spaces keep their members motivated and, on the path to reaching their goals. 
5. Accessible Locations
Location is one of the key factors to be considered when looking at office space in Gurgaon. The Office Pass (TOP) has 10 coworking bases in Gurgaon. Depending on where your home is, you can choose between coworking spaces in Sector 39 (near HUDA City Center), Sector 48, Sohna Road, Cybercity, Golf Course Road (Paras Downtown Centre and Vatika Towers) or Sector 74 in New Gurgaon. Each of these coworking spaces is located close to the main roads and metro stops to minimize your commute. Public transport is easily available and if you choose to drive your own vehicle, sufficient parking is available too. 
In Conclusion
Like anything else, WFH has its advantages and disadvantages. Companies that have experienced the advantages aren't all keen on getting back to the way things were a few years ago. WFNH is a win-win for employers and employees. 
Coworking operator like The Office Pass (TOP) help balance productivity with the comfort of working from near your home. For employees and freelancers, it offers an environment conducive to work and access to office infrastructure. 
For employers, it is a way to control costs while ensuring that employees have a professional space to work from. To know more and find a coworking space close to you, reach out to us at 08999 828282.