Choosing an office space is probably one of the most important decisions you will make as a business owner. This is the space that will make first impressions for your clients and where your team will collaborate and grow. 
The right commercial office space has a vibe that matches your company culture and fits your budget. Office operational expenses are the third biggest expense for any organisation (after employee and marketing expenses). So, how can you find reasonably priced office space in Gurgaon? Here are 6 tips.
6 Tips To Find Reasonably Priced Commercial Coworking Space in Gurgaon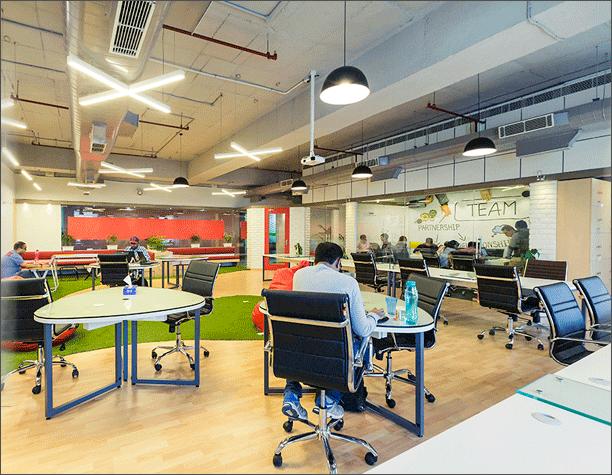 1. Start By Determining Your Actual Space Needs
The thought of a large, spacious office is luxurious but do you really need so much space? Before you start searching for office space for rent in Gurgaon, assess how much space you really require. 
Today, many offices are following a hybrid model. So, though you may have 50 employees, there may not be more than 20 present in the office at a time. This means that rather than plan office space to seat 50 people, you could plan one that seats about 25. 
You should also consider any headcount addition over the next few quarters so you do not outgrow the space anytime soon. 
2. Traditional Vs Coworking In Gurgaon
Next, weigh the pros and cons of traditional office spaces vs coworking spaces. The latter has many advantages. Decentralizing the office makes commuting easier for employees and allows them to work remotely yet maintains a professional work atmosphere. In terms of budget, the costs are much lower. Also, you only pay rent for the number of desks required. All overhead costs like electricity, security, housekeeping, etc are handled by the coworking operator. It's great for growing businesses that require flexibility. 
Opt for a Traditional Office when your requirements are relatively well-known and are not likely to change over the next 2-3 years.
3. Choose The Right Location
Rentals are influenced not only by the square footage but also by the location. An office on Golf Course Road or MG road in Gurgaon would be far more expensive than an office on Sohna Road or Udyog Vihar area. That said, the location you choose will also influence the impression you make on clients and employees who visit your office. 
Remember, before they can enter your office and see the beautiful décor, they will see the locality. Look for office space that is on the main road, close to Metro stations and has enough parking for your employees and visitors. 
Once again, you may find that a traditional office in such locations is priced outside your budget. But, you can easily find Coworking space in Gurgaon in prime locations at reasonable prices. 
4. Distinguish Between Needs And Wants
Your dream office may have a beautiful glass façade, marble flooring, automated lighting and HVAC, etc. But, are these really necessary? You must aim high for your business but you need to be practical too. Create separate lists of 'must haves' and 'wants'. A high-speed internet connection, ergonomic chairs, lockers for your employees and security fall into the first list while a break room with a foosball table probably fits into the latter. 
If you choose a good Coworking space in Gurgaon like The Office Pass (TOP), you'll find that most of the 'must haves' requirements are met. You may even be able to enjoy some of the 'wants'. For example, if you were to set up your own office, your employees may have to settle for a kettle and tea bags to make a cup of tea but a Coworking space may provide a tea and coffee machine. 
5. Factor In Office Operations Costs
When you're comparing office space prices from different sites, don't look only at the space rental. Once you rent the space, you will need to furnish it with chairs and desks, install air conditioning, etc. Then there are other recurring operational costs like electricity, internet, sanitation, etc that must be added to the rent. It can take quite a big bite out of your budget. 
On the other hand, moving into a Coworking, Shared or Managed office space involves minimal fit-outs and overheads. Your team can walk into the office and start working as soon as the lease is signed. Along with the desk space, you also get access to meeting rooms and additional support services as and when needed. Thus, the investment required is much lower.
6. Finalize The Deal In Person
With everything going virtual, it's tempting to browse through online listings for office space and finalize the deal through a phone call. But, it's always better to see the space in person and negotiate in person. 
Start your search online by all means but make sure you visit the space and walk through it to assess the connectivity, infrastructure and features available. Is the entrance to the building easy to find? How far is it from a metro station? Is the locality safe at night? If you simply must have an independent office space, you could negotiate your rent based on these factors. 
For example, an online listing may say that the space is 5 minutes from the metro station but in reality, the entrance of the building may be such that you need to go around the entire block before you can enter. 
Finding The Right Coworking Space Gurgaon
Many businesses have found the benefits of a coworking space greatly outweigh the costs of having an independent office. If you're still weighing the pros and cons, visit The Office Pass (TOP) and have a look at our coworking spaces. There are 8 budget-friendly Coworking spaces in Gurgaon in prime locations that are well connected and fully equipped so you can focus on your work and not daily maintenance. To know more, contact us at 8999 828282.