Businesses all over the world are facing unprecedented operational challenges due to the pandemic. While maintaining a traditional office is not a safe option, working from home isn't a permanent solution either. As a result, organizations are increasingly looking for an amalgamation of standalone offices and coworking spaces. In response to this need, managed offices are emerging as a viable solution.
In this blog, we'll look at how managed offices stand to gain importance in the times of the pandemic and beyond.
What is a managed office?
Managed offices are custom-built office spaces designed for companies and operated by service providers. In other words, these are empty spaces that you can customize as per your requirements and in line with your brand identity. These include office infrastructure, like the number of workstations, meeting rooms, reception rooms, wall colors, floor finishes, etc.
For instance, you can use a color scheme that reflects your brand, have your logo on the door, opt for open workstations or closed cabins as per your work culture, design the interiors in classy or quirky styles, and the like. You don't have to spend your time or resources on customizing the space – give your inputs, and the service provider will get it done for you.
You will also have to bear a certain percentage of the furnishing cost, which might vary from one service provider to another. In most cases, a managed office space requires you to commit to a fixed term. Also, you have to pay for the complete package of facilities and services, unlike the pay-per-desk system followed in coworking spaces.
Also Read: Coworking is the future of work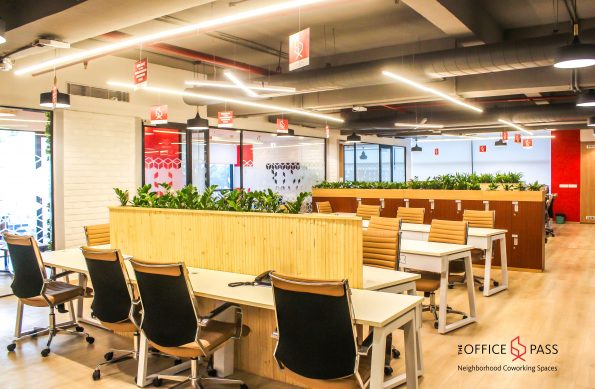 What are the key features of a managed office?
The main features of a managed office that make it different from coworking and shared office spaces include the following:
Customization: Managed offices are empty spaces that you can get customized into fully-functional and exclusive offices.
Fixed lease terms: You will have to sign a long-term contract with a lock-in period (typically 36 months).
Scalability: Managed offices provide the option for scalability as per the demand of the occupant.
Notice period: When you terminate the services, you will have to serve a notice period (3 to 6 months).
Security deposit: You must pay a security deposit (invoice value of about 3 to 6 months).
Fixed invoicing system: Unlike the pay-per-desk system prevalent in coworking spaces, you will have to pay a fixed amount plus operating costs.
Why managed offices gain importance during the times of COVID-19
In the context of COVID-19, managed offices offer several advantages for organizations to carry on their business in a safe environment. By choosing to operate out of managed offices, you can:
Follow safety and sanitization measures
Companies working out of offices are required to follow a set of sanitization protocols to ensure the safety of their employees. As managed offices are operated and maintained by the service provider, they will take care of all necessary sanitization and safety processes.
Avoid crowds by keeping it local
When you opt for a managed office space, you get to choose the location where you would like to set up your office. In this COVID-era, it is important to have your office at an easily accessible location to reduce the time spent on commuting.
Maintain physical distance
As per Government regulations, it is mandatory to maintain a minimum distance of 6 feet from the person working next to you. In a managed office space, you can have a seating arrangement that conforms to this requirement of physical distancing.
Running a traditional office is a costly affair, even more so in the times of the pandemic. Companies are forced to spend huge amounts on automation processes, sanitization, and safety devices. By opting for a managed office, you can reduce such costs.
Carry out undisrupted operations
By opting for multiple managed offices rather than a centralized office, you can ensure undisrupted business processes. In the unfortunate incident that an employee at one office tests positive and her/his colleagues go into quarantine, other offices can continue functioning.
Also Read: Traditional Workspace vs Coworking Space
Keep it private and professional
Though working from home is a great solution to stay safe during the pandemic, it might not always be the most productive option. This is where managed offices come to your aid – they are private as well as professional. Such custom-made offices give you a peaceful setting to work without disturbances.
Decentralize your operations
With the advent of COVID-19, many medium and large organizations have started decentralizing their operations by operating out of multiple locations. If you are planning to set up multiple units/offices in two or more locations, managed offices are the way to go. You can keep your brand identity across locations while keeping the workforce decentralized.
The bottom line:
The pandemic has forced us to reimagine what office spaces should be like. As organizations are considering to resume their office operations, smart solutions like managed offices score higher than conventional centralized offices. Private, professional, functional, safe, clean, and cost-effective, they tick all the right boxes.
Do you want a managed office in Gurgaon or Noida? Check out The Office Pass (TOP), a fully managed office provider. Tell us your specifications and we will the office customized for you.