If your office were operating from an independent office, you would probably welcome new hires with a walk-through of the office and introduce them to everyone. In a coworking space, welcome orientation is slightly different. 
For starters, there's no main door with your branding on it. The floor has people from other companies as well and they will not want to be disturbed by a loud welcome party. So, what can you do? Here are a few ideas to introduce your new employees to your coworking office space and meet their expectations.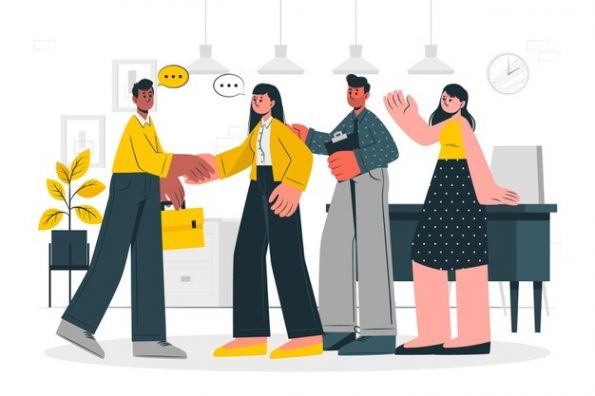 7 Ideas to Introduce your New Employees in Coworking Office Space
1. Share A Welcome Packet
Every new employee must receive a welcome packet. We're not talking about just a badge and an entry pass. Take your welcome packet a step further with a branded mug or a t-shirt or company stationary. 
In addition to this, include a list of useful information – what's the best place near the office space to order lunch, where can you get coffee, the coworking internet password, etc. 
You could also include coupons for services offered by the coworking space. For example, you could include a coupon to the facility's gym or coupons for coffee. 
2. Tour Of The Coworking Office
Even though you may have rented just a desk or two in a coworking office, there are several common facilities you would have access to. So, take your new team member on a quick tour. Show them where your team sits, where the printer and scanners are and share operational instructions, show them the Cafe / lunchroom, etc. 
3. Schedule A Virtual Meet
One of the most well-documented coworking office space benefits is that people can work from offices close to their homes. However, this means that new employees may not get to meet everyone in person. 
So, instead, schedule a video call with everyone on the team for a little virtual meet-and-greet. Along with this, schedule one-on-one video meetings with people, the new recruit is going to be working closely with. An informal coffee session with employees who work out of the same space is a great way to break the ice. 
4. Add Them To Your Group List
Since you've got people working from different locations, you probably have a lot of virtual groups. Make sure you add the new member of your team to all these groups – the formal office ones and the informal groups. Don't miss out on any of the platforms – Facebook, WhatsApp, Slack, Google, etc. Kindly introduce the new employee to the existing group and let them know the department and functional role of the new employee.
5. Delegate A Buddy
While the coworking advantages for employees may be quite evident to you, a new employee might need some time to adapt to the situation. In an independent office, everyone they see obviously works with the same company but being able to identify coworkers in a coworking space may be a bit more challenging. 
It would be a good idea to assign every new employee a buddy for the first few days. Buddies can help new employees get acclimatized to their role and understand the company culture. 
6. Organize A Lunch
You may have found the most beautiful office space for rent but, welcoming a new team member is the ideal opportunity to step out for a welcome lunch. Rather than ordering, take the team out for lunch to a nearby restaurant so that your new employee can interact with everyone else in an informal atmosphere. If not the first day, you can schedule this lunch on any other day in their first week at the office. 
7. Help Set Up A Virtual Workspace
Last but not the least, help set up a virtual workspace for them in the new office space. Let them spend a day or two acquainting themselves with the team and processes before they take on heavy responsibilities. 
You could also give them an overview of the tools used by the company – what platform do you use for file sharing and internal communications, etc. It would be a good idea to have a different person help them out with each bit of training so that they get to meet and interact with more people.
Our Two Cents 
The onboarding experience will be different for every person. Make sure the new person knows who they can turn to if they need help of any kind and encourage everyone on the team to be warm and welcoming. 
Within a few days, they would have made friends within the company team as well as with other people on the floor. In a way, when you're working in a coworking space, networking begins on Day 1. It's just one of the many advantages of the system. 
If you're looking for Coworking space in Delhi, Noida or Gurgaon, take a look at the locations offered by The Office Pass (TOP). Each coworking space is well laid out, fully equipped and ready to work from. To know more, reach out to us at 08999 828282.