Running a startup is not just about planning and strategizing but also about managing expenses. Of the many costs incurred by an Indian startup, real estate often tops the list. Commercial real estate accounts for 9% to 12% of the total operational costs for established corporates. They also suggest that for startups, the number could be much higher!
Do not let these numbers dishearten you! Moving to a coworking space can make a lot of difference to your budget. A study published by JLL suggests that businesses in many top Indian cities, including Delhi NCR, Bangalore, Mumbai, and Pune, can save around 20% to 25% of this cost by moving to a coworking office.
Want to know more? Let's look at some of the top coworking benefits for startups in terms of cost reduction.
Best 7 ways how Coworking Spaces benefit Startups & Entrepreneurs
1. Lower Lease Rents
One of the main Coworking office advantages is that you can lower your rentals considerably. As per the 2020 report by Anarock, coworking offices provide a cost advantage over traditional workplaces. For instance, in the Central Business District (CBD) of Mumbai, the price difference between traditional and coworking offices is around 14%, while in Secondary Business Districts, it goes up to 42%. The price difference (CBDs) in Gurugram, Bangalore, and Pune is 6%, 20%, and 33%, respectively.
Coworking operators typically take large areas (10,000 to 20,000 SqFt) so they are able to negotiate a lower bulk rental compared to a startup who may require only about 1,500 to 2,000 SqFt. Moreover, the coworking company will furnish the office to make it ready for use. The cost of furnishing could be INR 1,800 to 3,000 per square feet for a startup. By moving to a Coworking space, the startup can enjoy lower lease rents and save 100% furnishing expenses.
Moreover, many leading coworking operators in India, such as The Office Pass (TOP), offer additional discounts on rentals, especially for startups and women entrepreneurs. Startups can spend the money they saved on rentals to grow their business.
💡 Are you looking for Coworking space in Gurgaon, Noida or Delhi?. We are just a call away.
Call now: 08999 828282
2. Affordable Security Deposits
Another advantage of coworking for startups is that you don't have to spend a fortune on the security deposit. In many Tier 1 and Tier 2 cities in India, the security deposit is typically equivalent to 3 to 6 months of rent. In premium locations, it could even go up to 11 to 12 months' rent.
For startups trying to stand on their feet, such a big amount can be financially draining. As coworking spaces are startup-friendly, the security deposit they demand is a lot lower than other commercial spaces.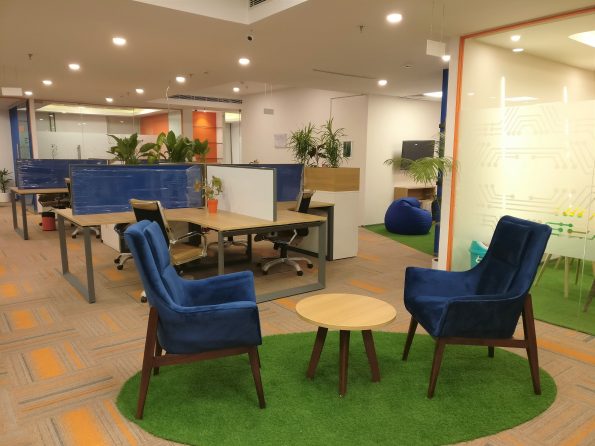 3. Reduced CapEx For Office Running
Startups and entrepreneurs renting out office spaces should consider not just the rental but also the cost of furnishing the space. You'll need desks and chairs, air conditioning, computers, Wi-Fi, etc. The cost of a copier, scanner, printer, coffee maker, etc., can quickly add up to take a sizeable bite out of your budget. In addition to buying these things, you'll also have to set aside a portion of your budget for maintaining them.
Coworking for startups comes furnished with all necessary furniture and accessories, thereby helping you reduce your IT budget and Capital Expenditure. In addition to desks and chairs, shared offices are also equipped with other office infrastructures, such as printers, copiers, scanners, and projectors for web conferencing. All members can access these facilities without additional fees. The coworking service provider is able to spread this cost over a lot many people making it more affordable. The coworking company also takes care of the Annual Maintenance Contract (AMC) for these equipment, taking it off your shoulder.
4. Flexibility in Pricing
The pandemic has proved that not everyone needs to be in the office to be productive. Remote working has many advantages, and businesses are likely to continue following a hybrid model to lower their costs. Offices continuing with the traditional office model will see that there are days when quite a few seats in the office are empty and others when there aren't enough desks for everyone to work at.
Flexibility is one of the top advantages of coworking for entrepreneurs. Leases are shorter, and you can add or remove desks whenever needed. You can even hire a desk for just one day! So, let's say you've got a project that five people need to work on – you can rent five desks for the week. The next week, you may choose to rent space only for two desks. As your team grows, you can increase the number of desks rented.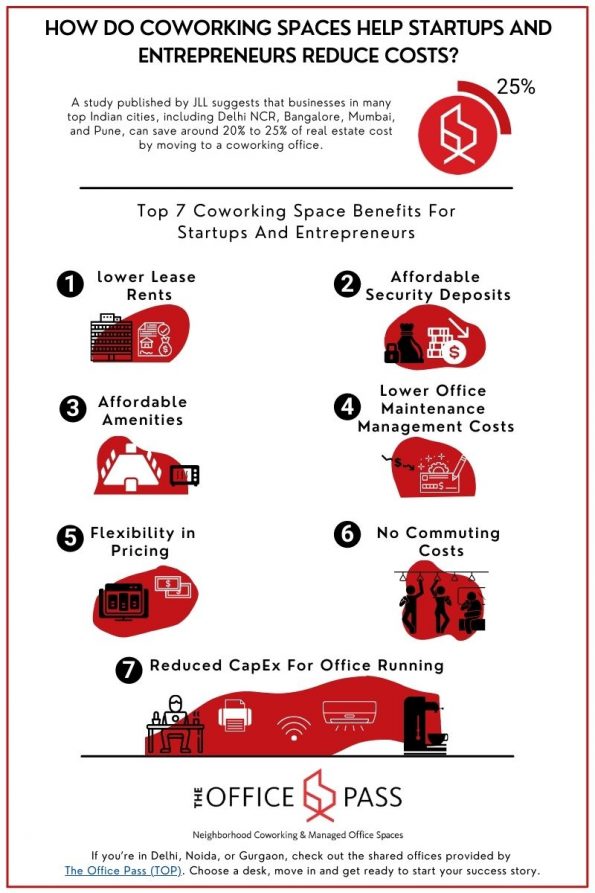 On the other hand, when times are tough and profits low, a small business wanting to reduce costs without compromising on their square footage can do so by switching to a different location.
💡 Are you looking for Coworking space in Gurgaon, Noida or Delhi?. We are just a call away.
Call now: 08999 828282
5. Affordable Amenities
Along with furniture and office equipment, coworking spaces also offer other amenities like a kitchenette with a microwave and coffee machine and de-stressing zones. These amenities may not be affordable for startups on their own. You can also enjoy front desk services, which is typically an additional expense for small businesses.
Also, when you work out of a shared office, you need not spend money on setting up a meeting room or conference hall. The Coworking office will have meeting/conference rooms, which you can use for free for a few hours every month, based on the package you choose. You can avail of these facilities subsequently by paying additional charges.
6. Lower Office Maintenance Management Costs
In light of the current pandemic, sanitization and housekeeping have become more crucial than ever. No business can afford to ignore these services, but there are significant costs associated with them. More often than not, startups and small businesses might not have the budget to invest in fumigation equipment or no-contact sanitizer dispensers.
When you work out of a coworking space, the service provider takes care of all housekeeping services as well as sanitizing the office space regularly. To make the office safer for everyone working there, they may upgrade the infrastructure – for example, automatic doors may be installed to reduce touchpoints.
7. No Commuting Costs
Commuting costs and employee travel allowance can also take up a considerable amount of your budget. Startups, SMEs, and entrepreneurs can save costs related to commuting by opting for Neighborhood Coworking spaces.
You can choose offices in multiple locations in the city, and your employees can work out of the office closest to their house. Neighborhood coworking typically caters to customers within 5 km of the office radius – it means you and your employees can walk to work.
💡 Are you looking for Coworking space in Gurgaon, Noida or Delhi?. We are just a call away.
Call now: 08999 828282
Summing It Up
Cost reduction is one of the most important shared office advantages for entrepreneurs and startups. These spaces have lower rentals, flexible leases, furnished office spaces that are ready to move into and equipped with all the amenities you may require. In other words, coworking offices help you reduce both operational and capital, allowing you to save more.
If you're in Delhi, Noida, or Gurgaon, check out the shared offices provided by The Office Pass (TOP). Choose a desk, move in and get ready to start your success story. To know more, contact us at 89998 28282.