Mental wellness is important. Your mental state of being and productivity levels have a cyclic relationship. When you're unhappy and stressed out, your productivity suffers. In turn, this makes you feel worse and the cycle continues. On the other hand, if you're happy, productivity soars which increase job satisfaction and bring about more positivity. In fact, a study found that happiness improves productivity by 12%. 
Hence, it is important to find a job and an office space that you feel comfortable and happy in. Working from home was once thought of as the ideal way to maintain a work life balance. Then came the pandemic that made employers aware of the benefits of remote working and showed employees that working from home isn't as simple as it seems. 
If you're looking for an alternative that offers the benefits of working from home without the social isolation and the environment of an office without the long commutes, it's time to explore the world of coworking. Let's take a look at how coworking spaces can improve mental wellness.
💡 Are you looking for Coworking space in Gurgaon, Noida or Delhi?. We are just a call away.
Call now: 08999 828282
How Co-Working Space Can Improve Your Mental Health
1. Puts You In A Professional State Of Work
There are countless distractions when you're working from home – someone's watching television, there are doorbells to be answered, the maid wants instructions… It's difficult to stay focused on work. Similarly, if you're working from a café, you can get distracted by people talking loudly at the next table. On the other hand, a coworking space is used only by other professionals.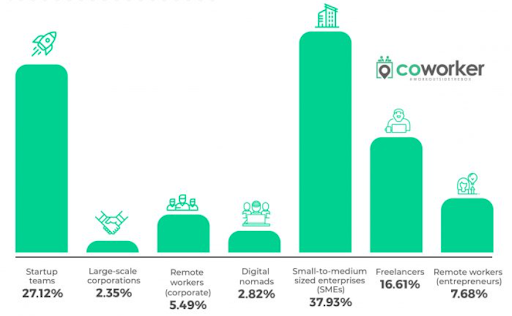 Source: Coworking Insights
Irrespective of whether they are freelancers, entrepreneurs or senior managers of large corporations, they have work on their minds and aren't likely to disturb you. Seeing them work will push you to work harder too. As a result, you procrastinate less and get more work done in the day. This boosts morale and reduces stress. 
2. Reduces Commute Time To Increase Family Time
One of the factors commonly cited when you talk of coworking importance is the relative closeness of these spaces to residential areas. Rather than drive for an hour just to reach the office, you can pick a coworking space like The Office Pass (TOP) that is close to your home and shorten your commute. A survey conducted after the pandemic found that 65% of workers who preferred to remain as remote workers did so to save on their commute.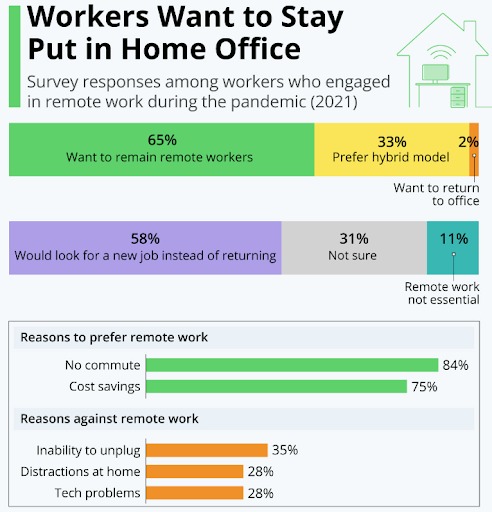 Source: We Forum
The time spent on the road cannot be counted towards personal or work hours. However, by minimizing the commute, you can use that time to either get more work done or spend it with your family. It helps maintain a personal time-work balance. In turn, this cuts down on anxiety and improves your mental well-being.
3. Expands Your Social Circle
One of the biggest challenges of working remotely is loneliness. 19% of survey respondents cited this as their biggest challenge. While it may seem that you can focus better when there aren't people around, in reality, working without company can be demotivating and it's easier to give in to distractions.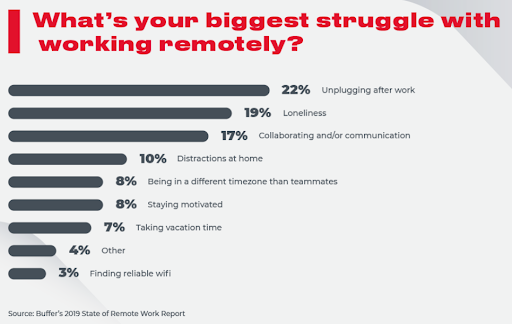 Source: Innovecs
Moving to a coworking space helps expand your social and professional network. Making friends is easier as is finding partners and collaborators. 
A quick conversation while you're waiting for your lunch to heat up can help you meet people with similar interests. These people can further help you expand your network even more by making introductions to mentors, investors, etc. Man is a social animal and having good friends has been proven to improve your mental health.
4. Makes It Easier To Get Help When Needed
Working alone is especially challenging when you're faced with a problem. You need people to brainstorm solutions with. When you work with other people, your work flows smoothly and work gets done faster. Collaboration is instrumental to success. This becomes important when talking about how coworking helps mental health. While 51% of survey respondents said working in a coworking space made them feel part of a community, 55% said it presented more networking opportunities.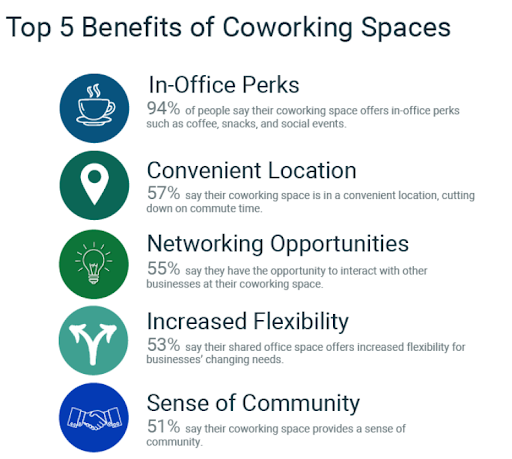 Source: Clutch
When you face a problem, getting help from people around in a coworking space is easy. There is no office politics to navigate past and no one has any vested interests. All you need to do is ask for the help you need. 
5. Gives You Access To Fun After-Work Events
There's no denying it, 'all work and no play makes Jack a dull boy'. If Jack can't work throughout the day, neither can you. You need a break and an outlet for pent-up energies. The challenge most people face is finding the right activity. And then getting access to the event. This is one of the attractions of a coworking space.
Most coworking spaces organize events for their members to socialize and network. This may take the form of professional events like a pitch session or a brainstorming afternoon or social events like game night or potluck breakfasts. The core idea is to meet and mingle. Even if there isn't an event planned for the day, you can relax with other members in the shared spaces. 
💡 Are you looking for Coworking space in Gurgaon, Noida or Delhi?. We are just a call away.
Call now: 08999 828282
Finding The Right Coworking Space
To maximize the benefits of working from a coworking space, you must choose the right one. Metro cities like Delhi, Noida and Gurgaon have many affordable coworking spaces to pick from. But, the price cannot be your only criterion. 
The coworking unit must have a professional atmosphere. It must be well laid out and furnished with ergonomic chairs and desks. You must get access to shared spaces, office infrastructure like printers, video conferencing equipment, etc. as well as spaces like a kitchen and a breakout room.
All of this and more is available at the coworking spaces provided by The Office Pass (TOP). To know more, reach out to us at 08999 828282.