Why Coworking is the future of work?
Coworking has been revolutionizing the landscape of work for quite some time now. The rising phenomenon of coworking spaces offers a clear indication of how things are changing on the workspace front. In 2011, there were less than 1,150 coworking spaces across the world. By 2017, this number jumped up to almost 14,000. This figure in itself indicates why coworking is the future of work.
The growing popularity of shared office spaces
Today coworking is no longer a term that attracts the attention of only start-ups and freelancers. The concept has been enticing corporate houses, e-commerce companies, multi-national companies, and media units to highlight a few. As per a joint report by the Confederation of Indian Industries (CII), property consultant JLL, the shared office space segment in India is expected to attract investments of $400 million by 2018. The potential market size of this segment across India stands at 12-16 million seats. Out of this, 10.3 million is ascribed to large companies, 1.5 million each to SMEs and freelancers, and the remaining 0.1 million to start-ups. The staggering rise of the sector and the potential graph collaborate to point towards one thing: Coworking is the future of work. Let us explore why coworking is being termed so.
The rise of a new workforce
The style of working has evolved over the years. Today more and more people prefer to carry on their work in an independent manner. However, they are not willing to forego the feeling of being connected to a community of like-minded people. Coworking spaces step in to fulfill this need in an apt manner. Coworking helps people to reduce their feeling of being isolated. Moreover, they can go to work every day and meet different people from various backgrounds. Such intermingling at the workplace enables one to share ideas and improve knowledge and skills. At the same time, they can be their own boss.
–The Office Pass, Cyber City, DLF 3, Gurgaon – Coworking space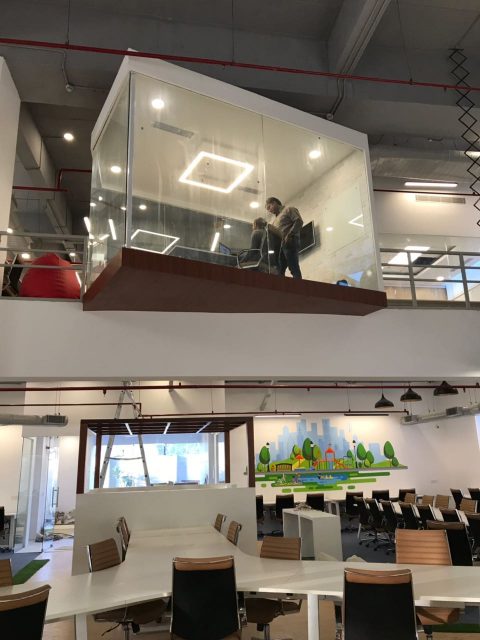 Coworking is A cost-effective solution
The demand for coworking spaces is primarily driven by a few specific factors. Cost-effectiveness ranks at the top of this list, followed by networking opportunities and flexibility. Currently, there are around 300 shared workspace providers operating in India. The majority of their operations are concentrated around Bengaluru, Mumbai, and Gurgaon, where the demand is at the maximum. For small enterprises, coworking can ensure a cost-saving of around 25-30% (source: Colliers International). So, if a start-up opts for a coworking space Vs taking an office space for rent in Gurgaon, it can mean a substantial saving for the company. The cost-effective location advantage is not just for the small enterprises, but for anyone opting for coworking spaces in general. So, cost-effectiveness is one major point that is expected to fuel the demand for coworking spaces in the future as well.
Also Read: 7 Reasons a Coworking Space Makes Sense for Your Startup
coworking is Flexibility at its best
For any micro organization or a small business trying to gain a foothold in their specific industry, there is often a lot of uncertainty regarding the scale of operations, growth, and cash flow. If they opt for a traditional office, they limit their opportunities of upscaling or down-scaling their operations as per the demands of the business. Coworking spaces provide them this flexibility. For instance, if they hire space for coworking in Cyber City in Gurgaon but later decide to upscale their operations, they can easily do so. The flexibility advantage is not limited to companies or organizations alone but extends to individuals as well. Suppose you opt for a coworking or shared office space for freelancers in Gurgaon but later decide to relocate to another place; all you need to do is look for another coworking space at your preferred location. With the advantages of such flexibility, coworking spaces are sure to continue increasing their popularity in the coming days also.
coworking is multi locations
Multi-national companies and corporate houses often face the need to interact with clients at multiple locations. It is not feasible to hire traditional office spaces at every location. But coworking can provide the perfect solution for this. Suppose a multinational company without a presence in Delhi wants to appoint a few employees there. Instead of renting an office space, it will be viable to go for a few seats in a coworking space in Delhi. This will ensure that the needs of the company are met in an effective manner. With the increasing prices in the real estate market and the crunch for office spaces in lucrative locations, coworking can be the best option for expanding operations across multiple locations.
The bottom line
Coworking is the future of work. So, if you are interested in taking advantage of the same, check out The Office Pass or call 8999 828282 for the very best of services and membership options for a coworking space designed to cater to your specific needs.