When it comes to choosing a location for doing business, Delhi, Gurgaon, and Noida rank among the best choices in India, and it is easy to see why. The National Capital Region (NCR), which includes these three cities, is known for its infrastructure, connectivity, networking opportunities, and business-friendly policies.
With over 7,000 startups and 10 unicorns, Delhi-NCR is also the best startup hub in the country. Add to that the ever-increasing population of freelancers and gig workers, these three cities reign India's business landscape. So, it isn't surprising that there are plenty of shared office spaces in Delhi, Noida, and Gurgaon catering to startups, small businesses, established corporates, and freelancers alike.
The question, however, is this – which is the best place to have a coworking office? Listed below are the top 7 factors to consider.
💡 Are you looking for Coworking space in Gurgaon, Noida or Delhi?. We are just a call away.
Call now: 08999 828282
7 Factors to consider while choosing a perfect location for Coworking Office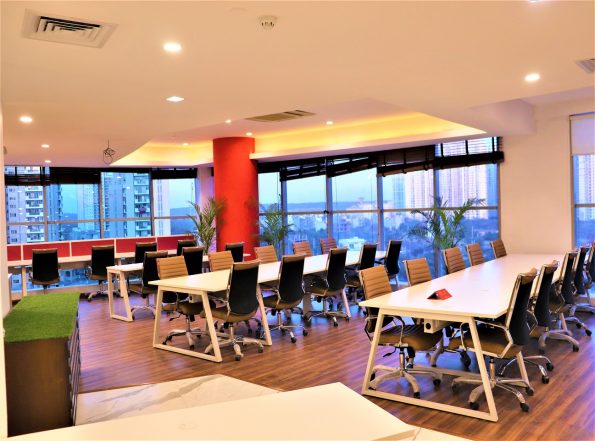 1. Rents and Associated Costs
According to a 2019 survey named Coworking: Reshaping Indian Workspaces, coworking spaces in Delhi-NCR will help you reduce your costs by 20% to 25%. That said, like traditional office spaces, location plays a pivotal role in determining the rent for coworking spaces. For example, the rent for a shared office in South Delhi would be slightly high as it a Tier-I city. On the other hand, a Coworking office in Noida or Gurgaon might have comparatively lower rents as these are Tier-II cities.
In addition, the specific locality where you plan to set up your office may also impact the rent. Coworking offices in Central Business Districts (CBDs) of Delhi, Gurgaon, and Noida will typically have higher rents than Secondary Business Districts (SBDs). It means a shared office in Delhi SBDs, such as Nehru Place or Saket, is likely to give you more budget-friendly deals than central localities like DLF Cybercity in Gurgaon or Sector 132 in Noida.
However, rent isn't the only cost to be considered here. You must also take transportation costs into account. If you are a freelancer or solopreneur in South Delhi, it makes more sense to spend a little more on the rent than spending a sizable amount on metro tickets to Noida.
2. Infrastructure and Connectivity
Delhi-NCR has always been known for its well-developed infrastructure and connectivity. However, you must note here that not all localities and neighborhoods in the NCR have the same level of infrastructural development and connectivity. So, it is in your best interest to choose localities connected by road and metro networks.
Both Noida and Delhi have excellent metro networks connecting almost all neighborhoods. Though Gurgaon Metro currently has only 11 operational stations, it serves some of the top localities such as Cyber City. A few prime localities in Gurgaon, including IFFCO Chowk, MG Road, Golf Course Road and Huda City Center, are also served by Delhi Metro. A new corridor connecting HUDA City Centre and all major localities has been approved, which will tremendously improve metro connectivity in Gurgaon.
Also Read: 5 Reasons Why Cyber City in Gurgaon is a Preferred Coworking Space Hub
All three cities boast excellent connectivity by road. The Delhi-Gurugram Expressway, Delhi–Noida Direct Flyway, and Noida–Greater Noida Expressway are some of the highways that add to the connectivity of these cities. Cab operators like Ola and Uber are also operational in Delhi, Gurgaon, and Noida.
💡 Are you looking for Coworking space in Gurgaon, Noida or Delhi?. We are just a call away.
Call now: 08999 828282
3. Occasional Hassles
Another factor to consider while choosing a coworking office in Gurgaon, Delhi, and Noida is the hassles that might cripple your operations occasionally. For instance, Gurgaon suffers during the monsoons with waterlogging and flooding, while Delhi is notorious for the fogs during the winter months. Air pollution is also an issue in all three cities, and so is the hectic traffic.
An easy solution to this problem would be neighborhood offices, such as the ones offered by The Office Pass (TOP). By choosing offices in multiple locations within the city, you can let your employees work from a location closest to their residence.
4. Your Business Type
Often, the type of business you run can also become a determining factor. If you in the business of offering support services, Noida would be a good choice because of its availability to talent. Software and mobile app development companies and e-commerce startups will also benefit from taking a Coworking office in Noida.
The IT Parks and SEZs in Gurgaon make it an ideal choice for IT companies, especially startups. For businesses related to BFSI, a coworking office in Delhi or Gurgaon could be a better choice than Noida.
5. Networking Opportunities
Next, you need to consider how crucial networking is to your company's success and the type of networking you need. Many IT companies take a shared office in Gurgaon because of its proximity to Cyber City and Aerocity. While Cyber City has offices of many Fortune 500 companies, Aerocity has several cafes, restaurants, etc., where you can meet with clients informally.
Delhi too abounds with venues and opportunities for networking, but Noida has a bit of a disadvantage when it comes to networking opportunities.
6. Hiring Potential
Hiring new talents is crucial to the success of every business, so you must factor in the hiring potential offered by Delhi, Gurgaon, and Noida. For example, if you're looking for part-time interns and want to hire young talents through campus placements, a coworking office in South Delhi will give you access to the Delhi University and other major educational institutions.
Likewise, as an employer, you must keep an eye out for the changes in local hiring regulations. Many companies are moving or contemplating a move from Gurgaon to Noida because of the recent job reservation bill introduced by the Haryana government. It means if you plan on hiring talents from across the country, you cannot afford to operate solely out of Gurgaon.
7. Employee Demographics
When looking for coworking desks for your entire team, you need to consider their demographics. For example, if all your employees live in Gurgaon, you need to look for an office space for rent in Gurgaon even though you may not live there.
Likewise, when your workforce consists mostly of bachelors living on their own, you may want to consider the availability of food delivery service to the office. A business with female employees must consider their safety when scouting for locations.
💡 Are you looking for Coworking space in Gurgaon, Noida or Delhi?. We are just a call away.
Call now: 08999 828282
Our Two Cents
There is no silver bullet answer to the Delhi vs. Noida vs. Gurgaon debate as all three cities are conducive to startups and SMEs. Each city has its pros and cons, and you need to keep all the above points in mind when choosing a shared office for your company.
And, the good news is, you don't have to choose one city over the other. Neighborhood coworking operators like The Office Pass (TOP) make it possible for you to have offices in all three locations without having to spend a fortune. To know more, connect with us at 89998 28282.