The Office Pass (TOP) a Gurugram based Neighborhood Coworking space provider has added Managed Offices to its array of flexible workspace solutions. TOP's first Managed Office became operational on the Golf Course Road in Gurgaon last month. With the COVID-19 pandemic keeping the world in its grip, business organizations are looking for flexible and safe alternatives. At the same time, they do not want to invest in resources to manage an office and want to leave it to professionals in this space.
All this has fuelled the demand for customized offices – that is, workspaces that are formal, flexible, and has all the amenities. It is like checking into a resort that is customized as per your family's taste – just that here the family is your office colleagues. Responding to this demand for hybrid spaces that merge the best of standalone offices and coworking spaces, TOP offers hassle-free managed offices.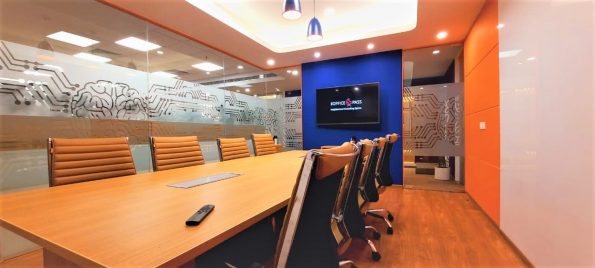 Read on to know more about the Managed Offices, its features and advantages.
Managed offices by TOP: Innovative workspaces specially designed for your business
A managed office is a blend of conventional offices and coworking spaces. In essence, they are empty spaces that are custom-built by a service provider (say TOP) to meet the specific needs of your business.
When you opt for a managed office you sign up for a lot more than the usual amenities and infrastructure needed to run an office smoothly. TOP conceptualizes & executes a complete office space solution, including designing, furnishing, leasing, running & maintaining the office for a fee.
This whole space is designed by incorporating your inputs to reflect your brand identity, just as you would – if you were designing it yourself. For instance, the interior design, colour scheme, furniture layout, etc. are all done as per your requirement.
Also Read: Why Managed Offices gain importance during the times of COVID-19
From branding the space with your logo & incorporating your brand colors, to determine whether you need cubicles, open workstations, or standalone cabins, everything is designed by TOP to suit your need.
Who is it ideal for?
The Managed Offices designed by The Office Pass (TOP) are complete workspace solutions for any business organization that prioritizes safety, health, and matchless flexibility. These offices provide businesses with the confidence to navigate through the new normal and beyond.
Managed offices by TOP is ideal for all kinds of business organizations, ranging from established enterprises to blooming start-ups.
Key features of TOP managed office solutions
The key features of TOP managed office solutions include the following:
Fixed lease period: When you opt for a managed office by The Office Pass (TOP), you have to sign a contract and secure the space for a period of 36 months. You can also go for a long-term lease depending on your business need.
Cost-plus payment model: The cost for conceptualizing and managing the whole space is decided on the basis of the cost-plus pricing system. This cost is normally calculated Per Square Feet (PSF) and varies from INR 1500 to 4000 depending on the requirement.
Security Deposit: You have to pay a security deposit, the amount of which may vary from 3 to 6 months of the invoice value.
Notice Period: When you decide to no longer avail of the services, you will have to provide the company with a notice period of 3 to 6 months.
Furnishing management: The furnishing is fully handled by The Office Pass (TOP), and normally takes 60-75 days from start to finish.

Advantages of Managed Offices by The Office Pass (TOP)
The bespoke flexible managed office solution offered by TOP has several advantages, such as:
Fully customized office space
TheOfficePass offers you fully customized functional office space that bridges the gap between conventional offices and coworking spaces. In other words, you get to use a flexible workspace with a look that reflects your brand identity.
Leasing out a traditional office space means you will have to invest a large amount for it. Also, you will have to bear the responsibility as well as the additional expenses needed to furnish the space and make it fully functional. In comparison, you can lease out a managed office space from TheOfficePass for much less an amount. Also, the onus of finding, negotiating and customizing the space will lie with TOP.
Also Read: 6 Reasons why coworking spaces are important
Ensuring a safe work environment
In a traditional office, the responsibility of following sanitization protocols lies with the management. But as service providers of managed office solutions, The Office Pass (TOP) handles all necessary safety and sanitization procedures. In other words, you can work out of a safe environment and with peace of mind, without having to bother about sanitizing the place to ensure everyone's safety.
One of the main advantages of leasing a managed office by TOP is that it comes without the burdensome obligations of a traditional lease. For instance, you won't have to undergo lengthy paperwork for negotiating and signing the lease contract. Also, the terms of the contract are transparent in this case, which leaves no scope for nasty surprises in the future.
To sum it up
Managed Office solution provided by The Office Pass (TOP) is a hassle-free option in comparison to leasing conventional office space and then furnishing it. What's more, you are assured the best of service and functionalities to suit your need. Looking for a Managed Office? Call The Office Pass (TOP) at 8999 828282.