From agriculture and manufacturing to the service industry, small and medium businesses are mushrooming everywhere. Setting up a business is only the first step, making it grow is complicated. The success stories are limited and unfortunately, many SMBs fail to reach their full potential. Irrespective of their niche, many of the challenges faced by small businesses are common. This blog looks at the top 10 challenges faced by Small and Medium Businesses (SMBs)
Top 10 challenges faced by Small and Medium Businesses (SMBs) in INdia

1. Hiring And Retaining Talent
An organization is only as good as its people but recruiting and retaining talent is one of the biggest problems faced by small businesses. Given the limited resources, matching market salaries and perks is a big hurdle. However, once businesses realize that salaries are not the only factor contributing to employee attrition, solutions can be found. Making sure your employees feel valued by taking care of their needs and showing them a path for growth can help retain their loyalty.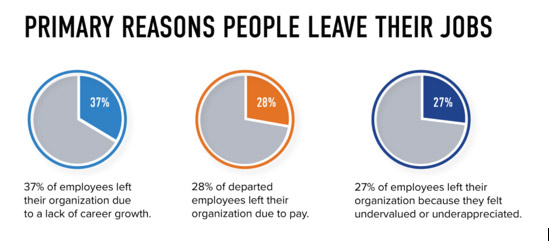 💡 Are you looking for Coworking space in Gurgaon, Noida or Delhi?. We are just a call away.
Call now: 08999 828282
Source: QuantumWorkplace
2. Expensive Real Estate
Renting an office space is probably the biggest operational cost for Small and Medium businesses. Assuming the business has 10 employees, it would need at least a 400-500 square feet office. In Delhi that would cost almost Rs 33,000-40,000 per month! That's exclusive of office operational costs like electricity, Wi-Fi, security, housekeeping, etc.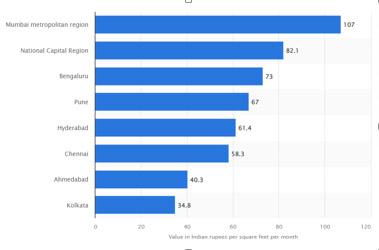 Source: Statista
Thankfully, there is a way out. Coworking spaces are helping overcome this challenge faced by SMBs. Businesses can rent office desk space and use shared amenities without the need to spend time, effort and money to manage an office space.
3. High Competition
Making a business stand out in today's competitive market is one of the biggest challenges facing small businesses. Products and services can be easily replicated and maintaining the USP is difficult.
Hence, businesses need to look beyond the product. Simple things like improving customer service, making the product exclusive and offering convenience in the form of home deliveries can help a business stand out.
4. Poor Cash Flow
Almost every business starts with limited capital and hence poor cash flow is not the exception, it is almost always the rule. Loans are an option but not all applications are passed. Hence, businesses have to look at other ways to get past this. Let's take a look at some of the most common methods as illustrated by a 2021 Small Business Trends report.

In addition, businesses may need to take several steps to conserve cash. Finding newer ways to serve their customers while spending less money. For example, choosing a coworking space over an independent office could cut down on office running expenses by 18-24%.
💡 Are you looking for Coworking space in Gurgaon, Noida or Delhi?. We are just a call away.
Call now: 08999 828282
5. Founder Dependence
Founders usually find themselves playing multiple roles in SMBs. They see the business as their pet project and often find it difficult to let go of roles and responsibilities. This may seem like maintaining control but it could be the factor limiting the company's growth.
As the team and resources grow, founders must learn to delegate responsibilities so that the business can function even when they're away.
6. Scale Vs Quality
Whether the brand is manufacturing a product or offering a service, to grow, it must ultimately scale up. Doing so may mean sacrificing certain things. For example, a soap manufacturer can hand paint motifs on the packaging for 100 units but doing the same for 5000 units may not be possible.
Thus, businesses need to find a mid-way point that helps them scale up without dropping their quality standards. It may take a few hit-and-miss tries to find the right balance. Using technology can be handy especially for repetitive jobs.
7. Ineffective Marketing and Advertising
To reach out to new customers SMBs need to market and advertise their products. This becomes a battle of resources. It is nearly impossible to compete with brands that can get celebrity endorsers and put-up giant billboards.
The way out for small and medium businesses is to generate word-of-mouth recommendations and use digital media smartly. If you're based out of a coworking space, you could work with other brands for cross-promotion exercises.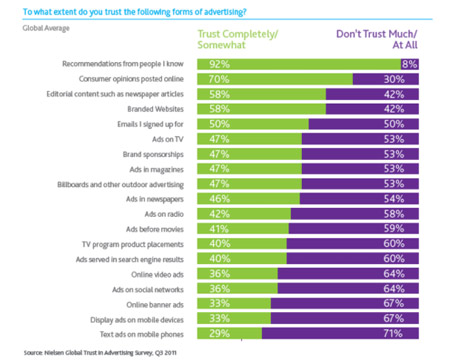 Source: Nielsen
8. Disorganized Book-Keeping
Most forms of administration like bookkeeping and payroll management are time-consuming and complicated. However, they are also necessary. It isn't a surprise to note that this is often listed among the challenges faced by small and medium businesses. Not only can poor quality administration work hamper cash flow, but it could also put your business at risk of being fined for non-compliance with state regulations.
The most reliable solution to this issue is to outsource it to professionals (at least in the initial phase of the business). This often works out more budget-friendly as compared to hiring a full-time employee.
💡 Are you looking for Coworking space in Gurgaon, Noida or Delhi?. We are just a call away.
Call now: 08999 828282
9. Limited Clients
A business that generates more than 50% of its income from a single source can easily find itself in trouble. The client may pay well today but once his/ her need goes away, the business will find it hard to survive.
Diversifying a client base is harder than it sounds as businesses must prove themselves at every point. However, with consistent efforts via email campaigns, newsletters, cross-promotions, etc. businesses can expand their audience.
10. Corporate Brand Building
As a company grows, the need for strong branding increases. With branding comes customer loyalty, higher SEO ranking, PR attention and more. However, this is a process that takes time.
Business owners need to understand the value of branding and make consistent efforts towards strengthening it. To start with, it means having a unique logo, a set color palette and curated fonts for all communication and a defined tone for communication.
As a business owner, you can't give up in the face of challenges. How you get past them is what will ultimately make your success story interesting. Many of these challenges can be overcome, at least in part, by switching from traditional independent offices to a coworking space like The Office Pass (TOP). To know more reach out to us at 08999 828282.