Let's state the obvious fact. Successful companies concentrate equally on maintaining customer and employee loyalty. Realistically speaking, a certain amount of attrition is non-negotiable. For example, an employee may need to shift to another city to be closer to their family and your company may not have an office there. Eventually, the employee will have to resign and move on.
Scenarios like the above-mentioned ones are unavoidable and it is better to keep your employee attrition rate less than 10%. Well, no company wants to be a revolving door for employees and the HR team's biggest challenge is how to manage attrition. Here are 7 techniques that can help manage attrition in your company you must know about:-
7 Best techniques that can help you to manage Employee attrition in your company
1. Hire The Right People
To fight attrition, you must first understand the main challenge with attrition. Often, people leave a job because they're not right for it. So the first step towards managing employee attrition is good recruitment.
When you're hiring new employees define the position clearly and make sure that the candidate is a good fit for the position as well as your company culture. Establish a connection between their employment history and the skill set required for the position. A thorough background check is also important especially if the individual will be handling any tangible resources. A great practice is to meet the candidate in both formal and informal set-ups to bring about their true nature (especially for mid-to-senior hires).
2. Offer Competitive Compensation
If you ask for tips to control employee attrition one of the first points anyone will tell you is to pay your employees well. Salaries need to be competitive at all levels of the organization.
It isn't necessary to go over the market standards but it is important to meet them. Else, your employees will constantly be looking for positions that pay better. You also need to ensure that the annual incentives maintain the salary's parity to market standards.
3. Prioritize Employee Growth
Just as every company has certain expectations from their employees, the workforce will have expectations from the organizations they work with. Invest in your human resources and their growth.
For example, in the technological space, sponsoring certification courses and connecting them to promotions is great for employees and the employer. The employee feels valued by the company and isn't likely to go searching for another job.
Apart from technical skill sets, it's also important to invest in your team's well-being. Structure leave plans that work for the company and the employee. Similarly, offer help whenever possible – for example, having a crèche facility in the office can help new mothers come back to their jobs rather than search for a different position.
4. Offer Workplace Flexibility
If the pandemic has proved anything it's that the workspace need not be limited to an office structure. Lowered attrition rates are among the many benefits of giving employees the option to work from co-working spaces near them rather than commute to a central office. This applies to companies of all sizes, whether you are trying to figure how to control attrition in startups or multinationals.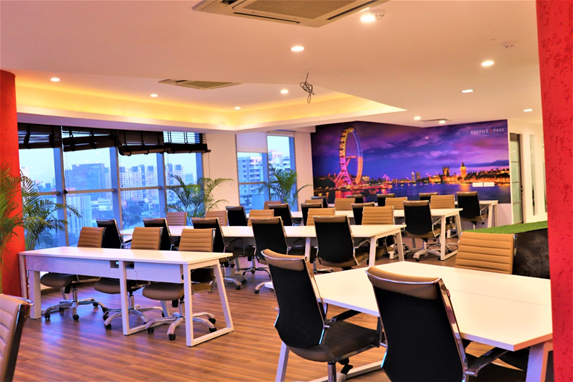 Co-working spaces have the advantage of helping you set up a professional workspace for one person or dozens of people with minimal investment. Paying attention to your employees' convenience in such ways can help lower attrition rates considerably.
Also Read: 5 Ways to Keep Employee Motivation High During the Pandemic
5. Train Your Managers
It is a well-known fact that employees often leave because they don't get along with their managers. You need to train supervisors and middle-level managers on how to handle subordinates and get work done without antagonizing them. Help your managers improve their soft skills so that your employees stay positive. It may be a good idea to measure a manager's effectiveness with respect to his / her team attrition.
6. Appreciate Your Employee's Efforts
While you're designing the salary structure, build in achievement-related incentives to encourage employee loyalty. Bonuses help boost productivity as well as leave the employee feeling good about their work and the company.
In addition to monetary incentives, recognize your employee's work with public accolades and certificates or laurels.
7. Structure Retirement Benefits
Though HR will constantly be challenged by attrition versus retention ratios, as mentioned above, a certain percentage of people will move on every year. Ideally, you need employees to want to work with you until they move on. To encourage this, it is better to structure attractive retirement benefits. A PF account is probably the most basic of such benefit programs.
In Conclusion
If your question is how to control attrition in sales or in your tech department, these tips can surely help. At the core of it all, pay attention to your employee's needs. Whether it is ensuring they get the salary they deserve or offering them the flexibility of working at a coworking spot convenient to them, cater to your employees' needs and they will be more productive and aren't likely to be job-hunting any time soon.
There are plenty of co-working spaces available in cities across India. That said, your employees deserve to work in a space that is comfortable, hygienic and equipped with the tools they may need. If you want to find the best coworking space for your employees, reach out to The Office Pass (TOP) at 8999 828282.