Gurgaon, also called Gurugram, is one of the most business-friendly cities in India, thanks to its proximity to Delhi, access to transportation hubs, metro connectivity, moderate rentals, and excellent infrastructure. Unsurprisingly, the city is a preferred choice for businesses of all types and sizes.
Are you planning to start operations in Gurgaon? Shared offices are a great way to establish your presence in the city without burning a hole in your pocket. However, to reap the benefits of Coworking in Gurgaon, you must choose the office in a location that offers access, connectivity, and networking opportunities.
Here are the top 6 business-friendly locations in Gurgaon where you can rent a coworking office:
 6 Best Locations to Rent a Coworking Space in Gurgaon
1. DLF Cyber City
DLF Cyber City, without any doubt, is the epicenter of commercial activities in Gurgaon and one of the largest business districts in the NCR. It comprises the Cyber City corporate park, several commercial properties, and a wide range of shopping, entertainment, and dining options.
Home to many MNCs, SMEs, and start-ups, the location promises excellent networking opportunities. Coworking space in DLF Cyber City will also give you easy access to the rest of the NCR by road and the rapid metro network. The area is located just off NH-8, around 10 km away from the Indira Gandhi International Airport, which further adds to its connectivity quotient.
2. Golf Course Road
A well-established office corridor that stretches from Bristol Chowk to Sector 55-56, Golf Course Road is another top location for Coworking space in Gurgaon. Many renowned brands, including Ernst & Young, Dell, American Express, and Genpact, have their offices in the locality.
The area is well-connected by NH-8 and the Sector 53-54 metro station, which makes commuting to your Coworking space in Golf Course Road easy. Moreover, it is surrounded by some of the best residential properties and educational institutions in Gurgaon. Such social amenities will work in your favor while hiring employees.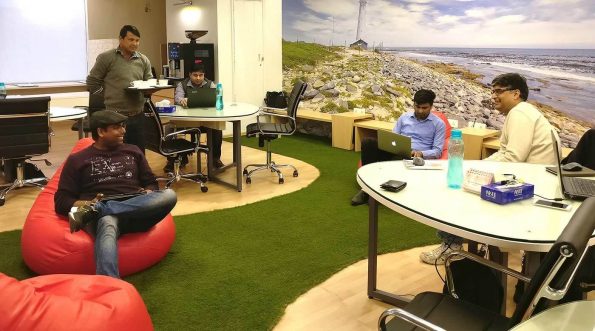 3. Golf Course Extension Road
Golf Course Extension Road is a new favorite for businesses looking for Gurgaon coworking offices at pocket-friendly prices. The area offers good connectivity to Delhi and other prime localities in the city such as Sohna Road via the rapid metro network, NH-8, and Faridabad-Gurgaon Road.
Add to that its proximity to residential catchments, Golf Course Extension Road is all set to cater to mid-segment occupiers, says the 2019 India Real Estate Report – Residential and Office by Knight Frank.
4. Sohna Road
Located in the southern part of the city, Sohna Road is one of the fastest-developing office cum residential corridors and a great location for Gurgaon shared offices. The 7-kilometer road starts from Rajiv Chowk and stretches till Badshahpur, intersecting with Golf Course Extension Road.
Also Read: 5 Ways Coworking Spaces Can Help You Generate More Business
According to reports, Sohna Road is a favorite location for IT/ITeS companies, and the area houses tech parks like JMD Megapolis, Iris Tech Park, and Spaze IT. Compared to DLF Cyber City and Golf Course Road, shared offices in Sohna Road are a budget-friendly option for start-ups and SMEs.
5. Sector 44 & 39 – near Huda City Center
One of the busiest and fast-growing commercial neighborhoods in Gurgaon, Sector 44 houses offices of Indifi Tech, Delivery, Indigo Airline, PaisaBazaar, and other renowned companies. If you are a start-up or SME looking for affordable workspace solutions, consider renting a Coworking space near Huda City Center, Gurgaon.
The Huda City Centre metro station is just about 0.5 km & 1.5 km away from Sector 44 & Sec 39 respectively, so the location scores high on connectivity. In case you want to go for team outings or dinners, Sector 44 has a good range of eateries and entertainment options in and around it.
6. Udyog Vihar
Udyog Vihar earned a place in the list of best locations for shared offices in Gurgaon due to its infrastructure. Strategically located on the border of Delhi and Gurgaon, it is connected to the capital city by NH-8. The area also enjoys good metro connectivity, and the nearest metro station is IndusInd Bank Cyber City.
The well-developed area is divided into five phases, each with several commercial properties. It is a favorite location for IT and non-IT companies alike, and many reputed firms including Wipro, Collabera, Rolta, and SpiceJet have their offices here. What's more, DLF Cyber City and the Indira Gandhi International Airport are a short distance away from Udyog Vihar. 
Final Thoughts
Besides the localities mentioned above, M.G Road, Sector 32, and Sushant Lok are also rising in popularity among coworking occupiers. You can choose a location based on your budget, preferences, demographics, and other factors.
The Office Pass (TOP), a leading neighborhood coworking operator in the NCR, has six offices in Gurgaon, including in Cyber City, Golf Course Road, and Sohna Road. To more about our offices and offerings, contact us!