For a business to be successful, it isn't enough to have a good product or offer good service. You can have the best product/service in the world but if no one knows about it, it doesn't matter. So, if your business is to succeed, you need to generate leads and put your business on the path to growth.
Today, many businesses are choosing to work out of a coworking space rather than lease a traditional office. A coworking office space has many benefits. It optimizes operational costs, is flexible, scalable and can even help you generate new business. Here is how you can use Coworking Spaces to generate more business.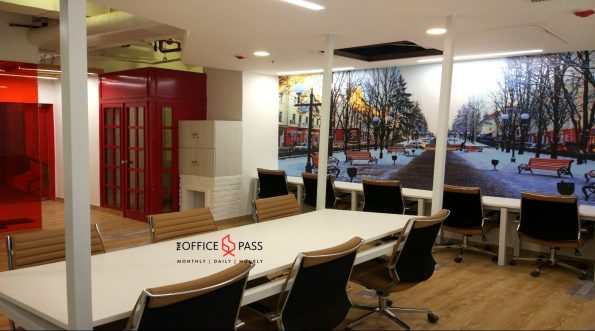 5 Tips to generate more business leads through Coworking Spaces
Presents More Networking Opportunities
With traditional office space, your day-to-day interactions are largely limited to your team members and other people working for the same organization. To meet people from outside the company, you would need to set up meetings, travel to events and seminars, etc.
One of the biggest benefits of coworking space is that you get to meet many more people from outside your company in a day. Coworking spaces seat everyone from small and medium-sized businesses to freelancers and entrepreneurs just starting their dream company. It's easier to find people with interests aligned to your business goals.
You never know –random conversations in the kitchenette could turn into business leads. You might even find like-minded people you could work with to gain an edge over your competition.
Find companies that provide services to help your business grow
The beauty of working in co-working spaces is that you share the space with other companies that have varied interests. For example, there may be a travel agency, recruitment services, accounting & finance companies, app developers, etc. on the same floor as your company. Since space is shared, developing relationships with these companies becomes easier.
Let's say, you want to develop an app for business growth. The app developers in your co-working space can help you do this. Given the proximity of your working space, you can work closely to design, develop and maintain the app. Once it's ready, you can reach out to a new audience and generate many new business leads.
Similarly, you can reach out to the accounting company to analyze your accounts and assess your strengths. They may be able to identify a business avenue you aren't utilizing to its full potential.
Collaborate to expand your product portfolio
It's very difficult for a company to generate leads with a limited product range. R&D for new products can take time but if you're working out of a coworking space, there is an easier route – collaboration.
While working in coworking spaces, you will have plenty of opportunities to meet working in sectors connected to yours. Forming an alliance and collaborating with these companies can help you expand your product range and get your brand introduced to a fresh audience.
For example, if your company deals with wall paints, you could collaborate with a wallpaper brand to add a new vertical to your business. Similarly, chocolate manufacturers can collaborate with coffee brands.
Also Read: 5 Successful Companies that started in Coworking Spaces
Hire & retain superior talent
It takes a specialized skill set to connect with an audience, promote your product and form relationships with consumers that trust your brand. When you have a centralized office space, you are limited to hiring people by geography. However, if you work out of co-working spaces, you can de-centralize your offices and hire people from anywhere.
When you hire the right talent for your sales and marketing teams, your company will be better equipped to identify business leads and act on them. The de-centralized setting for employee location means that you can also reach out to audiences in new locations.
Also, a co-working space reduces the commute time for your employees and improves their work-life balance. The result- they're more motivated at work.
Create the Right Impression to Increase in Business Closure Rate
When it comes to generating new business leads, first impressions are important. Each of these meetings can be used to promote your products and services. Whether you're meeting clients, candidates or investors, working in coworking spaces gives you access to well-designed meeting and conference rooms.
These rooms are equipped with the infrastructure you might need and are maintained by the space owner. They also take care of all necessary sanitization protocols.
If you don't like the generic décor of a coworking space, you could work out of a managed office. This could be considered a subset of coworking spaces.
One of the key differences is that leasing a managed space allows businesses to customize their décor to match their branding. Hence, when you meet with potential customers, your branding message is much stronger and you can create a positive sentiment around your brand.
Finding the Perfect Coworking Space
Working out of a co-working space helps businesses of all sizes find new opportunities for growth and business. These spaces typically charge a fee per seat. Rather than consider this an expense, think of it as an investment that offers limitless opportunities.
If you're looking for coworking space in Noida or coworking space in Gurgaon, check out managed offices by The Office Pass (TOP). Choose from a variety of formal, flexible spaces that can be fully customized and scaled to your business needs. It's the perfect blend of a conventional office and a coworking space. To learn more, call 8999 828282.