Coworking space is a shared office environment where professionals or businesses can rent workspace with their specific requirements and financial constraints. When working in a shared coworking space, it becomes more important to keep your sensitive work data secure and confidential. Listed below are at least 7 tips to help protect your data in a coworking space:
💡 Are you looking for Coworking space in Gurgaon, Noida or Delhi?. We are just a call away.
Call now: 08999 828282
7 Saftety tips to protect your data in a coworking space
1. Encrypt Your Data
Encrypt your hard drive or make use of full-disk encryption tools. This would be helpful in case your device is stolen. It would make accessing your data impossible. In addition, use secure and encrypted connections such as HTTPS while visiting cloud services and websites.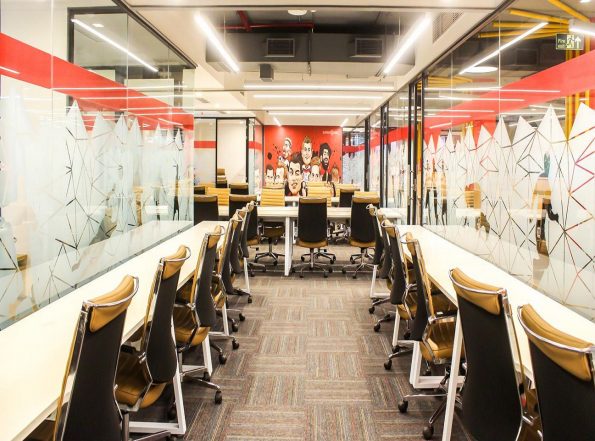 2. Keep Your Screen Private
It is easier to peek at your work screen in a shared coworking space. Be on your guard while working on sensitive data or accessing confidential information. Using privacy screens can help. Additionally, try adjusting the angle of your screen to reduce the risk of shoulder surfing.
3. Lock Your Workspace
Whenever you leave your desk or workspace, always lock your device and also put all sensitive documents under lock and key. Try using a safe drawer or locker, if available, to store all valuable papers or items. Also, it is not a good idea to leave your devices or sensitive information in the open in a coworking space.
4. Keep Two-Factor Authentication (2FA) Enabled
It helps add an extra layer of security to your device. Each time someone tries logging in to your device, you would need to enter a one-time password (OTP) sent to your mobile device or email for successful login. This would help ensure that only you can log in to your devices and nobody else.
Also Read: 14 Critical Safety Measures Every Coworking Space Should Consider
5. Avoid Using Public Wi-Fi
Public Wi-Fi networks can be highly insecure in coworking spaces. Try using a virtual private network (VPN) as much as possible to encrypt your internet connection and protect sensitive data from potential cyber-attacks.
6. Secure Your Devices
It is important to keep your devices safe and secure from unauthorised access when not in use. Keep them locked or shut down when you're not using them. Also, make sure to use strong passwords, pin codes, or biometric authentication (fingerprint or facial identification) for all your devices. You can also use a cable lock to physically secure your laptop to your desk.
7. Use Unique Passwords
Always use passwords with the maximum strength and uniqueness. Avoid keeping passwords that can be easily guessed or reused across multiple accounts. You can also use a password manager to securely generate difficult-to-guess passwords.
Do follow the tips above but also remain aware and vigilant of your surroundings at all times. It is easier for people working in shared coworking spaces to peek at your screen or attempt unauthorized access. However, by following the safety measures outlined above, data security in a coworking environment can be significantly assured.
The Office Pass (TOP) is one of the largest coworking space provider in Delhi, Noida, and Gurgaon region. TOP office space provides high-speed internet, fully-equipped meeting and conference rooms, tea and coffee facilities. If you are looking for a coworking space in Gurgaon or Delhi, you can call us at 08999 828282.
FREQUENTLY ASKED QUESTIONS (FAQS):
Question: What should I do before leaving a coworking space to ensure my data is secure?
Answer: Make sure to log out of all accounts. Next, lock or shut down all your devices and clear all physical traces of your work, such as printouts, notes, and the like. Also safely store all your personal belongings.
Question: What is a coworking space and why do I need to worry about data security there?
Answer:A coworking space refers to a shared workspace bringing together individual professionals and businesses (small or big) to work in a common workplace. Data security is generally a concern in these spaces due to the communal work setting and usage of the same amenities by multiple people, causing potential risks to sensitive data.
Question: Is it safe to print documents in a coworking space?
Answer: It is generally safe to do so however it is best advised to exercise caution in shared workspaces. Make sure that you print sensitive documents only when required and use secure print options, if available. Once printed, always collect your printouts immediately to prevent access by others.
💡 Are you looking for Coworking space in Gurgaon, Noida or Delhi?. We are just a call away.
Call now: 08999 828282
Question: Can I trust the security measures provided by the coworking space?
Answer:Always ask about the security policies followed at the coworking space that you choose to hire for your work requirements. Check about access controls, network encryption and surveillance measures being followed. Also, exercise your safety measures to be doubly safe.
Question: How do I protect my passwords and login information in a coworking space?
Answer: Using a password manager to store and autofill your passwords can be helpful. Also, make sure to enable two-factor authentication for all accounts and avoid saving login credentials on shared computers.
Question: Are there any specific legal considerations related to data security in coworking spaces?
Answer: Ask for the terms and conditions of the coworking space for any such clauses about data privacy and security. Also, check for any industry-specific regulations specifically applying to your work.
Question: What are the common data security risks in a coworking space?
Answer: Common data security risks at coworking spaces may be shared printers, unsecured Wi-Fi networks, open workspaces, and potential physical access to your devices by other coworkers.