Coworking spaces have become popular work environments, but to retain their popularity they must prioritize the safety and well-being of their members. Implementing critical safety measures is essential to ensure a secure and comfortable workspace for everyone. Here are some key safety measures that coworking spaces should consider:
💡 Are you looking for Coworking space in Gurgaon, Noida or Delhi?. We are just a call away.
Call now: 08999 828282
14 Important safety measures that coworking spaces should consider
1. Fire Safety Precautions
Install smoke detectors, fire alarms, and fire extinguishers throughout the space. Conduct regular fire drills and educate members about evacuation procedures and meeting points.
2. Emergency Exits and Signage
Clearly mark emergency exits and ensure they are unobstructed at all times. Adequate signage throughout the space should guide members to the nearest exits and assembly points in case of an emergency.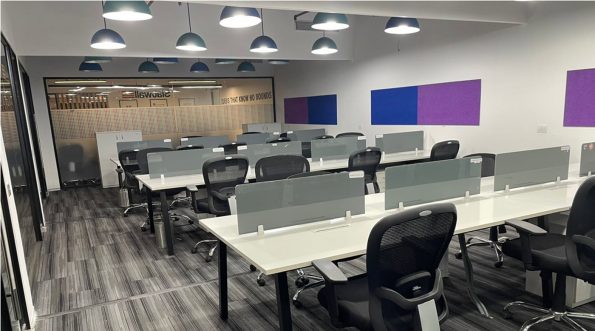 3. Security and Access Control
Employ access control systems like key cards or biometric entry to restrict entry to authorized individuals. Implement surveillance cameras to monitor the space and deter potential security threats.
4. Safety Training and Orientation
Conduct safety orientation sessions for new members, highlighting emergency procedures and safety protocols. Encourage existing members to participate in refresher training time to time.
5. Health and Hygiene
Encourage members to maintain good hygiene practices, especially during flu seasons or outbreaks. Provide hand sanitizing stations at convenient locations and promote the use of disinfectant wipes for shared surfaces like desks and keyboards.
6. Health and Safety Guidelines
Display safety guidelines and protocols throughout the coworking space. This can include reminders to wear masks, maintain distance, and other relevant health measures.
7. Workspace Layout and Distancing
Arrange workstations with appropriate distancing to reduce the risk of contagious diseases. Provide flexible seating arrangements that allow for physical distancing.
Also Read: Top Facilities Offered by Coworking Offices
8. Regular Cleaning and Sanitization
Develop a rigorous cleaning schedule for common areas, shared facilities, and high-touch surfaces. Hire professional cleaning services to maintain a clean and safe working environment for all.
9. Ergonomics
Ensure that workstations are ergonomically designed to prevent musculoskeletal issues. Provide adjustable chairs and monitor stands, and educate members on maintaining proper posture.
10. First Aid Kits
Keep well-stocked first aid kits readily available in the coworking spaces. Besides, also ensure that designated staff members are trained in first aid and CPR.
11. Maintenance and Inspections
Regularly inspect the premises and all safety equipment to ensure everything is in working order. Promptly address any maintenance issues or safety concerns.
💡 Are you looking for Coworking space in Gurgaon, Noida or Delhi?. We are just a call away.
Call now: 08999 828282
12. Communications and Emergency Response Plan
Establish a clear communication plan for emergencies. This should include notifying all members and authorities if necessary.
13. Member Health Checks
During disease outbreaks or pandemics, consider implementing temperature checks or health screenings upon entry to identify potentially symptomatic individuals.
14. Community Guidelines
Enforce community guidelines that foster a respectful and safe environment. This can include rules against harassment, discrimination, or any behavior that jeopardizes the well-being of others.
By implementing these critical safety measures, coworking spaces can create a secure and pleasant work environment that promotes productivity and member satisfaction. All this will ultimately take your business to new heights.
The Office Pass (TOP) offers coworking spaces in Delhi, Noida, and Gurgaon. Their office spaces provide excellent amenities such as high-speed internet, a welcoming environment, meeting and conference rooms, as well as tea and coffee facilities. These spaces cater specifically to small companies, startups, and entrepreneurs. If you are looking for a coworking space in Delhi/NCR you can call us at 08999 828282.
FREQUENTLY ASKED QUESTIONS (FAQS):
Question: What are some essential fire safety measures a coworking space should implement?
Answer: Coworking spaces should prioritize fire safety by installing smoke detectors and fire alarms throughout the premises. Additionally, they should have fire extinguishers readily accessible in multiple locations. Regular fire drills and training for staff and occupants are crucial to ensure everyone knows how to respond in case of an emergency.
Question: How can a coworking space address electrical safety concerns?
Answer: To address electrical safety, coworking spaces should conduct regular inspections of all electrical systems and equipment to identify potential hazards. They should also ensure that all electrical work is performed by licensed professionals. Implementing a policy that discourages the use of overloaded power strips and enforcing the unplugging of devices at the end of the day can further reduce risks.
Question: What measures can be taken to enhance security in a coworking space?
Answer: Security in coworking spaces can be improved through various measures, including installing access control systems with key cards or biometric recognition. Surveillance cameras should be placed strategically to monitor common areas and entrances. Implementing a visitor management system, where guests are required to sign in and wear identification badges, can also contribute to a safer environment.
Question: How can coworking spaces ensure the well-being of their occupants during a pandemic?
Answer: During a pandemic, coworking spaces must implement health and safety protocols to protect their occupants. This may include regular sanitization of common areas, workstations, and frequently-touched surfaces. Adequate ventilation and air filtration systems should be in place to maintain good air quality. Social distancing guidelines should be enforced, and the use of face masks can be mandatory. Providing hand sanitizing stations throughout the space is also essential.
Question: What measures should be taken to address ergonomic concerns in a coworking space?
Answer: To address ergonomic concerns, coworking spaces should provide ergonomic furniture, such as adjustable chairs and sit-stand desks, to promote better posture and reduce the risk of musculoskeletal issues. They can also offer workshops or information sessions on proper ergonomic practices to educate occupants on how to set up their workstations correctly. Regular breaks and access to comfortable breakout areas for relaxation are also important for overall well-being.