Remote working has many advantages but it can get frustrating too. One of the drawbacks of working from home is that you may feel isolated. You get your tasks done but who do you discuss them with?
We're social creatures by nature and living without social interaction can ultimately affect productivity. It's one of the reasons why coworking spaces evolved in the first place. The pandemic and limited mobility have taken this a step further with virtual coworking spaces.
What Are Virtual Coworking Spaces?
A virtual coworking space is simply a virtual setup that people can log in to from anywhere to feel like they're part of a group. It's not a new concept- virtual offices have been around for quite a while but it is only recently that they have gained popularity.
Virtual offices can be customized to simulate the floor of a physical coworking space. When a person signs in, they're allotted a virtual seat on the virtual floorplan. The setting also includes virtual meeting rooms, water coolers, etc where you can interact with others. The spaces may even simulate sounds like knocking on a door!
This Raises The Question – How Do You Compare, Virtual Office Vs Coworking Space
There are many similarities between a virtual and a physical coworking space. For businessmen working from home, digital nomads and people who travel often, both offer a physical office address to receive mail, a reception and other features like call answering.
They also build communities. When you're working in a coworking space virtual office, you know that you're working alongside people from other companies who have varied skills. Connecting with them is easy. Let's say you're reworking your company website. You may find a content writer in the same virtual space. A quick hello and an introduction later, you may have the answer to your needs.
That said, building a community in a physical coworking office is definitely easier. There are many more opportunities to meet and interact with other people. Many coworking spaces also organize after-work events and workshops for people to network. Adapting these events to a virtual version isn't easy.
Then, let's take a look at the cost factor. When coworking spaces emerged, they were preferred over independent office spaces because they offer saving of 18-20% on office operating expenses. When you rent a seat at a coworking space, the operational costs of keeping it clean, running the air conditioning, making sure the printer has ink, etc. are things you don't have to worry about – as all this gets managed by coworking operator.
It is a much more cost-effective solution. The cost to rent a virtual coworking space is even lower making it more cost-effective.
4 Benefits Of Using A Virtual Coworking Space
A virtual coworking space offers the benefits of remote work as well as working. They come with a variety of benefits. These include: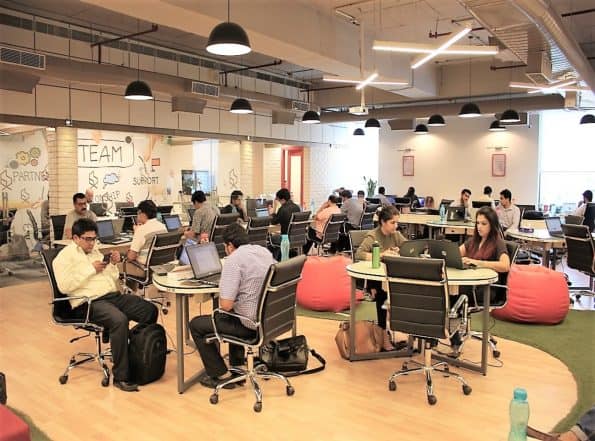 1. Add A Social Element To Your Daily Schedule
One of the biggest advantages of a virtual coworking space is that though you may be working from home on your own, you still feel like you're around people. It creates a sense of belonging to a community. It replicates the office experience.
From brainstorming to random banter, logging in to a virtual space pushes you to participate in community activities. You know that there are other people just a click away. This is also beneficial for collaborative projects.
2. Global Networking
Remote working could make introverted people hide away in their shells. Logging into a virtual coworking space gives you the opportunity to network with people without going out of your comfort zone. Easy networking was anyways one of the advantages of working out of coworking spaces. Virtual coworking takes networking opportunities a step further by empowering you to interact with people from across the world.
3. Answerability Boost Productivity
Virtual offices can be very productive and efficient. It starts with a morning check-in with everyone that can set the tone for a positive day. Virtual offices also make it easy to share the progress of work being done and bring in peer accountability.
Managers too can use this to keep track of their teams and the work being done. Sharing a virtual space with others can also make you more accountable to yourself. You're not working alone by yourself anymore. You know you're answerable so, you're less inclined to procrastinate and get distracted.
4. The Future of Coworking And Virtual Coworking
With the cost-effectiveness, flexibility and other benefits offered by virtual coworking spaces, it's safe to say that the concept is here to stay. It brings out the best of remote working and an office space.
As coworking spaces evolve, a growing number are likely to include a virtual coworking option in their membership plans. Imagine virtual floor plans where you can map out your coworker's positions, avatars for all the people who work there, check-in sessions, simulated meeting room experiences and more.