Let's say you're an interior designer with simultaneous ongoing projects in Delhi, Bombay, Hyderabad and Bangalore. This means you need to travel to sites frequently and you might need to stay there for a few days each time. After you're done with your site visit – where do you work from?
A coworking space is an ideal solution. If you identify yourself as a digital nomad, you'll be surprised to know that 21% of digital nomads prefer working out of a coworking space.  Coworking for business travellers is comfortable and has many benefits. Let's take a look at the top 6 reasons why coworking spaces are the right choice for business travellers.
6 reasons why coworking spaces the right choice for business travellers
1. Dedicated Workspaces Are More Productive Than Hotel Rooms
Sure, when you're travelling out of town, the company probably puts you up in a good hotel and you could work out of your room. But, that's a lot like working from home. Not all hotel rooms have a desk and chair where you can work from. The bed always seems inviting and tempts you to laze. If you choose to work from your bed, you'll soon find yourself complaining about aches and pains.
On the other hand, a coworking space is set up for you to be productive. It has ergonomic seating arrangements and you're surrounded by other working professionals. That alone acts as a motivational factor to help you tick tasks off your to-do list. A survey found that 60% of coworking members took business trips for more than 4 weeks a year.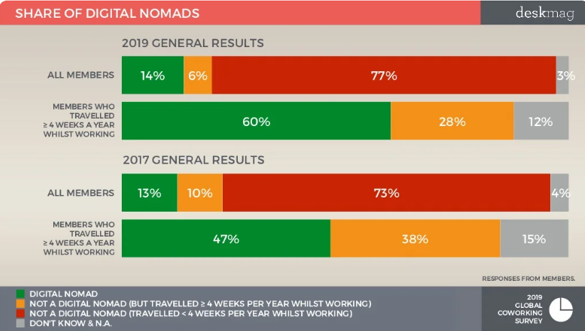 Source: SlideShare
2. Fewer Distractions – As Compared To Cafes
Cafes are the old-school work location for business travellers. You can get yourself a cup of coffee and plug your laptop in simultaneously. However, these places abound with distractions. Not everyone else in the café is working. It is a leisure space so you cannot tell people to talk softly or accuse them of disturbing you.
💡 Are you looking for Coworking space in Gurgaon, Noida or Delhi?. We are just a call away.
Call now: 08999 828282
One of the common coworking office space benefits for travellers that makes these spaces appealing is that you're guaranteed a quiet, work-friendly atmosphere. Nobody will come up asking you to place an order or tell you to move to another table. You can simply put your headphones on and stay focussed on the task at hand.
3. Flexible Arrangements
When you know you have to travel frequently, you don't want to be tied down to monthly leases. You need flexibility. This is one of the biggest coworking benefits for business owners. Coworking spaces typically offer desk space to be rented out by the month or by the day.
When you know you haven't got trips scheduled, you can take up a monthly pass for a slightly lower price. And, when you know you're going to be traveling every other week, you can take up desk space on a daily basis. Thus, it helps control costs without compromising on your working environment.
A 2019 Deloitte study revealed that 45% of businesses planned to incorporate the 'hot desk' concept while 30% already used hot desks. It's safe to say, the advantages offered by this flexible system make it a popular one.
4. Access To Essential Infrastructure
One of the common troubles experienced while working from a hotel room or a café is the unavailability of basic infrastructure. It goes beyond the lack of a proper desk and chair. Let's say you need a printout… The internet connection may be spotty too. It can be very frustrating to have the net connection fail while you're in the middle of an important video conference.
Coworking spaces are equipped with all the basic infrastructure you need to be productive. In addition to ergonomic chairs and desks, you can work in a clean, air-conditioned space with a steady, high-speed internet connection. Printers, scanner, fax machines and video conferencing equipment is also often available.
5. Networking Hubs
When you're travelling out of town every few days, it can get lonely. Limiting yourself to work meetings and hotel rooms keeps you from meeting new people.
But, when you walk into a coworking space, you're walking into a local networking hub. Coworking spaces are frequented by freelancers and remote workers from all industries at various stages of their careers.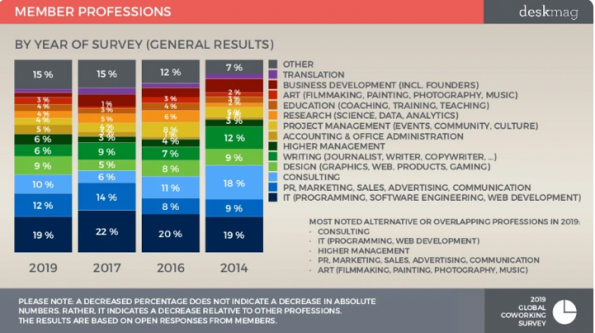 Source: SlideShare
It makes it easier to meet and interact with other professionals. Who knows, what starts out as a random conversation by the coffee machine may turn into a brainstorming session. You could even find collaborators and mentors in coworking spaces. If you're thinking of a change in your career, a coworking space could open doors for you and help you find opportunities.
💡 Are you looking for Coworking space in Gurgaon, Noida or Delhi?. We are just a call away.
Call now: 08999 828282
6. Spaces Where You Can Do More Than Just Work
Even when you're on a business trip, you need a balance of work and play. This is another reason to choose a coworking space. After work hours, coworking space providers often organize social events for coworking members to gather and engage with each other. Many coworking locations have extracurricular facilities like pool tables, foosball tables, ping pong tables, etc.
This gives you an opportunity to relax and cool down after a long day of work.
Choosing The Right Coworking Space
To ensure that you have a productive experience when working while travelling, you need to choose the right coworking space. Cities like Delhi, Noida and Gurgaon have multiple options available. Ideally, choose a coworking centre close to your hotel. Make sure it is easily accessible and comfortable to work out of.
Coworking spaces like those provided by The Office Pass (TOP) are ideal. Furnished, equipped with all the infrastructure you may need and comfortable to work from, these are the best choice for you. To know more, reach out to us at 08999 828282.