If your business doesn't have an Instagram account, you're not tapping into the potential of these social media tools for entrepreneurs. A picture is worth a thousand words and Instagram is all about pictures. However, it is not just for sharing holiday photographs. 
Instagram is one of the most cost-effective ways to reach out to your audience. If you're still on the fence wondering what Instagram can do for your business, keep reading. Here are the top 6 benefits you stand to experience by optimizing your Instagram feed.
6 Reasons Why Instagram Is Every Entrepreneur's Most Powerful Tool
1. Makes The Brand Relatable
Nobody trusts a faceless brand. As an entrepreneur, your Instagram account is a way to introduce the company and its product range as well as the people behind it. Talking about your team and posting photographs or videos of a day in the office gives your brand a human face. This makes it easier for customers to relate to the company and builds trust in it. 
After all, in a world where it is becoming difficult to differentiate between chats with humans and bots, we crave the human connection. 
Insta Tip: Humanize your brand with live Q&A posts and stories.
2. Increases Visibility
Increased visibility is one of the biggest Instagram benefits for entrepreneurs. Without spending too much, you get to promote your brand to your target audience. There are two aspects to this. 
Firstly, the quality of your imagery can make people want to click on your posts and find out more about you. 
Secondly, you can use hashtags to separate your company from everyone else. 
Create interesting hashtags and encourage your followers to use them in their posts too. You could also piggyback on existing popular hashtags. 
Insta Tip: Add your city name as a hashtag to tap into the local customer base.
3. Helps You Build A Network
Social media tools like Instagram are a great way to build a strong network. By 2025, Instagram is expected to have 1.44 billion monthly active users.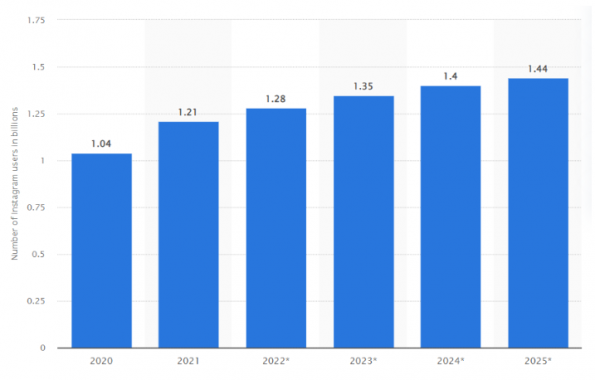 Source: Statista
Every post you publish has the potential to put you in touch with a large customer base as well as other entrepreneurs. You no longer have to rely on chance to bump into other entrepreneurs – you can visit their profiles and message them directly to start a conversation. 
Interestingly, established entrepreneurs are often happy to mentor budding entrepreneurs. You can also find collaborators for your next project on Instagram.
Insta Tip: Geotagging your posts when you're travelling is a great way to connect with new people in the city.
4. Offers Opportunities For Direct Sales
As a business, your sales numbers are the biggest indicator of your success. Apart from your website and e-Commerce platforms like Amazon, etc., you can also push your products on social media platforms like Instagram. 
One of the benefits of Instagram for entrepreneurs is that you can sell products directly from this platform. 72% of Instagram users say that they have purchased products they saw on Instagram.
The Shop tab on Instagram allows potential customers to discover new brands. From there you can either direct customers to your website or put up shoppable posts from where they can make direct purchases. 
Insta Tip: Carousel posts with product closeups and pictures of the product in use are ideal for shoppable posts. 
5. Puts Your Brand At Par With Established Brands
There are over 200 million business accounts on Instagram. This includes businesses that are a few months old as well as those that have been around for years. The beauty of using Instagram for entrepreneurs is that it puts all brands on an equal platform.
You don't have to worry about not having a big budget for print and video advertisements. All you need is a good sense of aesthetics and the ability to take good photographs and write a catchy caption. 
You can partner with influencers to expand your audience further. Some influencers charge a fee while others will give your brand a shoutout in exchange for products. 
Insta Tip: Encourage people who have shopped from you to post images of the products they ordered and tag you in the posts. 
6. Helps You Engage With Customers
With Instagram, you can publish a post every day if you like. Given that people spend 5 to 6 hoursevery day on their phone and around half an hour on average on Instagram each post you put up is a chance to engage with your customers.
Source: Statista
Publish surveys on your stories and encourage followers to share their opinions with you. Write captions that your followers will want to comment on. The more likes and comments you get, the more visible your brand becomes. 
Insta Tip: Make your captions informative and always remember to include a call to action. 
 In Conclusion
The use of social media for business has been proved time and again. Entrepreneurs with tight budgets can do a lot with Instagram. They can reach out to a wider audience, increase direct sales, get customer input and lots more. 
When it comes to making the most of your budget, along with social media marketing, you also need to find ways to lower your operational costs. 
A simple solution- start working in a coworking office by The Office Pass (TOP). Rather than rent out an office and spend money furnishing it, you can lease desk space and get access to all the infrastructure and productivity tools you require at a much lower cost. 
These coworking spaces are ready to work from the moment you sign a lease. To know more, reach out to us at +91 89998 28282.