There are over 20,000 companies registered in New Delhi. Some are known corporate brands while others are smaller start-ups. In addition to this number, there are numerous freelancers and consultants in the area as well.
Rather than set up independent offices where the companies need to undertake all the responsibilities of operating and maintaining the space, many people are choosing to work out of a coworking space in Delhi.
As we all know, there are many benefits to renting coworking spaces. The operational costs are lower, it's more convenient for employees, the leases are shorter and more flexible and so on.
Within the NCR, a co-working office in South Delhi is often the most preferred. Let's look at a few reasons why this area is favored over other parts of Delhi.
6 Reasons Why South Delhi Is The Most Preferred Location For Coworking Spaces?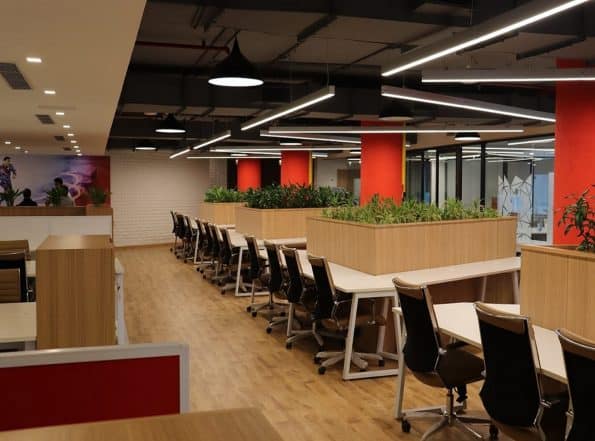 1. Better Connectivity
South Delhi is very well connected to other parts of the city. The city's arterial roads; the Inner Ring Road and Outer Ring Road pass through South Delhi. Many other important roads such as the Mehrauli-Gurgaon Road, Aurobindo Marg, Mehrauli-Badarpur Road, August Kranti Marg and Press Enclave Road also fall in this district.
So, when it comes to choosing office space in Delhi, this is an area that is easily accessible not only by people living in the immediate vicinity but also by those around Hauz Khas, Saket, and Mehrauli.
2. Excellent Metro Connectivity
South Delhi is connected not just by roads but also by the city's metro network. Saket and Hauz Khas are both served by the Yellow Line. This runs from the HUDA City center at one end to Rohini and Badli at the other end.
Delhi's central hubs like the INA market, Jor Bagh, Rajiv Chowk, Kashmiri Gate, etc. all have a direct connection to South Delhi via this metro line. Planned metro lines in Phase 4 will further improve South Delhi's connectivity.
3. Safer Neighborhood
Though it is an excellent base for growing companies, Delhi is notorious for a number of reasons. As a company, you need to be concerned not only about the safety of your office premises and infrastructure but also the personal safety of your employees, especially those who work late into the evenings.
As compared to other parts of Delhi, South Delhi is relatively safer. Thus, people are more comfortable taking up co-working space in this area.
Of course, when you choose a co-working space, you must look into the safety protocols of the space itself – ideally, the space must have a well-lit approach and should maintain a record of the people entering and leaving the space.
4. Vibrant Social Life Options
When you're looking at space for coworking in Delhi, it's not just working hours to be considered but also the general vibe of the area and social infrastructure available. Employees must have opportunities to mingle post work. This is what knits people together and strengthens company culture.
South Delhi has plenty of restaurants, cafes and other such social spaces. So, after a long day at work, people still have places they can gather close by. The area also has several parks and a lush green belt.
Having restaurants and cafes nearby is important for another reason. Though a co-working space may have a kitchenette, not everyone carries their lunch from home. For people dependent on ordering their lunches and snacks, having sufficient choices nearby is a basic requirement.
5. Premier Educational Institutions
Today, student interns and young graduates are important assets for many companies. Hence, it is beneficial for working spaces to be established near educational institutions. South Delhi is home to many such premier educational institutions.
The All India Institute of Medical Sciences, Indian Institute of Technology Delhi and National Institute of Fashion Technology are in Hauz Khas. Further, the Central University Jamia Millia Islamia and the Indian Institute of Foreign Trade are also located here.
Most students stay in the area around their colleges. Hence, companies that set up units for coworking in South Delhi are within reach of students at the beginning of their careers.
6. A Growing Residential Hub
Apart from interns and entry-level employees, companies also need senior management and mid-level employees. South Delhi is an affluent residential neighborhood. In short, the employees of companies that have a coworking space in the area, will not have to commute far. Companies with offices in the area may also find its accessibility beneficial when it comes to hiring new talent.
Finding The Right Co-Working Space For Your Company
From IT companies like CISCO to international logistics providers like MAERSK and multinationals like Ssangyon Corp Ltd, South Delhi has proved that it is the place to be for established as well as growing businesses. If you choose to operate from a co-working space, you will find plenty of options in South Delhi.
Rather than focus on the desk rental rates, take a look at the facilities and overall infrastructure of the place before signing a lease. You want a space that fits your brand ethos and that your employees will find comfortable.
If you have a group of people who will be working out of this space, you may find it better to rent a private space from co-working space providers like The Office Pass (TOP) rather than individual desks. These spaces can be custom decorated to reflect your brand vision. For more information, reach out to us at +91 8999 82 82 82.