Demand For Coworking Space to Improve Amidst Employees Return to Workplace, says a Survey by The Office Pass (TOP) 
TOP conducted a survey titled "Workplace sentiment post covid".
National, 19 April 2022: The Office Pass (TOP), one of the largest home-grown Neighbourhood Coworking & Managed Offices operator, conducted the second edition of its survey titled "Workplace sentiment post covid" in the month of March-April 2022. The survey saw participation from employers and employees of 173 small and mid-sized companies. Companies surveyed are in in the field of IT, Sales & Marketing, Finance, Customer Services and HR. The survey, conducted among companies and their employees, brings to the forefront various challenges and opportunities employees have faced with this new mode of operation. Additionally, the survey focuses on employees' willingness to work remotely from their homes as well as infrastructural requirements to aid them to operate effectively, among others. 73% of respondents were male and 27% female.
As per the survey findings, post the covid pandemic, many more businesses have realised the economic, social and health benefits of implementing a hybrid working model compared to the pre-covid period. Preference for Hybrid work, Work near home, Going to the office 2-3 days a week are some of the post-covid emerging trends that are popular among employees and employers. It remains to be seen if these trends will last long or the pressures of business will play spoilsport.
TOP 6 Workplace Sentiment Survey 2022 FINDINGS
1. Tying up with a Coworking operator is the preferred option for employers
Tie up with coworking operators to enable employees to work from near their home was the preferred option among 48% of employers. This was followed by 19% who wanted to work out of a traditional office. Around 13% of employers preferred calling their employees to the office 2-3 days in a week on rotational basis.  It is interesting to know that in the earlier survey conducted post covid first wave, only 29% of employers had preferred a tie-up with the Coworking operators.
These findings are a marked departure from the pre-covid period where the regular office was the dominant theme and work from home was not a preferred option (excepting a few IT companies).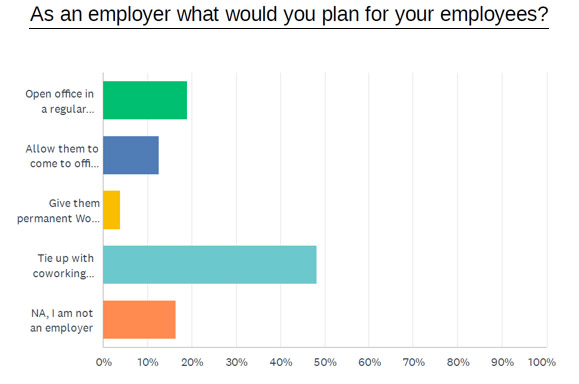 2. Employees prefer attending office
62% of all employees prefer going to the office, 28% like to work in a hybrid model (combination of #WFH & Office) and only 10% preferred permanent #WorkFromHome. Employees have worked from home for better part of last 24 months. They are now expressing a desire to move out of home.
The ability to network, expand social connect and a formal demarcation between work and personal life maybe some of the reasons behind this shift.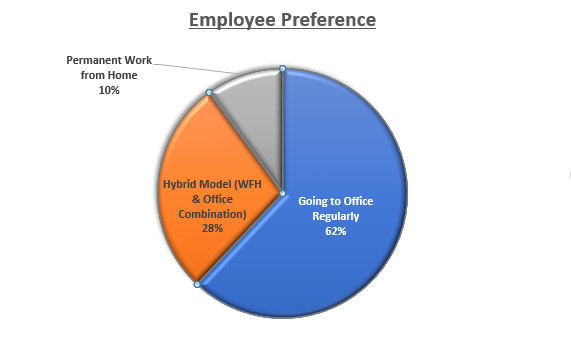 3. The ideal distance between Home & Workplace should be
48% of employees prefer their office to be within 3-5 Kms from their residence. 27% would prefer an office within 3 Kms where-as 20% are okay to commute 6-10 Kms. Only 5% would like to commute >10 Kms to reach office. There is an overwhelming preference for an office close to the place of residence. #WorkNearHome or #NeighborhoodCoworking is the preferred choice among 75% of respondents.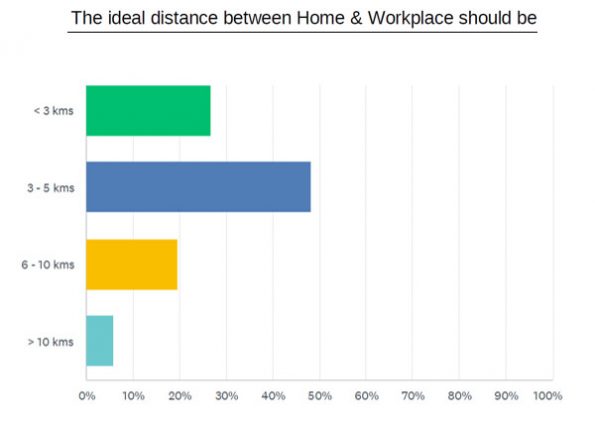 4. Main reason for choosing a coworking office
38% of respondents would choose a coworking space as it helps in saving of commute time to work. The second biggest reason for preferring a coworking space was saving in office operations costs (highlighted by 27% of respondents). Two smaller reasons were, networking opportunities (24%) and exhaustion of work from home (12%).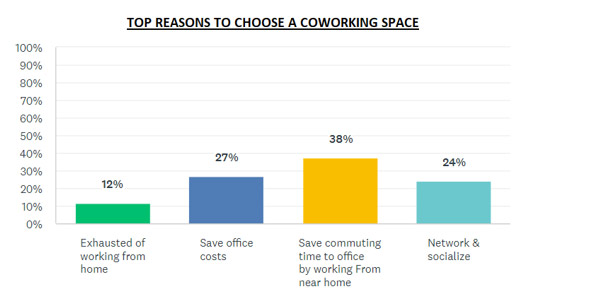 5. Main advantages of Work From Home
Top 3 benefits of Work From Home for employees are, saving on commute to office (42%), better health and safety (39%) and more time for children and family (10%). Commute time is coming across as a major pain point among employees. In cities like Delhii NCR, Mumbai, Bangalore and some tier 2 cities, where infrastructure has not kept pace with population growth, commute time can take two to three hours of your work day. This is considered a problem and employees and employers are looking for a solution like #WorkNearHome and #NeighborhoodCoworking.
6. Companies are optimistic about their business growth
Companies are planning to hire more employees in the next 12 months compared to the preceding 12 months. % of companies wanting to hire between 25-50 employees have grown from 8% to 25%. This % for companies wanting to hire more than 50 employees have grown from 6 to 8%. Companies wanting to hire only 10 employees have reduced from 60% to 45%.
Commenting on survey findings Nikhil Madan, Cofounder, The Office Pass (TOP) said, "Businesses worldwide face multiple challenges, including ensuring that their business is agile enough to adapt to change. Our research shows that businesses that haven't already considered the financial and strategic benefits of flexible workspace need to do so now. Otherwise, they face being seen as out of touch, both with their competitors and with the demands of the modern workforce on what constitutes a great day at work, which means losing out on the best talent."
In 2020, the work lives of people across the world underwent a paradigm shift, with working from home becoming the norm overnight. However, companies have already started opening offices across the country in a staggered manner. They are now expediting the pace as the concerns over the Omicron variant have subsided significantly.
About The Office Pass (TOP) 
The Office Pass (TOP) is a technology-driven Neighborhood Coworking & Managed Office space provider in India.
Neighborhood Coworking is different from conventional Coworking Spaces as it caters to people nearby (i.e., within 5 kms). TOP firmly believes, given an option, people in India would love to work in high quality Coworking office close to their place of residence rather than wasting time commuting long distance. TOP is the only Coworking & Managed Spaces Company in India that promotes #Walk-to-Work.
Our vision is to have multiple Coworking offices spread across the city – so one can reach the closest TOP office in less than 10 minutes. You can think of TOP as a convenient store for Coworking (like 7-ELEVEN).
TOP's Coworking & Shared offices are technology driven. All operational tasks like member acquisition, marketing & retention, invoicing, collections & query management are driven through technology. TOP's in-house team has developed tools & systems for website CMS – including new offices & services management – leading to faster turnaround time.
TOP is a leading Coworking company in India that currently runs 12 offices across Gurgaon, Noida and Delhi. Over 100 mid to large size companies are using our Coworking and Managed offices. We plan to open over 50 offices over the next 2 years with presence in multiple cities across India.
Visit www.theofficepass.com and follow TOP on LinkedIn, Facebook and Twitter.
Media Contact:
Natasha Gupta
Story Brews Communications
M: 9811945822
Email: natasha@storybrews.com