Gurgaon based Coworking space provider The Office Pass (TOP) is set to expand operations. Over the next 12 months, the company hopes to open a new Coworking center every 45-60 days. Based on the underlining micro-market, these centers will be in three formats i.e., small (< 100 members), mid (100-300 members) and large (> 300 members).
The next 3-4 Coworking spaces from the company will come up in Gurgaon, offering monthly memberships in the price range of INR 6,000 to 16,000/- per desk. The Office Pass focuses on Coworking spaces for Freelancers and Small companies who remain below the radar for most developers, property agents and owners.
As per Aditya Verma, Founder & CEO, The Office Pass, "Our 1st center has helped validate many hypotheses that we had, before starting the business. Neighborhood office has emerged as the biggest used case among Coworkers. Our members prefer an office near to their place of residence/business and these Coworkers account for over 55% of our current membership. We want to capture this un-serviced segment and open multiple offices at strategic locations versus 1-2 big offices in the CBD area".
The Office Pass's upcoming Coworking space in Gurgaon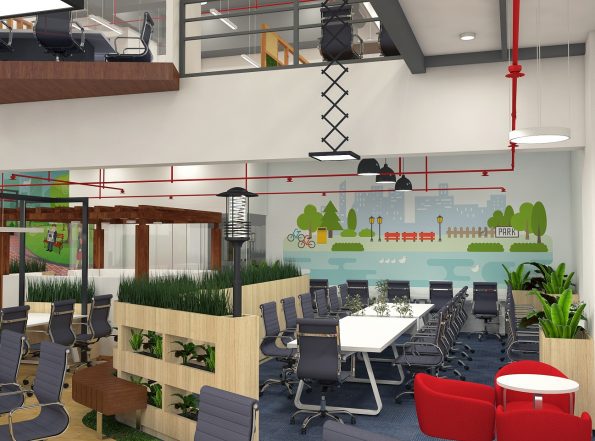 UNIT ECONOMICS OF COWORKING BUSINESS
The unit economics of a coworking business is favorable, with a gross margin of over 50%, making a strong case for sustainable growth with limited external capital. The use of technology can further improve this margin. The company launched an Online Booking & Payment Platform that allows existing & new coworkers to book office space, meeting & conference rooms through a 100% online experience, which reduces manpower dependence.
THE OFFICE PASS – BUSINESS MODEL DIFFERENTIATION  
"We are expanding our network in a capital-light model, using technology with the objective to expand profitably. In our model, a significant cost is borne by property owners, which allows us to expand without the need for huge capital infusion. We focus on making each office profitable within a reasonable time. We believe this is the only way to scale the Coworking business in India." says Aditya.
Also Read: The Office Pass – Best Coworking Space in Noida
WHO SHOULD USE COWORKING SPACE?
Finding an office is a major challenge for Micro, Small & Medium Enterprise (MSME) and freelancers due to their inability to get into a long lease and block money in security deposits. Many of them are forced to work from home and in cafes, reducing their productivity. This segment remains below the radar for developers, agents & property owners who find it difficult to service this segment in a cost-effective manner. The Office Pass aims to solve this problem by offering flexible terms & the use of technology.
NEW COWORKING SPACES FROM "THE OFFICE PASS"
Apart from the existing Coworking space at Sohna Road, Gurgaon; The Office Pass (TOP) is due to open new Coworking spaces at DLF Phase 3, Sector 74A & Sector 39 – all in Gurgaon. This approach is in line with the company's stated objective to connect companies & professionals with high-quality office space within 5 km.
Most office-goers in India, waste precious time and money in commuting to work. If they are able to work from high quality, yet affordable, office near-by, it will solve a big productivity problem for Indian companies.