Coworking spaces have been rising in popularity among start-ups and growing companies for quite some time. Of late, commercial real estate has witnessed another emerging trend, namely Managed offices.
So, what is a Managed office? Simply put, it is a tailored workspace offered and managed by a third-party operator. Unlike a coworking space where multiple companies work under the same roof, managed offices are dedicated spaces for your business and reflect your brand identity.
Managed offices are different from Coworking spaces in many aspects, starting from the design and layout to costs and lease terms. Here are the top 12 differences to consider when you opt for a Managed office vs. Coworking office space.
12 Major Differences Between Managed Office vs Coworking Office Space
1. Layout and Design
Since coworking is designed to facilitate collaboration and ease of sharing amenities, it follows a creative, modern, and community-inspired open floor design complete with hot/dedicated desks, meeting rooms, recreation areas, and the like.
A managed office, however, is more compartmentalized than shared offices. It is more like a private office – you can choose to have cubicles, open workstations, or cabins, depending on your preference & requirements. It will also have meeting rooms, lounges, and other segregated areas within the space.
2. Office Environment and Culture
Coworking spaces typically have an informal, casual, and relaxed ambiance. Shared offices are often preferred by start-ups, evolving brands, and freelancers, so such spaces naturally radiate an entrepreneurial spirit. As managed offices are formal workspaces ideal for mature businesses, they tend to exude the look and feel of a corporate or professional setup.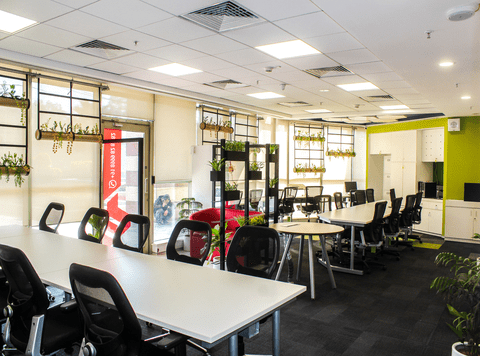 3. Customization
Customization is another factor to consider in the coworking space vs. managed office comparison. A coworking office offers limited room for customization – it comes pre-furnished and pre-designed with all amenities. On the other hand, managed offices are empty or bare shell spaces you can customize according to your preferences and brand identity.
4. Flexibility for Expansion
Compared to coworking spaces, a managed office offers less flexibility for expansion. When you work out of a shared office, you can upsize or downsize your team by adding or removing more desks to your package. However, managed office terms don't allow you to remove seats during the contract period. Some service providers may allow you to add more seats at an additional cost.
5. Flexibility of Location
A top advantage of coworking offices is the flexibility of location. Neighborhood office providers like The Office Pass (TOP) offer offices in multiple locations, making it easier for your employees to work from the one nearest to their residence. Managed offices, however, are location-specific and don't have the flexibility of location.
6. Setup and Upfront Costs
A managed office has comparatively higher upfront costs than shared spaces and attracts setup costs too. When you opt for a managed office, you will have to pay a security deposit, which is typically equivalent to the rent of 4 to 6 months. You should also contribute towards the expenses of furnishing – between 60% to 80% of the total furnishing costs. The coworking office all fully furnished by the operator and you pay a relatively less deposit amount.
7. Lock-In and Notice Period
Coworking spaces typically have a lock-in period of 11 months to 24 months. After the expiry of the contract, you can choose to renew it or exit the office. However, managed office services come with a longer lock-in period. For a contract of 5 to 9 years, you can expect a lock-in period of 36 months or more.
Also Read: 5 Reasons Why Large Indian Companies and MNCs Favor Managed Offices
8. Autonomy
Unlike coworking spaces, managed offices give you more autonomy in setting up, designing, and furnishing the space. Likewise, since you are not sharing the space with any other businesses, you can enjoy uninterrupted access to meeting rooms, breakout spaces, and other amenities.
9. Privacy
Privacy is the main disadvantage for businesses working out of shared offices. You will be in the company of other businesses & people who are not related to your business. Managed office services give absolute privacy to the leaser and are beneficial for businesses dealing with confidential information or when you work on non-disclosure client work.
10. Transition Time
Coworking offices are move-in ready – once you have decided on the package, signed the contract, and fulfilled the payment obligations, you can start working out of the office. In contrast, the transition time is higher for companies moving into managed offices. After signing the contract, it might take 6-8 weeks before the office becomes ready for occupation.
11. Opportunities for Collaboration
Collaboration is the cornerstone of shared offices. As a space that houses several businesses, freelancers, and entrepreneurs, coworking offices naturally ignite collaboration and informal networking. The very concept, layout, and structure of managed offices are not conducive to collaboration, though. It, however, is ideal when you want to get your head down and work without distractions.
12. Brand Identity
Managed offices help create and highlight your brand identity while coworking offices offer little or no scope in this regard. In a managed office, you can design everything – from the colors used on the walls to signages to furniture – in alignment with the identity of your brand. It also helps create a better impression on clients and investors, increasing your chances of getting funding.
Final Thoughts
Now that you know everything about the differences between managed and coworking offices, are you ready to make a decision? Get in touch with The Office Pass (TOP) today. We have coworking spaces and managed offices in our offering, so you can take a tour of both and make an informed decision.