Gone are the days when businesses felt the need to dedicate a big part of their budgets towards setting up fancy office spaces. Companies still need a place where employees working on group projects can come together and collaborate but there are better alternatives to traditional office spaces available today.
It's the end of the leased offices' era and the beginning of the age of Managed offices. Especially in light of situations like the current pandemic, this solution is exceptionally beneficial. It's not just startups but tech giants like Google who are amongst the companies pioneering the shift in India.
What Are Managed Offices?
Just because you decide to do away with the traditional idea of an office, does not mean you should work out of plain, generic space. Managed offices give companies a blank canvas that they can design and decorate according to their brand vision.
Customization possibilities range from the number of workstations and how they are arranged to wall colors, meeting rooms and furnishings. How many CXO cabins are required and their location to the configuration of a collaboration zone and Café, all are done to match the company's vision. Unlike Coworking spaces with a pay-per-desk system, companies agree to a certain lease period and pay for all the facilities and services provided by the managed office through a single invoice.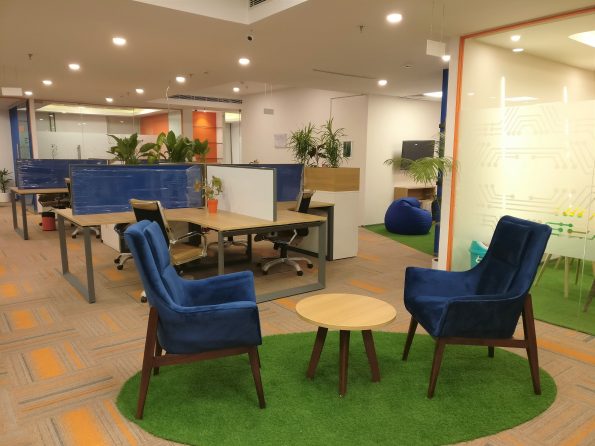 Why Are Corporates And MNCs Moving To Managed Offices?
Working out of managed offices offers several advantages. It suits medium-sized and established brands. Let's take a look at some of the advantages of this new system.
5 Advantages of Managed Offices
Customization To Complement Branding
A managed office can be considered a hybrid between traditional office spaces and Coworking or shared offices. You can now fully customize the office space so that it maintains a professional aura as per your company's brand guidelines and values. You can plan the color scheme, set up appropriately sized meeting rooms & conference rooms, etc.
Though you may not have rented out the entire office space, the space occupied by your company will not be shared with employees working for other brands. Thus, when you call people over for a meeting, they will enter a space that reflects your brand ethos.
Minimal Worries & Complete Peace Of Mind
Coworking or shared offices can be rented out by the day or the week making it suitable for freelancers but when it comes to companies looking to build a strong foundation, a longer and scalable option would be a better fit. But, you don't necessarily want all the obligations and hassle of managing IS, Admin & other support functions associated with the running of office space.
Managed offices have a fixed agreement period with a transparent, easy-to-understand contract. All heavy lifting for running an office and dealing with multiple vendors is done by the managed office operator like The Office Pass (TOP). Thus, you don't have to worry about managing lengthy paperwork for each service. The managed office company will raise a single invoice for all services rendered by them so you can have complete peace of mind.
Budget-Friendly Operational Costs
To maximize profits, every company must find a way to minimize operational costs without compromising on quality. With a managed office, you don't need to worry about the heavy investment required for office spaces but you can still work out of a space designed to suit you.
In terms of day-to-day operational costs, many processes are taken care of by the space owners. For example, infrastructure like conferencing facilities, WiFi internet, printers and copiers, refrigerators, microwaves, etc. are commonly owned and maintained by the company owning the space rather than the brands leasing space.
Also Read: Managed Offices to Gain Importance in COVID Times
Safe, Productive Working Environment
While the current pandemic was unprecedented, we must be prepared that something similar may repeat itself someday in the future. Employee safety has become a buzzword today. This is why most companies made the move towards a work-from-home system. However, working from home has its own challenges.
Working out of co-working or shared offices helps overcome these challenges while providing employees with a productive space to work in. These offices practice high standards of sanitization to make the workspace safe as per guidelines issued by MOH. Decentralizing the office system reduces commute time for employees and minimizes their exposure.
Managed Office Is A Scalable Solution
When working out of traditional leased offices, scaling up space can be difficult. As the company grows, it employs more people and thus needs to find space to place them. In such situations, many companies may feel the need to move out of their existing offices to a whole new office. This means a large investment in setting up the new office.
However, with managed offices, you can add additional desk space to your existing space quite easily – as managed offices are created as part of a larger coworking space. The rest of the office does not need to move and the company's productivity is not affected.
A Final Word
Offices will never be what they once were. If there is a silver lining to this pandemic, it's been to teach us how to work more efficiently. Managed offices are a smart solution that has all the advantages of coworking spaces and none of the disadvantages of traditional leased offices. They're professional, functional, cost-effective and productive spaces for companies of all sizes.
If you're looking for a managed office for your company in Delhi, Noida or Gurgaon, take a look at the Managed offered by The Office Pass (TOP). As a fully managed office space provider, they offer several hassle-free monthly and flexible lease plans with the added option to customize spaces. Call now at 8999 828282.